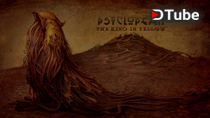 ---
Psyclopean is a new dark ambient/atmospheric music project fronted by Matt Schmitz (Sleestak, Altrusian Grace Media). The first full album, The King In Yellow, is inspired by the book of the same name written in 1895 by Robert W. Chambers and later absorbed into the Lovecraft mythos. The music is a cinematic and maddening descent into isolation, occultism, fear, and cosmic otherworldly horror. Like being suspended along the veiled rim between beauty and cruelty, awaiting the next bellowing tectonic displacement of dimensions, The King In Yellow makes no excuses and leaves no living mortal coherent enough to tell the tale. If you like film soundtracks, experimental soundscapes, and suspenseful music, then you've just found gold.
NEW LOVECRAFT TSHIRTS and MORE at https://www.redbubble.com/people/altrusiangrace/collections/576210-altrusian-grace
Available for download at https://altrusiangrace.bandcamp.com/album/the-king-in-yellow
Along the shore the cloud waves break,
The twin suns sink behind the lake,
The shadows lengthen
In Carcosa.
Strange is the night where black stars rise,
And strange moons circle through the skies,
But stranger still is
Lost Carcosa.
Songs that the Hyades shall sing,
Where flap the tatters of the King,
Must die unheard in
Dim Carcosa.
Song of my soul, my voice is dead,
Die thou, unsung, as tears unshed
Shall dry and die in
Lost Carcosa.
releases December 12, 2017
Composed and recorded by Matt Schmitz.
Mastered by Matt Schmitz
Cover art by Steve Somers - stevesomersart.blogspot.com
all rights reserved
PLEASE HELP ME GROW THIS CHANNEL BY SUBSCRIBING, COMMENTING, AND GIVING ME A BIG THUMBS UP! These simple actions go a long way in supporting AGM and is truly appreciated!
Follow and support AGM on these websites:
https://altrusiangrace.bandcamp.com
steemit.com/@altrusiangrace
vid.me/AltrusianGraceMedia
altrusiangrace.com
www.youtube.com/c/AltrusianGraceMedia
www.paypal.me/altrusiangrace
twitter.com/AltrusianGrace
To donate to my channel:
www.paypal.me/altrusiangrace
For inquiries regarding voice-over work please contact altrusiangracemedia ((at)) gmail.com
---
▶️ DTube
▶️ IPFS