Pic credit: https://www.metal-archives.com/bands/Metallica/125
For my birthday this year, my brother surprised me with tickets for Metallica. They have been my musical heroes since I was 10. I started playing drums around that time and Lars Ulrich (drummer) was one of my main influences and he is still considered one of the founding fathers of metal drumming. The sheer speed of his double bass kicks in songs like "One" or the technical abilities in songs like "Master of Puppets", I just knew that was something I aspired to play like and eventually led me to practice hours and hours upon days. Me and my brother, who plays guitar, had our one of our first jams playing "For whom the bell tolls", which is an empowering song and we played the hell out of it. We completely loved it, the energy, the drive, the heaviness... At that time, for us, that was it! That was our world. That was the beginning of my musical journey, which eventually lead to us playing together in a black metal band when we grew up called Cruentus.
So, for both of us, Metallica has been a special band and has a lot of memories tied together with it. As we both have our busy lives now, we don't go to gigs much together, let alone jam anymore. So, this year when he surprised me with the tickets for Metallica, it hit a soft spot in my heart. I was overjoyed and felt like a kid again! (maybe thats a good thing)
On the day of the gig, when we turned up it was unlike any other gig I've been to, for some reason the atmosphere was different, the vibe was different. When we got off the station, there were hundreds of people with Metallica t-shirts on and out side the gates there was this message: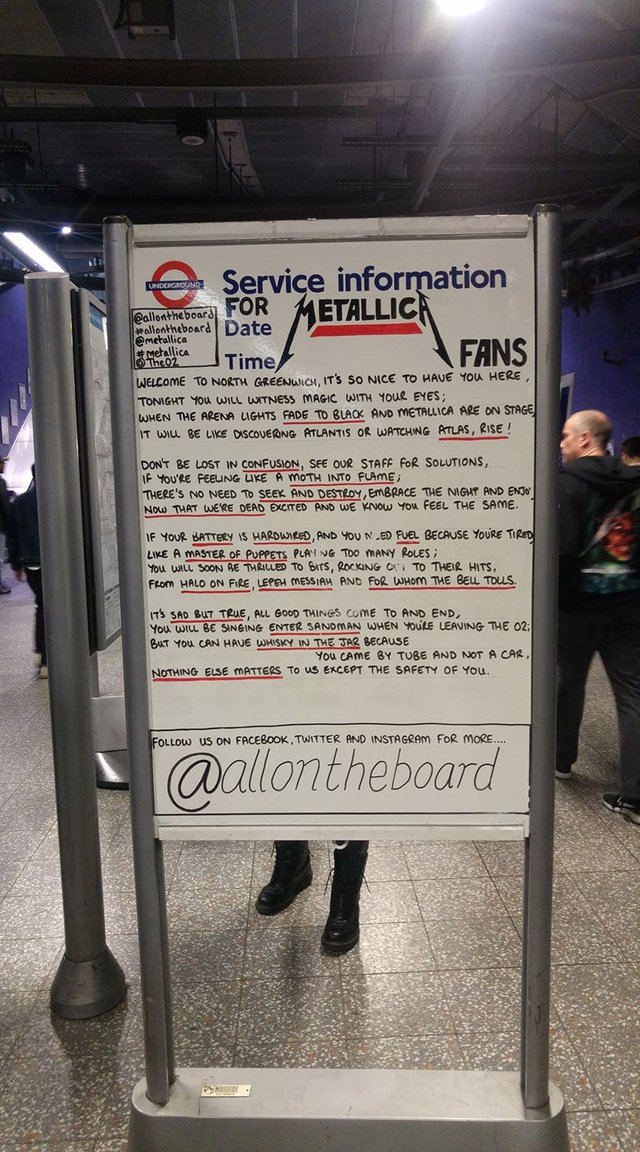 We felt so welcome. It was a small gesture but it just made the first step walking to the gig so special. There was someone busking just as we walked up the stairs and singing "Nothing else matters" and in a way nothing did matter than the moment itself. There were these big digital boards that displayed Metallica. It was like we were walking into the Metallica City where everyone was having fun, singing and was just excited to be there.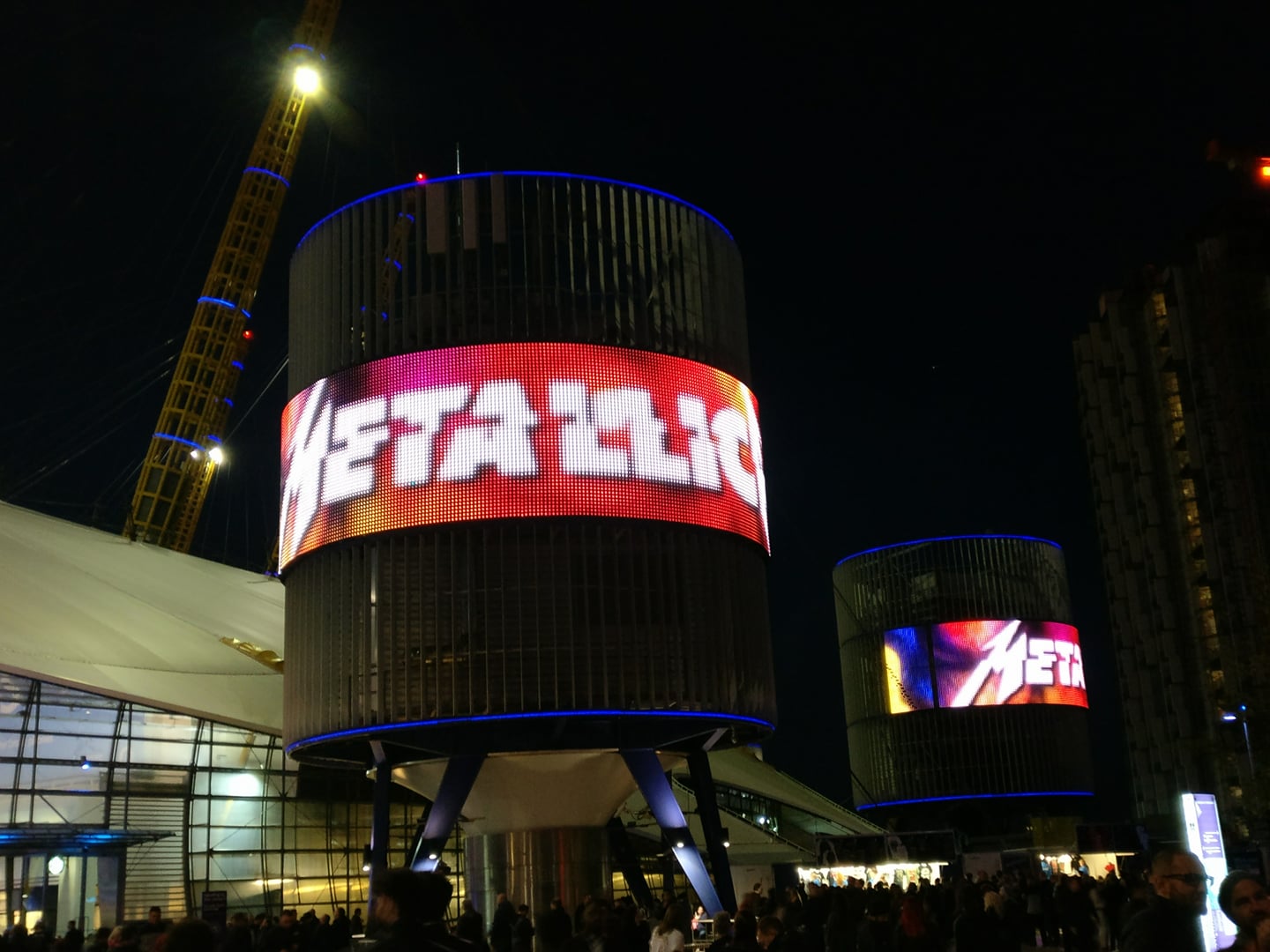 As we were about to get in, there were hundreds of people lined up in different queues. We had the seating tickets and realised we had to go to the far right end. As we were walking there, there was this small queue with probably 5 people. Interested to find out I just asked what that entry was for and they told me it's a priority queue for o2 (phone network) customers. As my brother was on that network they let us join the queue. Luckily, we managed to avoid waiting for hours to get in and ended up in this cool VIP Lounge, where there was a separate bar and a separate entry to the venue. So, as everybody else we got some drinks, listened to some wicked music.. chilled in the couch for a bit and headed to the main arena. This was already a very good start for us.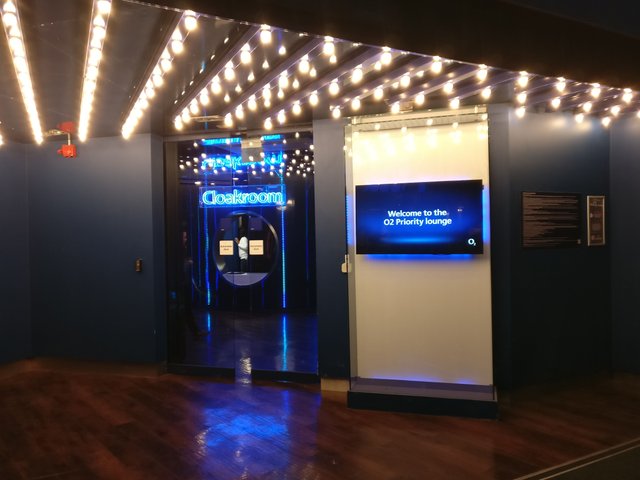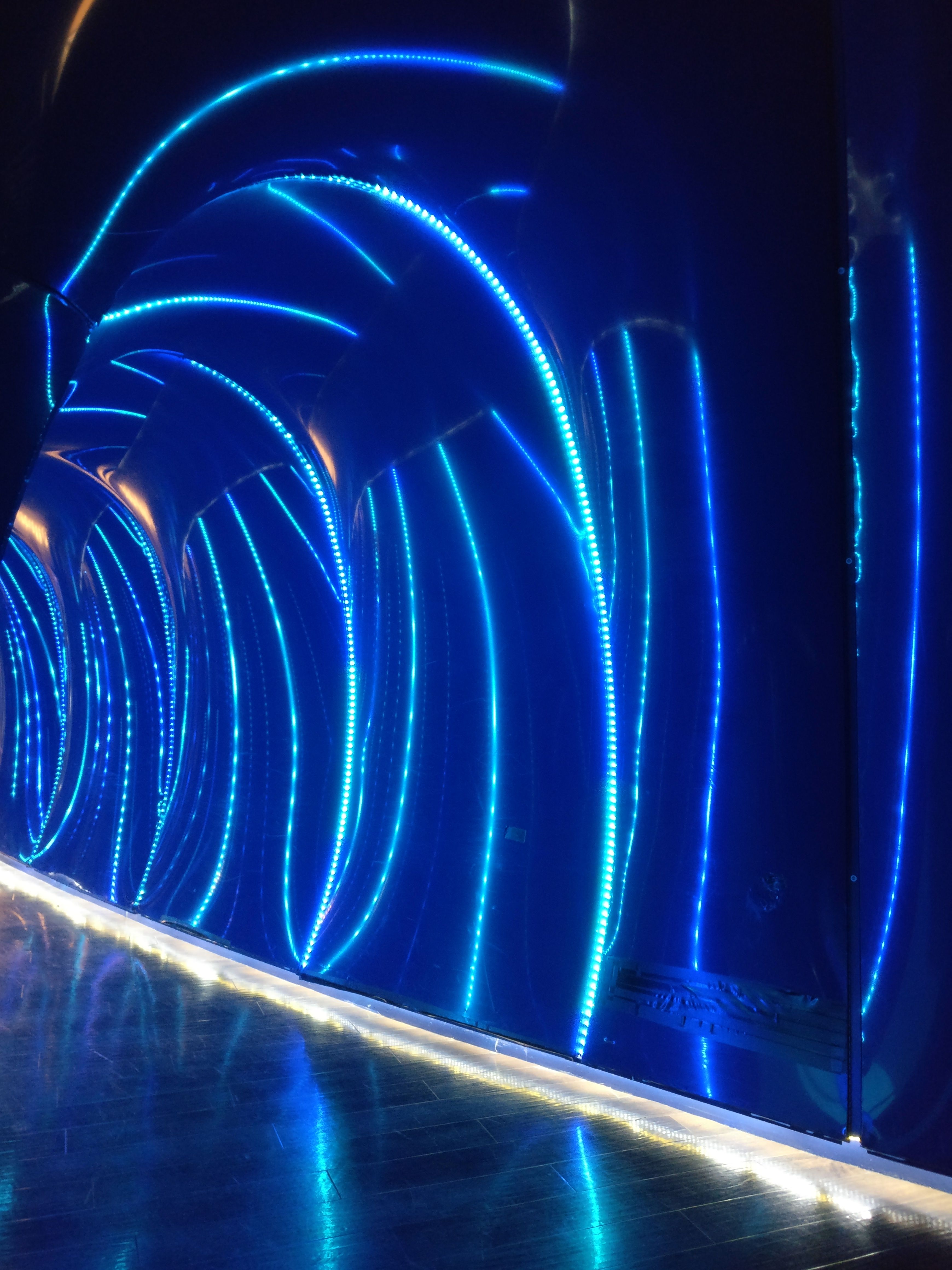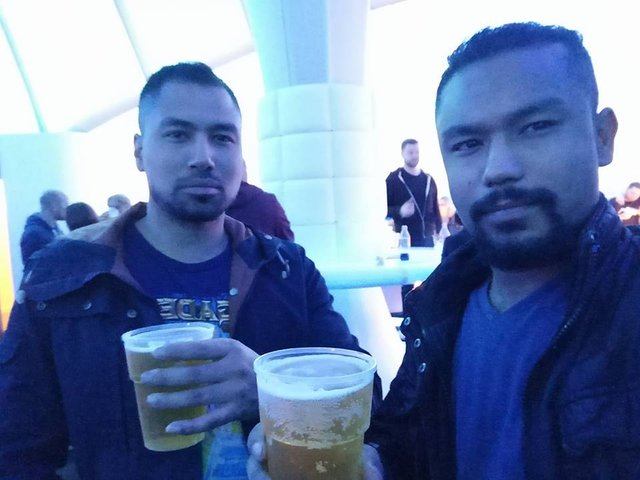 My brother Alice and me on the right :)
As soon as we entered, the arena was already starting to get filled and the stage was incredible. It was bang in the middle of the whole arena. Nothing like I've ever seen. The drums was in the middle on some sort of a rotating platform, there were mic's on all the sides, plethora of speakers and light on the ceiling, and people on top of the speakers on the ceiling? Haha (Pic below)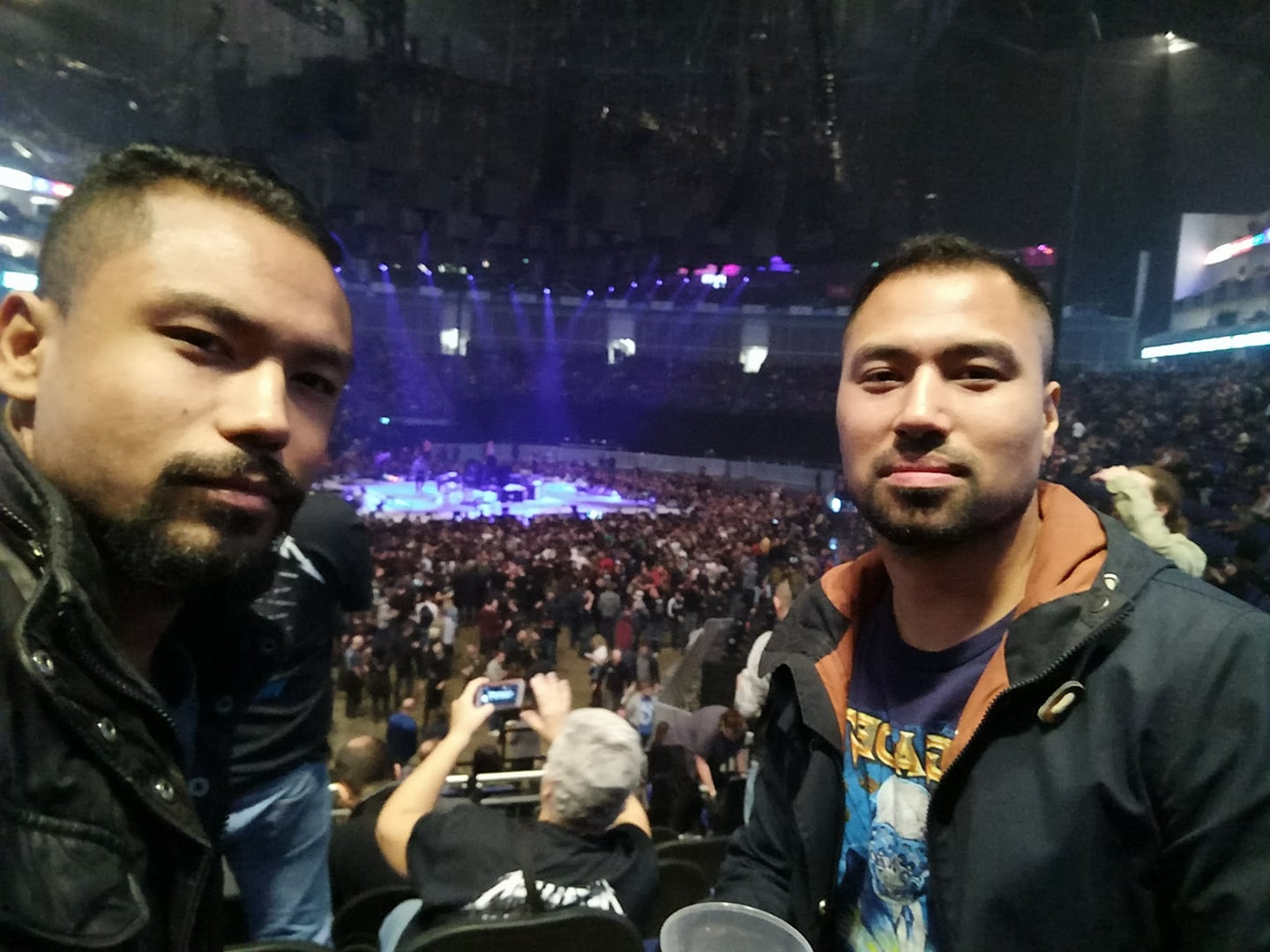 Obligatory in venue pic ;)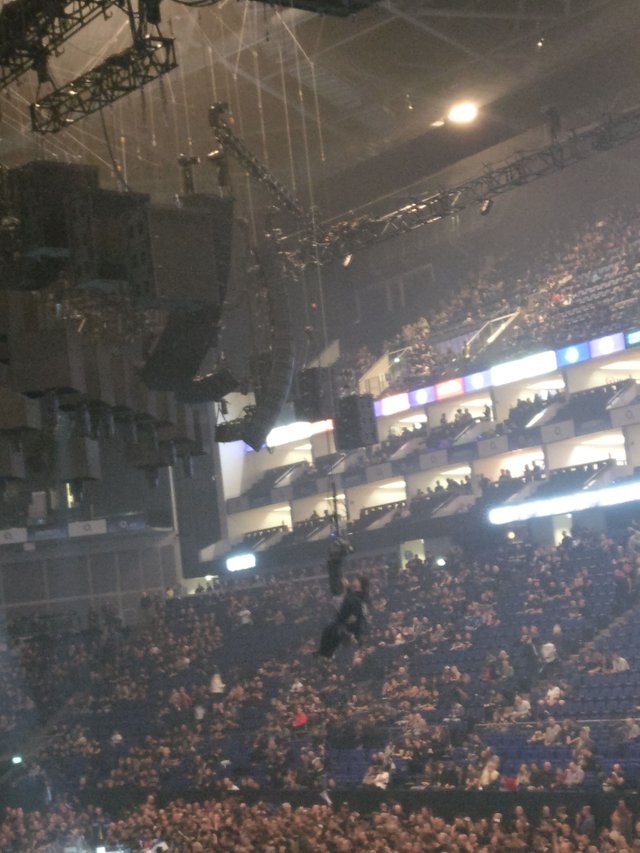 Guy being lifted up to the speakers (like in a movie scene - replace speakers with helicopter)
And the band finally came after waiting for about half and hour. It was immense, it was intense, I had an adrenaline rush, I was going through every emotion that you can explain!!! They played all my favourite songs, all the songs that I'd grown up listening to. Although it was loud, heavy, people singing, shouting, screaming on top of their lungs, there was this sheer moment of serenity when I looked at my brother and he looked at me and without saying a word we knew this was the "Best gigs that we've witness in our lives". So, we too jumped, sang every word, enjoyed every guitar solo and lived in that moment like there was no tomorrow.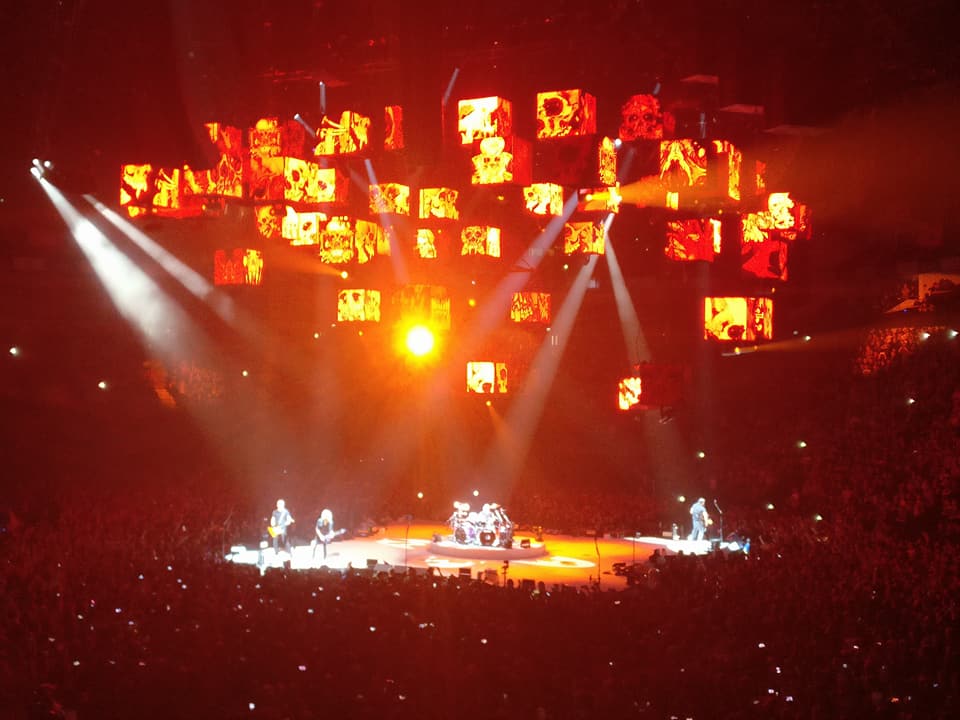 James Hetfield (Vocalist) had the sheer presence and showman ship as a frontman, Kirk Hammett (Guitarist) blew us away with his melodious but technical guitar riffs and solos, Rob Trujillo (Bassist) looked like a beast running around, pumping up the crowd and slamming the bass and finally Lars Ulrich (Drummer) owned the stage, playing the grooves, fills and acting as the sole time keeper and at moments stood up gave his respect.. ran to the crowd to make them feel like they are a part of the band.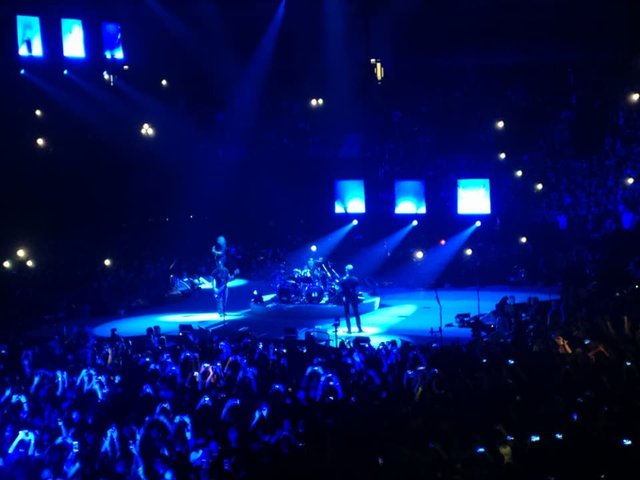 Then they played "For whom the bell tolls". Me and my brother were taken back through memory lane, that was our song, that was why we played music. It was so amazing to see our heroes live, playing the song that started our musical journey. It was absolutely amazing. We enjoyed every second of it, screaming on top of our lungs, head banging until the music stopped!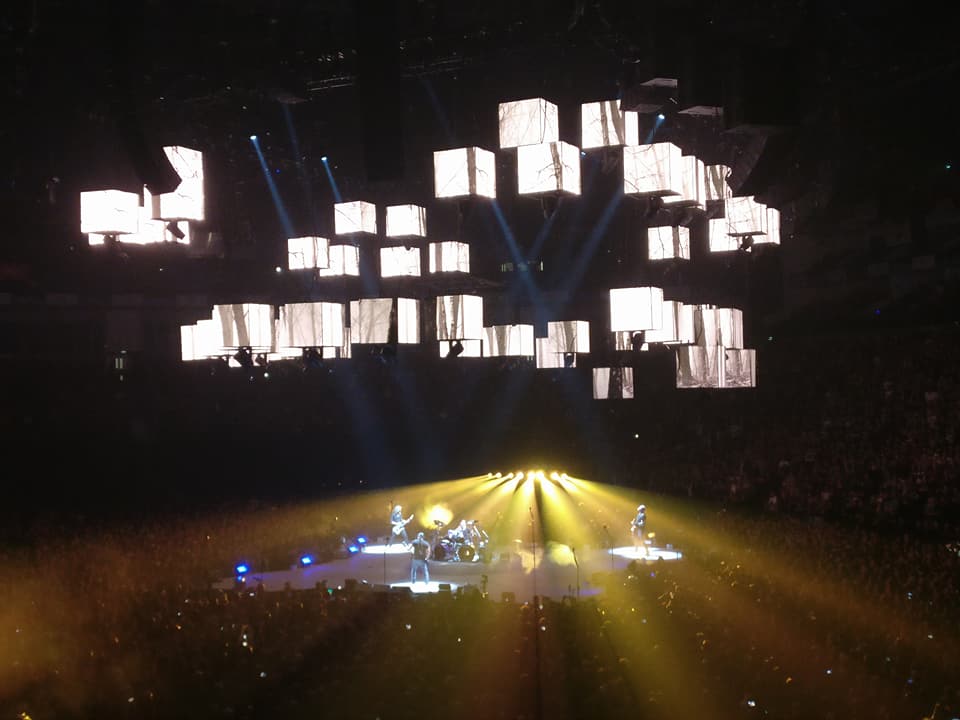 Finally, the show finished and one thing that stood out to me was, they said "For everyone that showed up tonight, we thank you and now you are part of our family and we hope to see our family soon again". That meant so much, hearing from them. They've been touring for 33 years and played in this city numerous times but still they have so much love and respect towards their fans. They are "Rock Gods" from every level but they are still respectful and modest. That is amazing for a band of their calibre. They earned my respect for them even more. They still sound as fresh as they did when they started and their music is still relevant now. Although they are getting old, they still have the oomph and they sure as hell can play it live and make it exciting for everyone.
In the end they got together hand in hand and took a bow, distributed a factory (seemed like it) of guitar picks, drum sticks etc. while the fans kept applauding, cheering, screaming until they did their final good bye and left.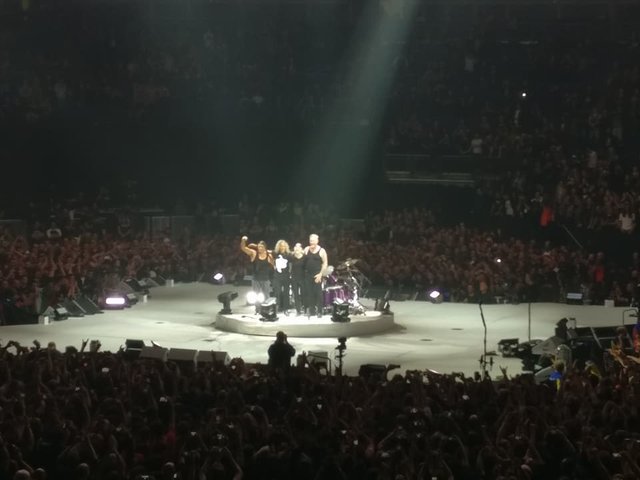 So, to end this post, my thoughts are that it is so important to go and support musicians and see them live. The energy and drive that it creates within you is unlike anything you'll experience in your life. It certainly did for me and I'm ever so glad to my brother for this wonderful gift.. I honestly and truly enjoyed every second of it. So thank you!
Here's some pictures from the gig: