Not sure if it's just me, but I love listening to keyboard demo songs. My first musical keyboard, which I got in 2006, was a very basic Casio keyboard (I don't remember the model anymore) and included 100 demo songs. I had zero music knowledge at the time, and one of the things I enjoyed doing was to leave the demo songs playing while I was busy doing other things.
Then, I began taking piano lessons, and soon found out I needed to upgrade. In 2007, I got a Fenix TG-8880D (apparently, a generic Brazilian brand). Below is a photo of it from the time I still had it: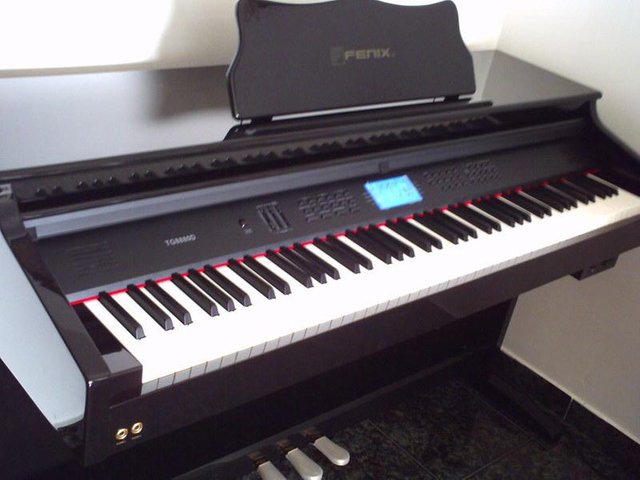 Own photo, taken with a digital camera.
Despite looking like an elegant piano from outside, it was just your typical-sounding 128 voices MIDI keyboard inside. Regardless, it was definitely an improvement compared to the basic Casio keyboard, since it had 88 weighted piano-like keys, had pedals, and could at least record (but not edit) MIDI files... to a floppy disc! It served me for around 4 years. But it came with only 5 demo songs. I managed to record the demo songs directly from the line input and post them to this Youtube playlist to showcase the sounds to those curious, when I decided to sell it in favor of another upgrade. But I had to give up on selling it because the Fenix (phoenix?) almost died. Even though it was still playable, the earphone jack, line jack and the floppy drive broke (so, no more recording), which left the keyboard not in a suitable condition to be sold anymore (being broken would not only make it be worth much less, but whoever bought it might complain about what wasn't working). In the end, I left it with a friend who was beginning to learn the piano and needed an instrument, but didn't need the jacks and the recording features.
At the beginning of 2011, I burned all my savings and got a Yamaha Motif XF keyboard, which I still haven't mastered half of the features off to this day!
Many phrases (which Yamaha calls "arpeggios") to help create accompaniments;
recording and editing MIDI (16 tracks);
audio rendering in WAV;
possibility to save both audio and MIDI to an USB stick (no more floppies! :P );
a multitude of effects and parameters for mixing;
Firewire connection to record up to 16 separate audio tracks directly to the computer (a feature I can't use because it requires a separate accessory that doesn't work on computers with Linux);
and the possibility of creating new instruments/voices, even with a sampler!
Just to name a few features...
Now I think all of this is overkill, and a Yamaha MOX (a simpler model and with many of the same sounds) would have been enough for me, but the MOX still didn't exist at the time I decided to upgrade. At least, the XF has been here with me for 7 years, and I hope I won't have a need to upgrade ever again!
I had to quit the piano lessons after I got a job, and since 2015, I've been slowly learning the violin instead, in my free time (I began taking piano lessons at 18 years old, and began learning the violin at 26. No regrets, though. I believe it's never too late!). I identified better with the violin rather than the piano, though what I've learned from the piano lessons is indispensable, as it was my basis for music. I still use my keyboard, though not as much as I probably should.....
But I want more demo songs!
I have more knowledge of music now, but my appreciation for keyboard demo songs from the beginning didn't change. The XF is a great keyboard, and I like its sounds quite a lot! However, it also has only 5 demo songs! What is with these recent keyboards? So many sounds and features, but only a few built-in demos? I want more!
Thankfully, I believe I've found a solution, and can finally go back to leaving the demo songs playing in the background while I do other things! At the end of last year (2017), I decided to look up keyboard demo songs on Youtube, and found KeyboardKrazy49's channel! Currently it has more than 300 videos showcasing all demo songs from a variety of keyboards. I still haven't been able to listen to them all! Either if you are considering buying a new keyboard and want to check out how different ones sound, or if you just enjoy listening to the demo songs like me, I think you'll like this channel!
I'm glad to have finally gotten my fix of keyboard demo songs. However, a new "addiction" came to develop along these years while looking up different MIDI keyboards: those professionally put-together styles from arranger keyboards (which mine isn't) like the more recent PSRs! ... What now?