Juanita Gomez, 51, was charged with first degree murder in the killing of her daughter, Geneva Gomez, in Oklahoma City.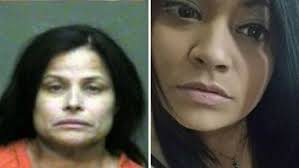 )
Juanita Gomez on the left, and her daughter, Geneva Gomez on the right.
According to reports, the victim, Geneva Gomez was found by her boyfriend when visiting Juanita's home.
He found her on the floor, arms layed out to her sides imitating crucifix while having the crucifix laying on her chest. She was so badly beaten and bloodied that she was unrecognizable.
The boyfriend, Francisco Merlos, later testified that he had asked Juanita Gomez why she did not seek medical help for Geneva, and all she kept saying was mumbled words about the devil and money.
When Juanita was asked why she did it, she told prosecutors that her daughter was speaking in demonic ways, and prior to her death she had threatened her mother while her eyes were rolled to the back of her head.
I read in another article that Juanita not only shoved the crucifix down her throat but she also made sure it was lodged in there by punching it many times to make sure the damage was done.
Link to the INDEPENDENT down below.
http://www.independent.co.uk/news/world/americas/juanita-gomez-convicted-murder-daughter-possessed-crucifix-force-throat-guilty-oklahoma-us-a8161776.html