Encouraged from all the positive resonance to my first mural post, I would like to give a couple of examples to the various types of murals I've been mentioning. Some were painted with the owner's consent, who may even have paid for it. Others just appeared without ever being invited, and the owner of the property liked it, or just couldn't bother removing it. Many were painted with a huge publicity hub-bub, involving lots of artists and other people, honoring the muralist tradition of Mexico. Even more pieces were thought up and painted by one single artist, often risking their safety or freedom. Occasionally someone just decided to paint something cool onto their walls. Let's take a look at some of these murals. All of them can be found within 5 minutes walking distance from the mural in my previous post. 
Advertising a Private Business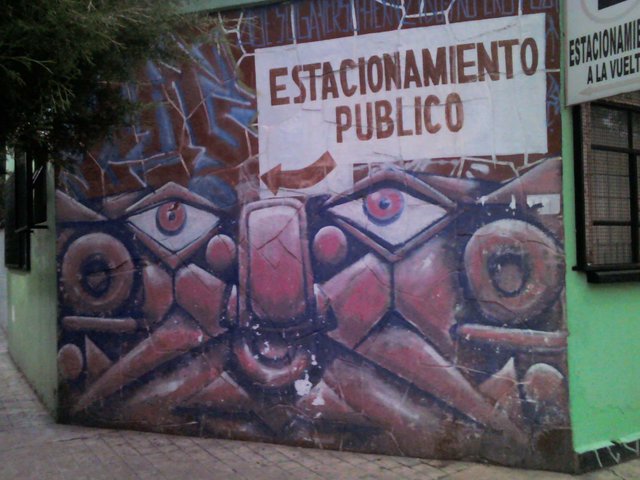 This is nothing more than a sign advertising a nearby place where you can park your car. It seems to do its job, as the parking lot is well frequented. But just to get the word out that there is a parking lot, a simple sign would have been enough, which can be bought at any of the massive gringo chain-stores here. To really give it an impact, the sign itself could have taken over the entire wall space, maybe with some catchy font... Instead, the owner decided to go with this pre-columbian design under the moderately sized lettering. The nice thing is that the artist probably got to go home with some funds, and the rest of us, anyone passing by every day, get to see a cool looking image on the street corner. Granted, it has been there quite long, at least as long as I've been living here. Consequently, the colors are faded, the artist's money long spent, and us regular public have gotten so used to it that it may be time for a fresh image. 
Beautifying a Private Business 
A talented muralist is highly sought after, especially if you own a rustic little eatery with a big ugly wall in it. Since the place doesn't even have good lighting, the artist used some bright colors on a black background. The deer image is prominent in various native traditions, such as the Yaqui or the Huichol cultures, which could have been influencing this image, as the artist's name Peyote suggests. Since the piece is inside the restaurant, it can be assumed that it will stay there for a while, making a visit recommendable. The joint is called Cajún Rustic Burgers, located on Gobernador Luis G. Vierya, just off of Avenida Jalisco. They have decent burgers, and a delicious IPA which is kinda rare in Mexico. 
Beautifying an Empty Wall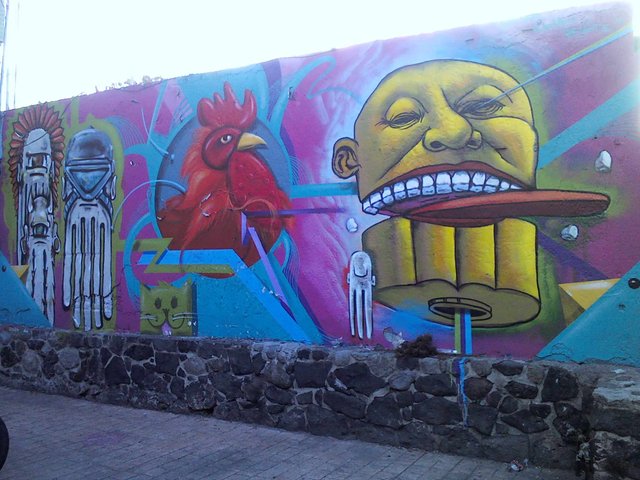 Just behind the aforementioned burger place is another beautiful mural, which the restaurant has no connection to whatsoever. The same people who were so proud to show me their deer mural had no idea about the origin, creators, symbology, or anything regarding the mural behind their restaurant. A closer look revealed that one of the three names featured on the piece was the same Peyote. Though this mural is about four times as big and elaborate as the deer one, it can be assumed that there was no remuneration whatsoever for its creators. However, it is a captivating image, featuring certain re-occurring characters. More about them later... 
Setting the Scene for a Government Office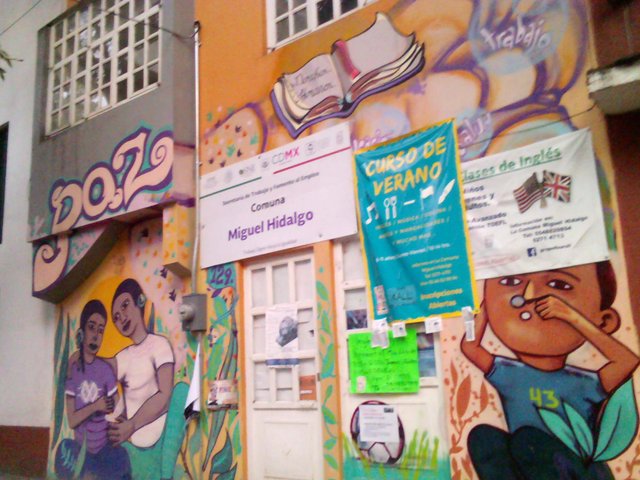 Not far from the other murals, on the corner of Gob. Rafael Rebollar and Gob. José Ceballos, is the site for another mural: the Comuna Miguel Hidalgo, a youth center belonging to the Ministry of Labor. It offers activities and courses to young people looking to improve their prospects on the job market. Fittingly, the wall painting around the front door tries to address the sentiments of these young people: On the left it features two young women wearing pre-columbian jade ear-pieces, on the right a child is blowing bubbles, which carry words expressing the values the center stands for, such as work, health, and education. The number 43 on his shirt stands for the students of Ayotzinapa, who were disappeared three years ago. The center keeps renewing its appearance, so it can be safely assumed that this mural won't be up for too long. However, this practice also ensures constantly new images for the community, and a regular reward for the artist(s). 
Expressing Political Sentiments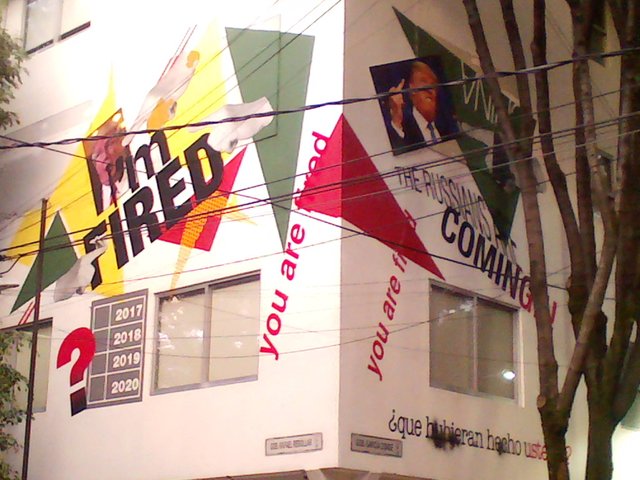 This mural is a relatively recent one, put up last November, and it can be assumed that the owner of the building had it painted to express their reaction to the outcome of the presidential elections in the US. It features two images of Donald Trump, admittedly not his most advantageous ones, along with the phrases You are fired, I'm fired, upside-down China, The Russians are coming, and the question What would you have done? in Spanish. On the bottom left-hand side there is also a big question mark next to the four years of his term, with empty boxes for check-marks. Though this piece is comparatively weak when it comes to political murals, it clearly highlights the passion behind creating it. The building can be found on the corner of Gob. Rafael Rebollar and Gob. Garcia Conde.
What Makes a Mural Good?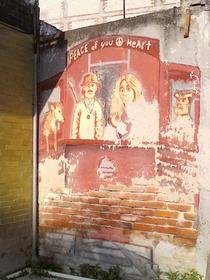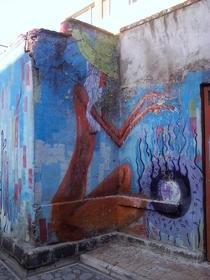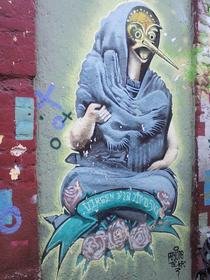 Finally, let me introduce three murals whose sheer presence shows their success. All three can be seen on the street Gobernador Luis G. Vierya and on Gob. Rafael Rebollar between Gob. Luis G. Vierya and Gob. Vicente Eguia. So how do I know that these pieces are generally considered so good? Because they are quite old and faded, but they haven't been removed or painted over, not even with graffiti tags. However, unlike many other walls, these are not protected whatsoever, and are fully accessible. The first one looks like John Lennon and Carlos Santana riding a tram with dogs. The second one is a visionary lady engaged in some divination. And the third one, my personal favorite, is the Virgin of … sorry, I have no way of deciphering the lettering, even on the wall! In any case, the long-beaked mask she is wearing is anything but reassuring, still her gaze is so captivating that no matter her underlying reasons, I can't simply look away. 
Just to give an example to the contrary, which unfortunately is more common than anything else, here is one of those ubiquitous tags that look... well, to put it simply: like the crap it is. Sorry for offending the artist, but in these cases I'm not surprised that these images get tagged over repeatedly.