As I focused predominately on natural beauty throughout my trip, some interesting urban images may have come a bit short, especially here in Los Angeles. Also, my main reason for coming here was to visit my friend Rishi, catch up on the past and discuss plans for the future, I did not spend too much time sightseeing. Even when we happened to be out and about, walking through Hollywood and such, taking pictures was the last thing on my mind. However, there were a couple of cool visuals worth sharing.
Almost Mexico
The West Lake area where my friend lives in is a predominately Latin American neighborhood, so lots of things were quite familiar for me: the banda music blaring from the neighbor's window, street vendors selling tamales and other Mexican delicacies, and of course colorful murals on the walls. Sure, not all of them are worth the shot, but some are so impressive that I had to stop and take a photo.
Admittedly, these particular murals are not from West Lake, but in fact in Boyle Heights, more specifically on the corner of 1st Street and Boyle Avenue, where I passed through as I was leaving the city towards Redlands. The corner also features Mariachi Plaza and Boyle Heights Station, so it fits well that this corner should have some impressive examples of Mexican murals.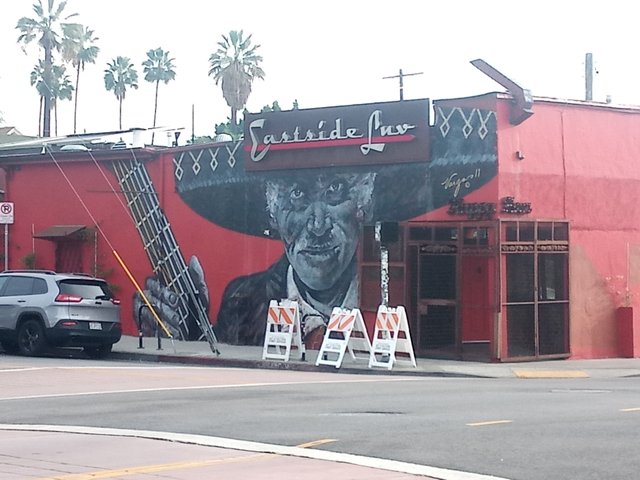 The first one depicts mariachi guitarist Rafael Rubio, overlooking the square from the corner of the Eastside Luv bar. Painted by the artist Robert Vargas, the mural is supposed to address the inter-generational changes happening in this mainly Latin neighborhood. (Source)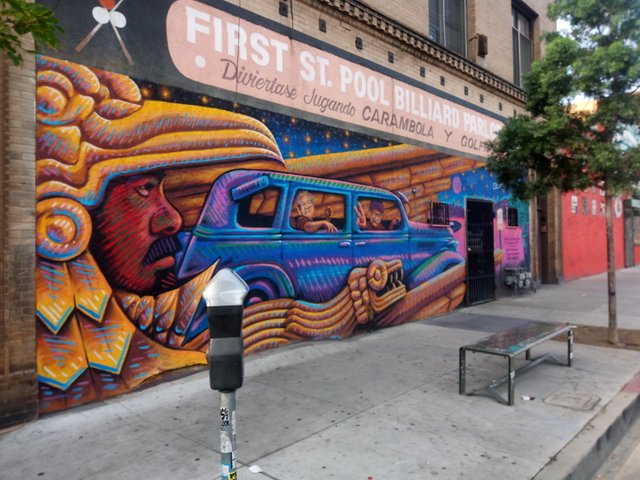 Right across the street is this other beautiful painting on the wall of a billiard hall. The artist Sergio Robleto combined pre-hispanic imagery of an Aztec warrior with a classic, mid-century style automobile. Interestingly, the face of the warrior features a mustache, which is much more typical for contemporary Mexicans than for their pre-colombian ancestors. 
Street Art in Other Areas
Since we're doing murals, let me include another one I saw on my way into L.A. and I could not pass by without capturing it in an image. It is a series of wall paintings displayed along Valley Village Park, on Chandler Avenue in North Hollywood. The scene depicts the crazy and chaotic traffic Los Angeles is known for, including taxi cabs, parking meters, and all kinds of signage.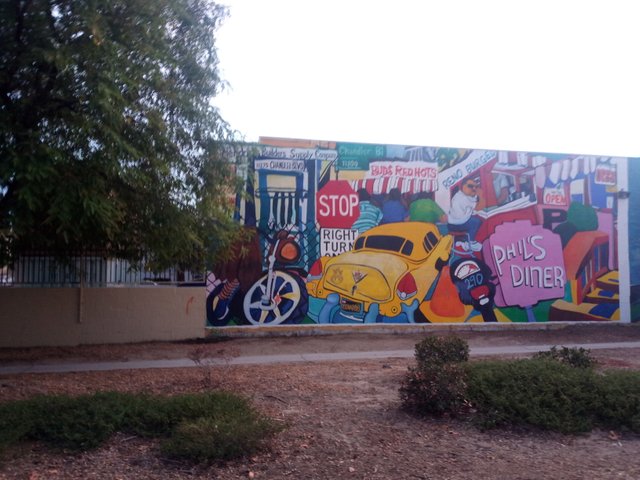 Back to West Lake
The next street art is more graffiti-like, which is not entirely out of place, as it is the wall of a copy shop. At the time I took the photo I assumed it was part of the bike shop next door, where I bought a new tire for the last week of my trip. I can't say too much about the wall art, except that it was made by Man One Art, but the bike shop is called Bici Libre, and is a wonderful DIY shop, where you can fix your own bike, and score recycled bike parts. Supposedly there are many such shops all over the city, but this one just happens to be only a couple of blocks from my Rishi's house.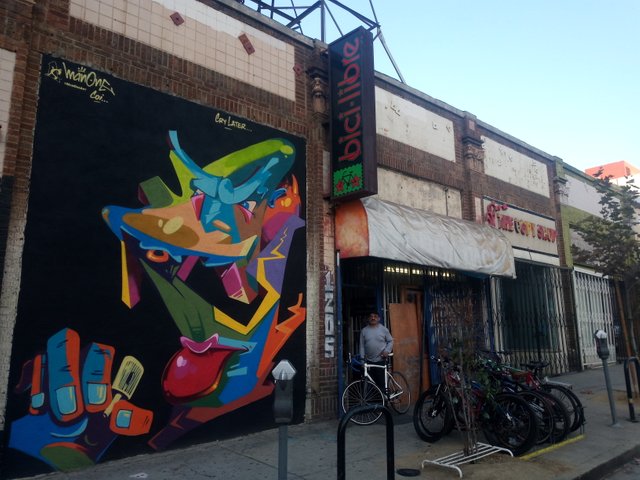 L.A. Dude During Golden Hour
Before finishing this post of beautiful images, let me include one of myself! As photogenic as the person in front of the camera is, as much recognition deserves the one behind it.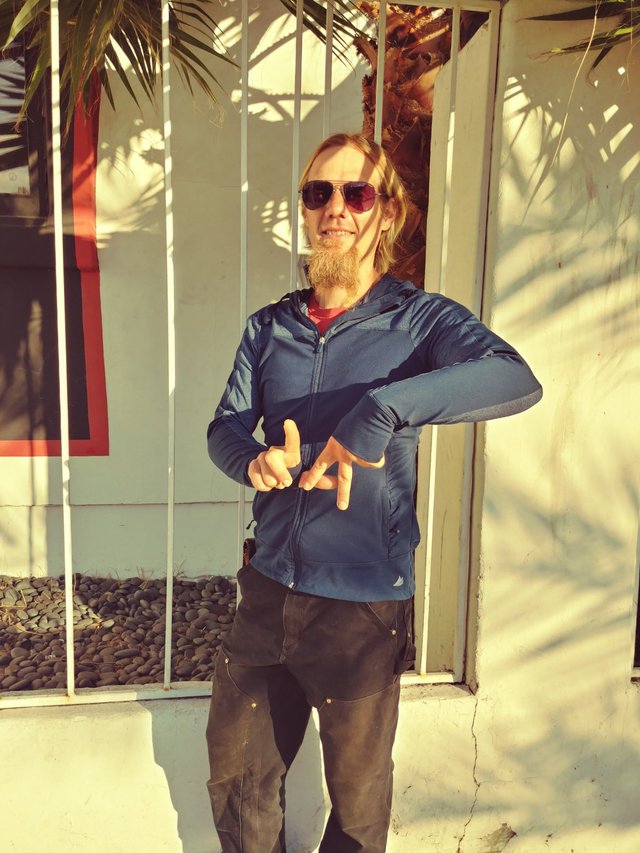 My friend Rishi tried to capture the style of Los Angeles, including the sunglasses, the stylish sweatshirt, the palm tree in the background, and most of all, the light of the setting sun, shining at a perfect angle. Supposedly, this is the famous golden hour many film crews wait hours for to shoot in. I want to use this skilfully taken photo to conclude my post of beautiful images of Los Angeles.
If you'd like to read my bike trip in its entirety, check out the rest of my posts in the Cascadia to Aztlan series:
Please check out these great communities I'm contributing to: 

#ecotrain | What is EcoTrain | Discord Community

#cyclefeed | Introducing CycleFeed | Discord Community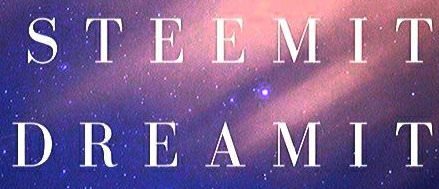 Introducing SteemitDreamit | Facebook Group | Discord Community