📌 Post Up S1E3 - Thursdays 🕒 3PM & 🕚 11PM UTC live on MSP Waves 🌊. Curation, Engagement, Prizes! 💲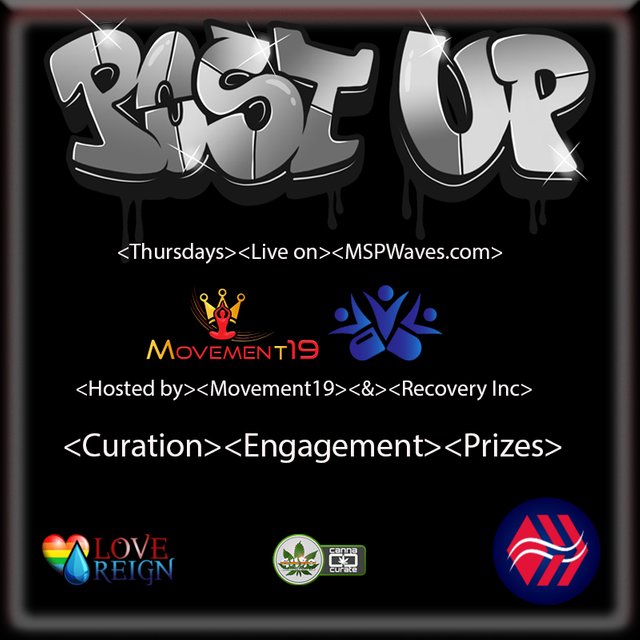 ---

Post Up is a live curation podcast. Audience members are invited to present a post from any social media platform or blog. The post can be yours or someone else's as long as it contains original meaningful content. Posts may consist of images, words or music. Mature content is acceptable, with discretion, as long as an NSFW warning is provided. The show hosts will encourage follows, upvotes, likes and comments. Each week, the audience will select the top three posts to receive a prize of cash or crypto. All posts presented will be curated for our blog. Get ready to Post Up!
📌 Post Up - Thursdays 🕒 3PM & 🕚 11PM UTC
Hosted by @movement19 & @recoveryinc

You can listen and watch on mspwaves.com
To participate join the live chat in the PAL Discord

📌 Post Up S1E3
In the interest of time and being ready for this evening's show I will keep this short. If you've participated in the show before you already know how much fun and how much work it can be for us behind the scenes. We certainly appreciate you being there with us and for us. We absolutely love seeing, sharing and rewarding your content. Please keep it coming.

The unfortunate news is that we may have to only do the evening show for now. Both
@recoveryinc
and I are currently holding down a very arduous full time job which requires our full attention in order to keep things running smooth. We haven't decided yet, but we will discuss this with
@r0nd0n
over the next few days and see what we can do to keep this up twice a week so that you all may have a chance to Post Up.

Last week's episodes
Here are the links to watch the previous episodes.
---
Here
you will find all of last week's posts curated for your enjoyment.
---

🙏🏼

👊🏼
---
You can follow me on most major social media.
---
#vaccinescauseavianflew 💉