Tune Into Frequency-Waves - Music as it was Meant to Be Heard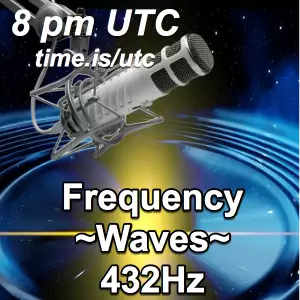 Don't Miss today's Frequency Waves at 3 pm Central 📻
Join me today at 3 pm Central, 8 pm UTC for another edifying music experience on MSP Waves Radio.
In this third show, we will explore the audible difference of 440 Hz and 432 Hz tunings with a short video.
We will take a look/listen at some reasons why Music in 432 Hz can be beneficial to our well being - with a science hat on.
Chris will reveal how he converts Music on the show live from any frequency to any frequency, and how to easily batch convert audio files for an enhanced listening pleasure.
The music played touches a wide spectrum of genres- there will be something for everybody!
And of course, all music played on the show is tuned to 432 Hz, the calmer, softer, more defined audio frequency - the natural way to listen to music. Chris also takes music requests.


Make sure to tune in - for a relaxing Saturday afternoon experience.
Join our MSP Waves Audience Chat Channel on Discord for vibrant and fun conversation with listeners and live interaction with the host.
Till then,
- Chris 🎧
MSPWaves Radio and its owners take no responsibility for the opinions or statements made by the talk show host or their guests. Statements and show topics do not necessarily represent the beliefs of the radio station. The material on Frequency Waves is provided for educational, entertainment and informational purposes only.

Thank you for reading.

Proud Supporter of PAL and the - The Minnow SupportProject
Christopher "The Hat" Hatfield @globocop

[Upvote] [Comment] [Resteem] [Follow]
Globobop Curation Trail - Make your vote count - Upvoting Quality - Why not join today?
---