5 PM PDT/6PM MDT/7PM CDT/8PM EDT/1AM GMT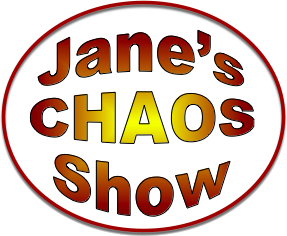 Jane's CHAOS Show today on MSP Waves Radio!
Things at Jane's are escalating, and things are increasingly tense at Jane's 'Asylum'. Jane again must focus on her family and keep it together, as panic is setting in, and disappointment over pay losses and broken promises are adding to the CHAOS at Jane's.
If you can help Jane with SBD or STEEM, it might go a long way to keep her precious family from facing cirumstances that they do not deserve.
In order to show Jane that this is not the end, I will continue to present the CHAOS Show every Friday for the next two weeks, when I am moving and @pennsif takes over until I am settled. Perhaps three weeks... I am so much looking forward to broadcasting my first show from Studio 21.... More during the show.
What's on today?
This time, I only have three news items lined up.
Florida, What do have Goldman Sachs, Israel and the FBI have in common? A murder plot that that's as sinister as the best political thriller, and the Euphrates Disaster, a middle-East analysis.
@SirLunchTheHost will premier his most amazing Crypto Rap here on MSP Waves Radio.
We will feature an Obama Special from Ben Garrison and two episodes of The DonFather with @jimitations.
Last but not least, after the 5 part series by @canadian-coconut about Anna's horrific experience with Chidl Protection Services, I will introduce a post by @familyprotection founder @markwittham to see what we can do to support Families affected and how to raise awareness.
Music today all selected by @globocop, but I am sure @disarrangedJane would approve. played in 432 Hz!
Hear you at 6 PM Central US, 12 Midnight UK.
Love
@globo
The easiest way to listen is through our MSP Waves Discord Channel on the Minnowsupport P.A.L. network.
You may also watch the Discord Chat on our video feed using VLC, a free video player available for all common operating systems.
We are currently also streaming on Twitch.
Here s how to watch and listen on VLC:
VLC -> Media -> Open Network Stream -> rtmp://stream.mspwaves.com/live/live -> and press PLAY!
A Colorful Radio Magazine
Jane and I are presenting three hours of colorful radio magazine time, during which we
dissect the news,
anlyze geopolitical events,
raise questions,
provide life hacks, and
look at our CHAOTIC lives in a light-hearted way, all
wrapped in awesome music...
...while taking ourselves not too seriously. The show is produced by Jane! It's passionate, fierce and emotinally charged and I am honored to ride shotgun with Jane...
Why not tune in to Jane's CHAOS Show if can?

Thank you for reading.

Proud Supporter of PAL and the - The Minnow SupportProject
Christopher "The Hat" Hatfield @globocop

[Upvote] [Comment] [Resteem] [Follow]
Globobop Curation Trail - Make your vote count - Upvoting Quality - Why not join today?
---