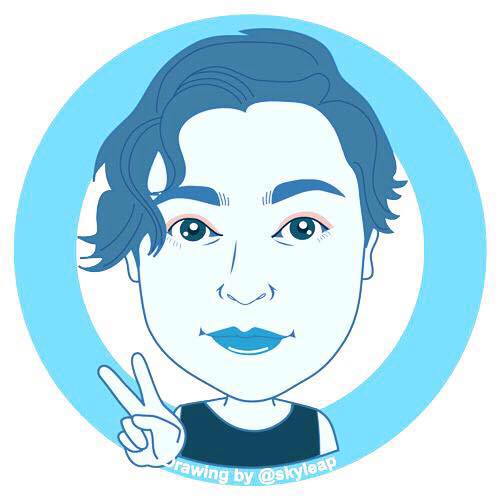 I don't know if you've met this young lady, her name is @stellabelle. She's kinda a big deal around here. You know... 6,000+ followers. One of the first active accounts on the platform. She's got puppets of puppets. You know her. You love her. She's Stella!
So, anyway(s) she and I have been chatting it up for a few months now. Nice lady. She's a member of the Steemit Broken Hearts Club too I think (anyone reading this is likely to be in it). We've been getting along swimmingly. Anyway, she ran a Steemfest contest for minnows, which as you might have guessed as the founder of the Minnow Support Project I was glad to see. She's constantly resteeming folks, sometimes getting in a wee bit of trouble with some of steemit bad boyz, but generally she's out there making waves.
Well, this time she's not just making waves she'll be riding them on MSPWaves radio! She'll be with none other than MSP Top 20 Witness turned MSP Waves DJ SkankyJ!!! It's the first on air Steemit celebrity I'm gonna bring on and you won't want to miss it. Not just cause she's got some cool shit she's got to talk about, but also because I'm going to bribe the shit out of you to listen.
To listen to the show go to the PALnet discord group and join the mspwaves-audience text chat and also listen in from mspwaves.com/listen.
2,000 SP Delegation Contest
We're gonna award 2,000 SP worth of delegation in the chatroom that night. It's gonna be yuuugggeee. There are two ways to participate. (Actual delegations will likely take place sometime on Monday).
You complete the scavenger hunt below and be in the audience on Sunday night for a shot at 1,500 SP.
You show up during the show and recruit folks while the show is on air.
Dice Bitches!
If you've been on the show before you know I have a penchant for Dice. I'll do 2 dice contests for 25 SBD each. So, I'll giveaway 50 SBD during the show. Good times!
Scavenger Hunt Details

Resteem this post.
Make a post.
When you complete the post link it in the comments below.
Use the tags mspwaves, minnowsupportproject, palnet, and scavengerhunt (you can pick the last one, but it should be funny).
I'll resteem anyone that completes these steps.

Scavenger Hunt shit to do
This contest will cost you 0.1 SBD. 1 delegated Steem Power. And take you ~20-30 min.
Explain what you're doing and why you're doing it at the start of the post.
Take a screen shot showing you have voted for at least 1 witness. It can be anyone... doesn't matter. Just make sure you voted for someone at www.steemit.com/~witnesses. If you're wondering who to vote for check out the minnowsupportproject.org website and look at the leadership page.
Join the Minnow Support Project official Discord Chatroom called the Peace, Abundance, and Liberty Network: https://discord.gg/HYj4yvw. Take a screen shot of you telling a joke in the "general-noposting" channel.
Take a screen shot of you telling any of the jr mods, mods, or sr mods, that you appreciate the fact that they dedicate time to support minnows making their way on the platform and/or give them any other compliment.
Use the @lovejuice bid bot to put a vote on a post that isn't your post (make a transfer of 0.1SBD and put a post URL of someone else's post in the transfer note). Take a screenshot.
Make an original piece of art, haiku, or 55 word flash fiction story. Include it in your post.
Leave a comment on a friends blog post letting them know about this contest and take a screen shot of that too.
Delegate 1sp or more to any MSP bot of your choice. Take a screen shot. (5-50 to minnowsupport or msp-shanehug will get you an automatic vote from an MSP bot). Use this link to get your delegation done- https://mspdelegator.herokuapp.com/mspdelegator (Putting a delegation on is instant, taking it off takes 7 days, to remove simply repeat the exact same process but choose 0 as the Steem Power amount). If you have 50 SP or less you are excused from section 7.
If you complete all 7 steps and put your post in the comments below then I'll resteem it from @aggroed (to return the favor of your resteem from step 1).
Winner
Everyone that was eligible for the scavenger hunt award and is present during the show will be placed in a lottery and during the interview section we'll use a publicly visible dice roll to determine the winner. In the event of a 1 being rolled the delegation will be pushed to next week's show.
Contest 2 (500 Steem Power Delegation)
Once you're in the chatroom for the show start recruiting people. Every time you recruit someone you get your name added as a recruiter and they get their name added as a recruitee. We'll roll dice to see which pair wins. The recruiter can choose to keep or split the 500 SP delegation. In the event I roll a one we push it to next week.
Additional Rules
These delegations are meant for minnows. If you have earned less than 5000 SP you're eligible to win for yourself. Anyone can choose to play for someone else (as long as that person has earned less than 5,000 SP). Here's the thing. The delegation sticks around until you have earned the 5,000 SP. So, this isn't necessarily a 1 week or 1 month thing. Could be there for a few months. Wouldn't that be cool!?!
Dice Bitches (rules)
Up for grabs is 25 SBD (we'll do this twice)
Aggroed rolls dice using the "t!dice 15d15" command.
You then do the same. If you beat or tie the roll you get moved to the next round.
If you get less than Aggroed you don't get to roll in the next round.
You can tell which round we're in because it will start with 15d15, then move down to 14d14, then 13d13 and so on.
On the last roll if Aggroed wins we start from scratch. If there is someone standing (doesn't have to be a Minnow) I'll send you 25 SBD.
If Aggroed wins the second round then we'll just do a 1d100 and highest roll wins. In the event of a tie there will be another roll off.
On this show because there's a 50 SBD instead of the normal 25 SBD at stake we'll play through "Dice Bitches!" twice.