It may be halloween but no tricks here, rather a special treat as a well respected member and witness of steemit is our interviewee this week!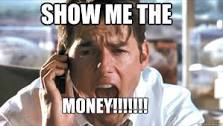 Get ready for the...

Tuesday - 4pm EST / 8pm UTC
Show Agenda:
Weekly Quick Tip - Intro to bitcoin and how to turn steem into USD.
Crypto Market Check - quick chart check on BTC, ETH, Steem and more
Interview of the week - hear my chat with Steemit user and witness @lukestokes (witness name: @lukstokes.mhth) as he readies to depart for Steemfest 2!
If you are not already familiar with luke then you are missing out on one of the gems of the steemit community! He has a way of taking the technical putting it into layman's terms for the rest of us.
We get into everything from the blockchain, crypto and the freedom it can provide. To the work of a witness and new coins, such as SmartCash.
Music and Questions - and of course some awesome jams will be played and I will answer audience questions.
---
---

---
A special shout out to @globocop, @r0nd0n, @followbtcnews, and the entire MSP-Waves Radio team. 📻 The show wouldn't be possible without you!


Best Regards,