We love hearing your Steemit Stories
on the @Ma1neEvent Interviews Show
on @MSP-WAVES Radio!
Welcome friends!
SHOW RECAP FOR 11-15-17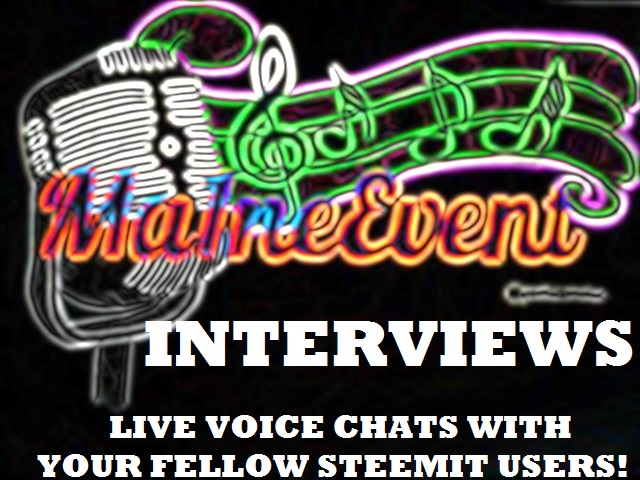 (Artwork by @poeticsnake)



We have another great show in store for you this week!


Every Wednesday Night from 10pm - Midnight UTC, @Ma1neEvent and @PoeticSnake chat with and interview different members of the Steemit Community! It is always a ton of fun getting to know everyone better, and learn what brought them here to Steemit!


Anyone is welcome to be on the show... from the new members, to the minnows, up to the witnesses and whales!


We chat with them about what they think of the platform, what they write about, and much more. The conversations are always a lot of fun, and the audience gets to interact with us live as well!


You can hear the radio show each week LIVE by joining the Peace, Abundance, & Liberty Server on Discord, Then joining the MSPW Listening Room. The PAL Server is the home of the @MinnowSupport Project. We enourage anyone who hasn't yet to check out the @MinnowSupport Project, it is a wonderful community of Steemit users, and a great place to learn, network, and chat with your fellow Steemit Members!

Find out more about the @MSP-Waves Radio Station by following them on Steemit, or visiting MSPWaves.com.

We had three members
of the Steemit Community
Join us this week:


@GMuxx
@Tinypaleokitchen
@Reko

First up on the show we were joined by the Legend himself, @Gmuxx, freshly back from his trip to SteemFest2!


@GMuxx is a well known and liked member of the Steemit Community, who is very active in the Writers Block group on Discord, and also is the founder of the @Muxxybot Curator group! He also has a weekly show alongside his co-host and Steemit Witness @Swelker101! Check out his blog for more about this community leader on Steemit!


Joining us next was a reletively new Steemit user, @TinyPaleoKitchen!


She talked to us about her experience so far with joining Steemit, her love of writing, cooking, a new joy of painting, and more! Please join us in welcoming this talented new member to Steemit Community!


Last but of course not least, we were joined by @Reko!


He told us about his adventures searching for food to try to help others in need, his passion being involved in a de-centralized farmers market, and more! A fun conversation with an up and coming Steemit user!
LISTEN TO THE FULL SHOW AUDIO HERE:
Thank you to all of you for coming on the show!

If you would like to join us as a guest on the show and tell us your Steemit Story, please send @Ma1neEvent a message on Discord, or leave a comment below! We would love to chat with you about your Steemit Experience!


You can check out MSPWAVES.com to find out more about @MSP-Waves Radio, and all of the various other shows!



YOU CAN SUPPORT ME AS A RADIO SHOW HOST, A CURATOR,
& ACTIVE STEEMIT SUPPORTER THROUGH SP DELEGATION:
If you support and enjoy what I am doing
to try and help the Steemit Community,
consider a delegation of Steem Power to @Ma1neEvent.
Any amount is helpful, and greatly appreciated!


Any and all delegations will help the authors / bloggers who I am curating daily on Steemit. Delegation also is helpful as I continue to try and shine a light on these amazing members of the community through my radio show, curation blogs, and manual curation for multiple curation groups! Any Support is appreciated!


Your continued voting support is also of course appreciated
through Steem Voter or Streemian.
You can follow my curation Streemian Voting Trail, HERE.



THANK YOU FOR LISTENING,
Until Next week, this is @Ma1neEvent, Signing off!