Our weekly
talk radio show
On @msp-waves
Returns Wednesday night!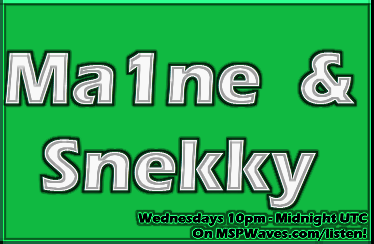 We are making a few changes...

Hello Steem friends! @Ma1neevent here, and @poeticsnake and I are excited to announce that we will be returning to the @msp-waves airwaves this Wednesday, July 11th! We have been on a much needed two week break, but we are eager to get back to doing our weekly Steem based talk show.


In the past, we were typically an all interview show. We had the pleasure of chatting with dozens of different people from all over the world, including many big name steemians such as @fyrstikken, @aggroed, @Jerrybanfield, @papa-pepper, @teamsteem, @starkerz, @exyle, and many many more.


Since starting our show last summer, many other interview shows have popped up on Msp Waves and in other communties. This has created a problem of too many interview shows, and not enough steemians to go around. This is only my opinion, but I've seen many popular steemians getting annoyed by being bombarded by interview requests. We certainly will continue to do interviews, but not as often.


We instead plan to focus our show on YOU, the Steem Community. We will discuss various topics each week, and chat with the live audience about thier thoughts. We will welcome audience members to join us on air for quick inputs and thoughts as well.


What would you like to hear us talking about on our show?


What kind of feedback can you give us about previous episodes you've heard?



Join us LIVE on
@msp-waves
Wednesday
July 11, 2018
From 10pm to midnight utc
Or 6pm to 8pm eastern.


Tune in to the show
On mspwaves.com/listen,
Or listen live
On Discord chat


We are excited to chat with you again on "Ma1ne & Snekky"!


The full audio recording will also continue to be shared on my blog if you can't make it to the live show.


See you Wednesday night
On mspwaves.com!


Disclaimer: The statements made on this show are only our opinions. We are not experts of anything, and this is not advice of any kind. Always do your own research. This show is for entertainment purposes only.



MSPWaves Radio and its owners take no responsibility for the opinions or statements made by the talk show host or their guests. Statements or show topics are not necessarily the beliefs of the radio station. The material on this show is provided for educational and informational purposes only.


We hope you will Resteem this post to help us spread the word!

We appreciate your support.


Would you like to Support @Ma1neEvent
Through Steem Power Delegations?
Click here to Delegate 50 SP
Click here to Delegate 100 SP
Click here to Delegate 500 SP
Click here to Delegate 1000 SP