Movie Review - Jumanji : Welcome to the Jungle - A Fun Watch that doesn't have a dull moment!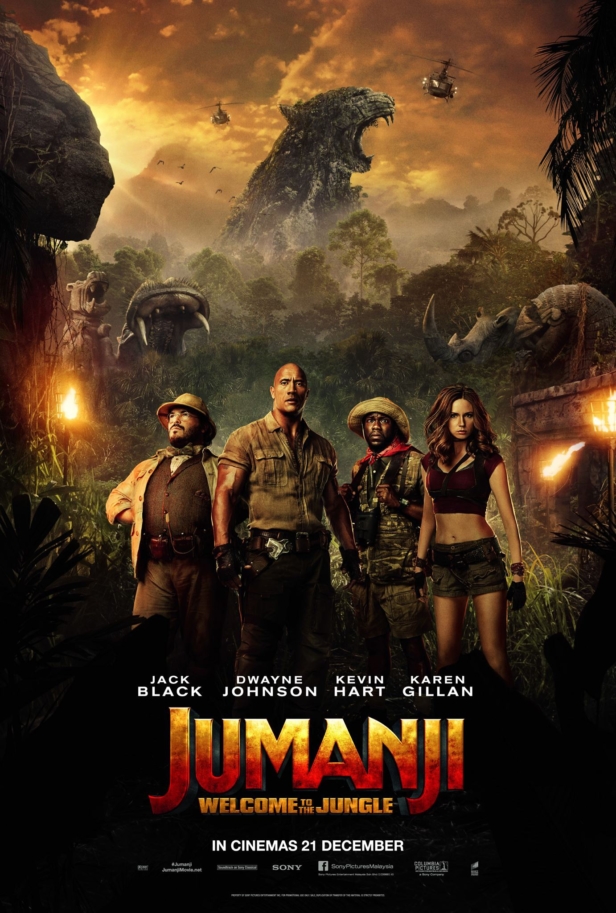 The Premise
---
Four high school kids discover an old video game console when serving detention in their high school and start playing it. Unwittingly they are sucked into the game's jungle called Jumanji and all of them become the adult avatars they chose. If they want to get back to the real word., they have find the puzzles, survive the various levels of challenges, and finish the game .
The Review
---
As somebody who quite liked the original Jumaji movie as a youngster, I have to say this Dwayne Johnson movie is a couple of notches above its predecessor and is a fun -filled 2-hour adventure that doesn't leave you with a dull moment.
You get enough laughts every other minute - a lot of it can be acredited to the fact that we have four youngsters stuck in the bodies of people who are dynamically their opposites in real life.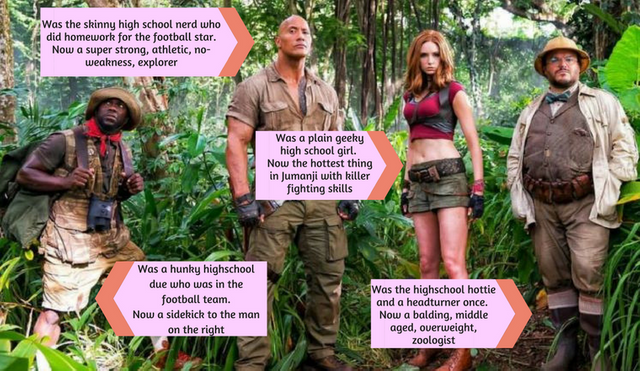 Pic: Created this easy explanation for each of the characters
Jack Black is the pick of the main cast since he pulls of f the toughest part - he plays the character of an 18 year old high school hottie who gets stuck in the body of an aging, balding, overweight zoologist. Black's mannerisms and dialogues are the most hilarious of the lot.
Kevit Hart plays the role of a character who was actually a high school footballer who's dominated his nerdy friend in real life but now has to deal with playing second fiddle in the Jumanji world! He gets some of the funniest one-liners in the movie.
Dwayne Johnson - oh well is Dwayne Johnson. The man has impecacable comic timing and despite his rough and tough looks can fit into any comic role with ease (is it a wonder why he's among the highest paid actors in Hollywood today).
It's the first time I'm watching any movie featuring Karen Gillian and no complaints about her role in the movie either. She looks like a million bucks and also pulls off some great 'dance fighting' moves (watch the movie to understand what that is).
The Verdict
---
If you watched the previous Jumanji movie, you'll realise that the basic storyline doesn't have anything new to offer - 4 players, one game that creates a whole lot of problems, and once you finish the game, it all goes away.
However, what makes this movie better is its overall entertainment value.
The CGI gives a fabulous immersive experience , and the movie is something that needs to be watched on a large screen.
This is one of those few fun clean entertainers for the entire family - go watch it at a theatre if you haven't already. And all the more fun, if you're in a group.
Movie Rating : 7.5/10 for wholesome family entertainment