"Four Twats in a Forest" -- a quick review of The Ritual
A couple of weeks ago I mentioned having re-read Iron John: a Book about Men.  Today, a pair of what Jung would call synchronicities:
I happened across this call for submissions on "Speculative Masculinities" from Galli Books.
In worlds as varied and diverse as the distant past of magical worlds and the far future of this one, models of maleness and masculinity tend to be the same toxic form of masculinity that dominates modern Western culture. We want to interrogate that model of masculinity, to problematise it, and to question it; we want to see other possible models of masculinity, models not centred on dominance and violence and repression of feelings; other role models for men. We are looking for fiction, essays and poetry which do this.
And, based on the Netflix blurb, I watched The Ritual, which I did not at first quite realize was a more or less standard horror movie.  Note: spoilers below the picture, but really, only if you've never watched a horror movie before.  It's a fucking horror movie; you know what's going to happen.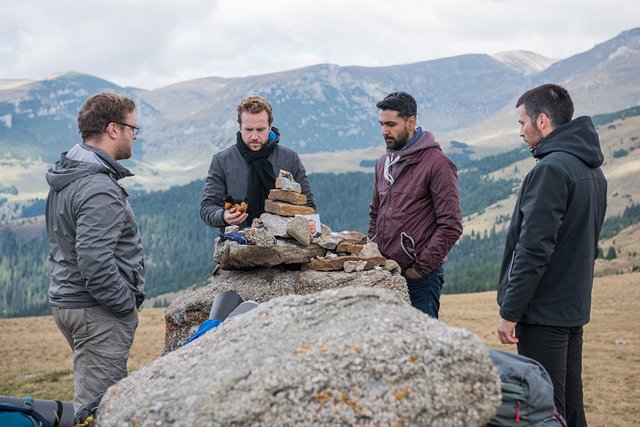 I was kind of hoping for a deeper exploration of male guilt and grief than pouring some liquor on the ground before the weirdness broke loose.  Now, don't get me wrong.  I loved Predator and hated The Blair Witch Project, and this film dances pretty expertly around the outline of the overlap area on the Venn diagram of those two movies.  
I liked the result considerably more than the Onion's AV Club reviewer did.  
I liked that the cultists were starving prisoners; that was a creative twist.  I liked the monster design; it reminded me of Larry Fessenden's Wendigo, but slicker, as it was largely CGI (I guess).  I liked that it had illusion powers, of an uncontrolled sort.  And I liked the fact that FIRE IS MAN'S BEST FRIEND.  
I immediately went from that to the Kirk vs Gorn episode of original Trek, "Arena," based on a classic SF story from 1944, which you can hear for free on Escape Pod.  Sort of a palate cleanser before bed.
Further Reading
https://www.vice.com/en_us/article/exqm8j/larry-fessenden-is-the-greatest-horror-film-director-youve-never-heard-of