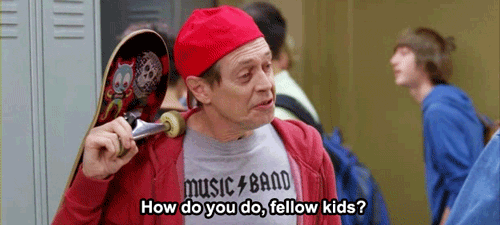 I'm a huge Steve Buscemi fan. He is so versatile. He can be funny, serious and scary. He is always good in Adam Sandler movies. I think Billy Madison was the first time that I saw him. His work in Fargo was also epic. My favorite role he did was as Nucky Thompson in Boardwalk Empire. That was a true leading man role and it was impressive that he could lead such a rich historical drama. I think his most underrated role is as Tony B in the Sopranos.
The reason I'm making a post about him is that I don't know what movie the meme above is from. I see it all the time, and I can relate to it. It is always obvious to kids when an adult is trying to seem cool. There is a very clear rule in the minds of kids: adults can be cool, but never as cool as kids are. That's why the meme is so perfect.
Steve Buscemi was a NYPD fire fighter for many years before becoming a famous actor. After 9/11 happened he went to the fire station to see how he could help. He is a true hero and gentleman.