One of the best 007 movies with Sean Connery.
This one of the better Bond movies as it isn't over the top or taking itself too seriously. There isn't the feeling of when is the next action sequence going to occur as it blends all the scenes nicely. Some of the other Bond movies could take a lesson from this one.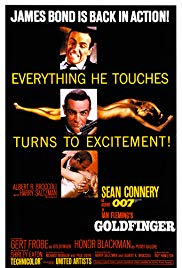 I am guessing most people have seen this at some point, even if it is just on the TV, it has been around long enough (1964) to have been screened a few times.
In this instalment Bond is back to save the world as he seems to do on every mission. This mission sees him going up against Auric Goldfinger whom wants to raid Fort Knox and rewrite the world's economy (maybe not the worst idea these days).
Bond of course will need to get close to Goldfinger and his personal pilot Ms Galore in order to learn the plan and throw the spanner in the works. He will need all of his charm and combat skills to prevail, especially when fighting Oddjob.
I do like Sean Connery as James Bond, and this is one of my favourite Bond films. If you like the 007 movies and haven't seen this you should.