Is anything set in stone?
That is one of the questions raised by this movie, one of the other ones is do the end justify the means. Of course if your not that interested in these questions there is plenty of action, always a good thing.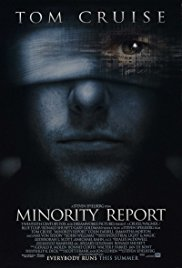 This movie is set in 2054 (not that far away really), it is supposedly a much more peaceful time as most violent crimes no longer occur. This is achieved by a special police unit called "Pre-crime". They have at their disposal three psychics (Pre-Cogs) that can see violent crimes before they occur.
The Pre-crime unit arrests people on the "evidence" provided by the Pre-Cogs. The head of the division believes that the system is perfect, until he is seen committing a murder. His victim is someone he hasn't met yet. So he does what all people accused of a pre-crime do, he runs.
While running from his own unit he learns of a 'minority report'. This would seem to suggest that the system isn't as perfect as he first believed. As he conducts his own investigation into the minority report he also seems to be travelling down path that the pre-cogs saw. This leads to the question of, is he doomed to commit the crime while trying to prove his innocence?
I do quite like this movie as it can be enjoyed on various levels, one is simply sit back and watch the action. While if you are so inclined you can go deeper into some of the underlying questions posed.