Why nobody talk about the movie "The Cleansing Hour"? My faith in horror movies comes back. ¿Por qué nadie hablo de la película "The Cleansing Hour"? Vuelve mi Fé en el cine de terror.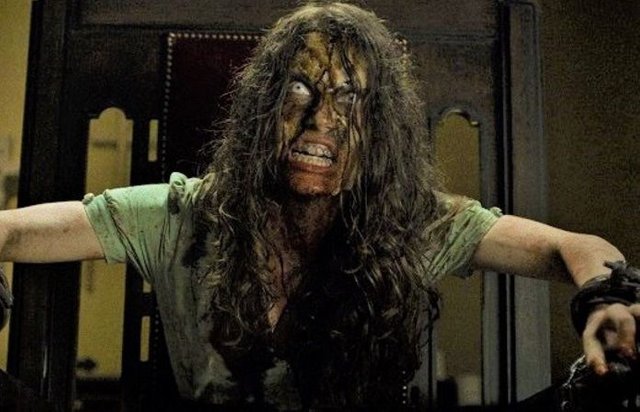 Hello friends. I come to tell you about a movie I saw. When I finished it, I wondered why nobody talked about this movie. That's why today I come to tell you about this horror story called The Cleansing hour.
Hola de nuevo amigos. Vengo a contarles sobre una película que vi. Al terminarla me cuestione porque nadie hablo de ella. Es por eso que hoy vengo a darles mi opinion de esta historia de terror llamada The Clansing hour.
We all have different ways of making the decision to watch a movie, and when we don't know which one to choose, we apply internet searches. But this time, the first time I saw something about the cleansing hour, it was on twitter. One person had posted a recommendation about her. Asking the same question that I ask: Why is nobody talking about The cleansing hour? I did a quick search on websites specialized in rating films according to professional criticism and the vote of those who watch it. Let me tell you that this movie has a very good approval and is without a doubt one of those jewels ignored by many even ignored by me, until today I finally saw it...
Todos tenemos diferentes maneras de tomar la decisión de ver una película, y cuando no sabemos cuál escoger aplicamos búsquedas en internet. Pero en esta oportunidad, la primera vez que vi algo sobre the cleansing hour, fue en twitter. Una persona había posteado una mini recomendación acerca de ella. Haciéndose la misma pregunta que hago yo: ¿Por qué nadie hablo de The cleansing hour? Hice una búsqueda rápida en sitios web especializados en calificar películas según el gusto de la crítica profesional y el voto de los que la ven. Déjenme decirles que esta película cuenta con una muy buena aprobación y es sin duda una de esas joyas ignoradas por muchos incluso ignorada por mí, hasta hoy que por fin la vi…
The cleansing hour tells the story of Max and Drew, a couple of boys who broadcast a show for the internet, exorcism rituals are witnessed on the broadcast. What the spectators do not know is that everything is a fake, nothing is real, until one day, a true demon arrives on the set possessing the actress. The lie becomes reality and everyone is witnessing it.
The cleansing hour narra la historia de Max y Drew, un par de chicos que transmite un programa para internet, en la transmisión se presencian rituales de exorcismos. Lo que los espectadores no saben es que todo es un show, nada es real, hasta que un día, un verdadero demonio llega al set poseyendo a la actriz. La mentira se vuelve realidad y todo el mundo lo está presenciando.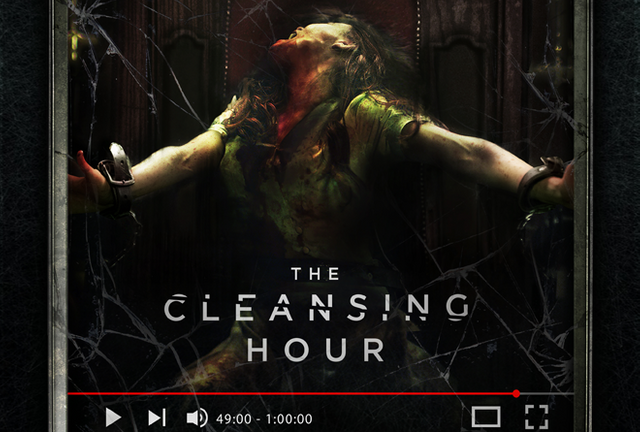 Source/Fuente
Being a horror movie and just mentioning that little synopsis you can get an idea of ​​what comes next and that is where this film stands out. if we compare it with other current horror productions. This interesting movie will keep you glued to your seat for 94 MIN. From the initial minutes you will be attracted to the plot. Do not expect moments of awesome scares, this movie has at most only two screamers and they are very light. It has the right dose to make you give a little jump of dread.
*Al ser una película de terror y con tan solo mencionar esa pequeña sinopsis puedes hacerte una idea de lo que viene después y es allí donde este film destaca por mucho si lo comparamos con otras producciones de terror actuales. Esta interesante película te mantendrá pegado a tu asiento por 94 MIN. Desde los minutos iniciales te quedaras atraído a la trama. No esperes momentos de sustos impresionantes, esta película tiene cuando mucho solo dos screamers y son muy ligeros, la dosis justas para hacerte dar un pequeño saltito de pavor. *
As for the special effects I must admit that they are of acceptable quality. I think the budget was limited for this film, but I think they used it very well, if they managed to convince me in many moments. There is an actress who with little makeup made a good interpretation as possessed.
En cuanto a los efectos especiales debo admitir que son de una calidad aceptable. Creo que el presupuesto fue limitado para este film, pero considero que lo utilizaron muy bien, si lograron convencerme en muchos momentos, pero eso creo que es parte de que la actriz hizo una buena interpretación.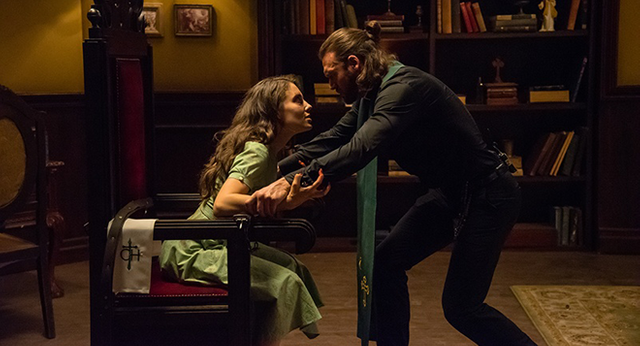 Source/Fuente
Another reason to choose to watch the cleansing hour is the climax of the film, there are many moments. Each moment surpasses the other without altering the rhythm of the plot, in any case it complements it masterfully. Believe me guys, this is another way to see horror stories. An enjoyable story from beginning to end, very well adapted to what the synopsis poses. I had not wanted to give this film a chance since I discovered it. Fortunately I dared to see it and I was very pleased.
Otro motivo para optar ver the cleansing hour son los momentos del clímax de la película, son muchos. Cada momento supera al otro sin alterar el ritmo de la trama, en todo caso lo complementa de manera magistral. Créanme chicos, esta es otra forma de ver las historias de terror. Una historia disfrutable de principio a fin, muy bien adaptado lo que plantea la sinopsis. No le había querido dar la oportunidad a este film desde que lo descubrí. Afortunadamente me atreví a verlo y quede muy complacido.
If you like horror movies but you're bored of always seeing the same scares and the same stories. The cleansing hour is what you were waiting for faith in horror movies to return.
Si lo tuyo es el cine de terror pero estas aburrido de siempre ver los mismos sustos y las mismas historias. The cleansing hour es lo que estabas esperando para que la fe en el cine de terror vuelva a nacer en ti.