If you like political "chess" games, then this movie is for you!
I don't remember why I postponed for so long watching this movie. First time I saw its trailer - which was previous year. Wow, time flies - I knew I shouldn't miss it. Anyway, back to the movie. I watched it, enjoyed every moment and waited impatiently how the end would be.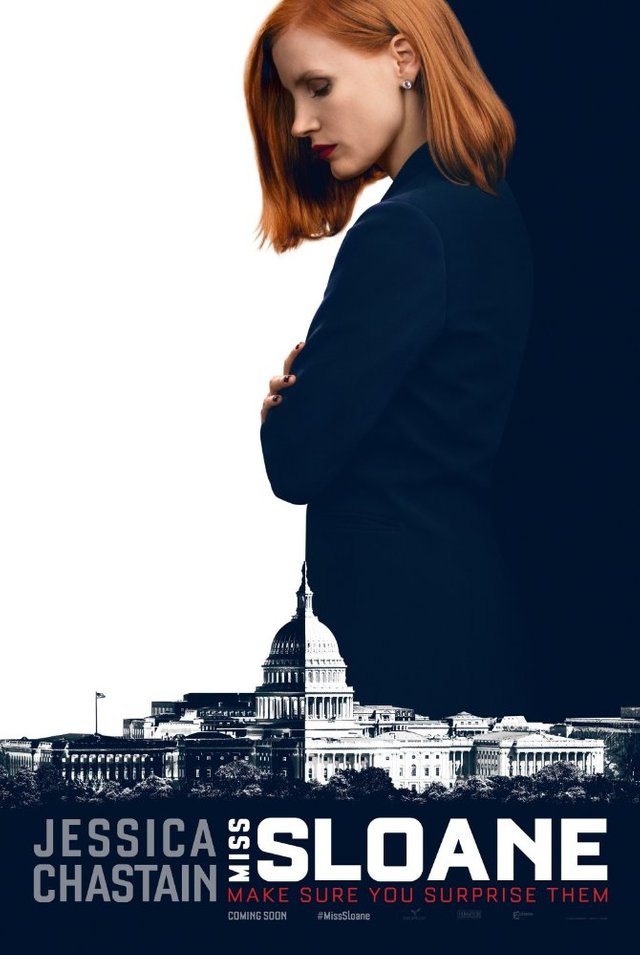 Source
The movie starts with Miss Sloane in her natural "habitat", that is, her office in one of the best lobbyist companies in the town. We are introduced to an alpha female, super confident, very workaholic, quite eloquent and very knowledgeable about her job. We also notice that she has a bit of pills addiction lol. The real starting point of the movie is when she meets with a gun manufacturing owner/CEO (whatever!) who knows Miss Sloane's reputation and ask her services for one of the gun bills draft to be overturned by the senators.
The fact that she is a lobbyist might make you think "Well she doesn't have any kind of moral or ethics". In contrary, since the beginning of the movie she made it very clear that she, in fact, lobby passionately for a cause that she really cares about and it fits her moral principles. At this point, I was like "Is she for real"? I forgot that I was watching a movie, silly me!
Later on, she leaves the current company in a quite theatrical way, take 5 members of her former team with her and moves to work in another company that opposes exactly the same gun guy. Throughout the movie, Sloane doesn't rest, doesn't have friends, doesn't have a social life and pays an escort for sexual services.
I can say that Sloane is the pure form of contemporary Machiavellism. She uses people and she shows no remorse about it. Why does it matter anyway? The means justify the goal and her case, the goal is always WIN. And she feels like she is losing grounds, she loses her mind and goes totally wreck havoc.
Until the end the movie, I watched how a stubborn woman was able to carry out a Trojan horse move in her former company and at the same time, she "killed" the queen in her own chess game. Et voila, check mate for her!
I absolutely loved Jessica Chastain, playing the role of Sloane. The casting wouldn't have been better. She even got nominated for Best Actress- Motion Picture drama in Golden Globe Awards.
I also like one of the supporting Esme whose role in the movie was to contrast her working method compared to Sloane. Sloane is ruthless and unstoppable while Esme tried to do things in what she thinks is the right way.
---
Jessica Chastain as Elisabeth Madeline Sloane
Mark Strong as Rodolfo Schmidt
Gugu Mbatha-Raw as Esme Manucharian
Alison Pill as Jane Molloy
Michael Stuhlbarg as Pat Connors
Jake Lacy as Forde
Sam Waterston as George Dupont
John Lithgow as U.S. Senator Ron M. Sperling
Jack Murray as Buzzcut
Grace Lynn Kung as Lauren
Raoul Bhaneja as R.M. Dutton
Chuck Shamata as Bob Sanford
Douglas Smith as Alex
Meghann Fahy as Clara Thomson
Lucy Owen as Cynthia
Zach Smadu as Ramirez
Austin Strugnell as Travis
Noah Robbins as Franklin Walsh
Alexandra Castillo as Pru West
Aaron Hale as Junior Spencer
Greta Onieogou as Greta
Al Mukadam as Ross
---
Lobbying is about foresight. About anticipating your opponent's moves and devising counter measures. The winner plots one step ahead of the opposition. And plays her trump card just after they play theirs. It's about making sure you surprise them. And they don't surprise you.
Although politics seems to be a bit of tiring topic right now, especially after the US election, Sloane movie gives a different perspective on the US politics.
I have to admit: it's a fantastic movie. I am surprised at 6,7/10 ratings in IMBd, although the general perception and the critics are quite positive. Personally, I would give it an 8.5 out of 10. Miss Sloane is definitely underrated, probably due to the sensitive topic of guns ownership rights. I can imagine the gun producers being quite pissed about this film. I didn't pay too much attention about the gun topic, I was too busy enjoying the amazing performance of Jessica. She is definitely captivating and outdid herself with her role.
The photography, visuals are pretty good. It's an interesting film, with a few sex scenes here and there, interesting dialogue, with a couple of "wikileaks" style scenes, keeps you on edge and yeap, grab some popcorns and see it!
Did you watch it? What did you think?