Start Working, Rambo 5 Tells Heroic Action Against Human Trafficking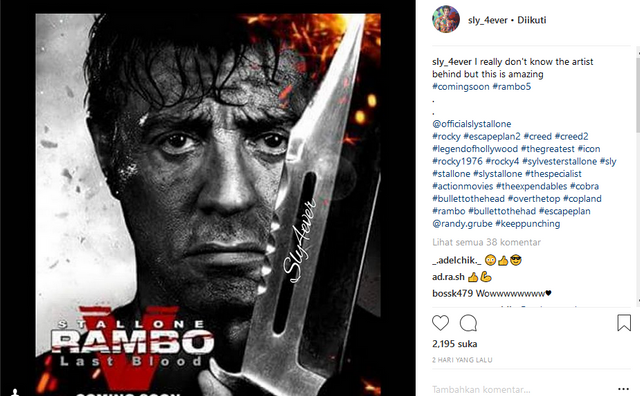 Veteran actor Sylvester Stallone is rumored to be working on the legendary Rambo movie 5. The news sticks out after Sylvester Stallone's Instagram account uploaded a poster featuring Rambo with a distinctive red headband on Saturday (11/8). A few days later, the first details about the plot and character have been revealed.
Rambo 5 will be set in Mexico and will tell John Rambo who joined a journalist to fight a group of human traffickers who have kidnapped a group of local girls.
Previously, it was alleged that continued Rambo would tell about the drug cartel after his best friend's daughter was kidnapped. However, then it tells the story of human trafficking and it is not yet known whether the daughter will be one of the girls who were kidnapped in the Rambo franchise film.
John Rambo will start the film by living in Arizona. On a farm after spending several decades abroad, Rambo also worked with journalists to track down and rescue local girls sold in the sex trade in Mexico.
"Rambo worked with a journalist to track down and rescue a group of local girls who had been kidnapped by the Mexican sex trade group. He returned to action after spending decades staying in a peaceful peaceful life on a family farm in Arizona," Stallone said.
Based on the Casting video leaked online, there are a number of additional information about the Rambo story 5. The first new character is Robert Siedel, an American who plays a role in the human trafficking operation. Siedel was later kidnapped by John Rambo when he tried to get information about the missing girls.
Two other characters named Hugo and Victor. Hugo is a thug, while Victor is a professional human trader.
It is believed that Rambo 5 will begin shooting in Bulgaria on September 1, then move to the Canary Islands, Spain. Rambo 5's teaser poster is planned to be released in May. Stallone said that Rambo 5 would hit theaters in the fall of 2019.