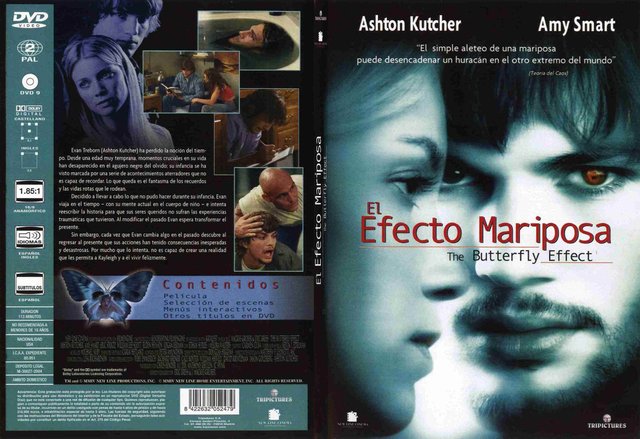 El Efecto Mariposa / The Butterfly Effect (2004)
Dirección: Eric Bress / J. Mackye Gruber
Producción: Toby Emmerich / Jason Goldberg / Ashton Kutcher
Guión: Eric Bress / J. Mackye Gruber
Protagonistas: Ashton Kutcher / Amy Smart / Elden Henson / William Lee Scott / Melora Walters / Eric Stoltz / Ethan Suplee / Logan Lerman / Callum Keith Rennie / John Patrick Amedori / Jesse James / Cameron Bright / Kevin Schmidt / Kevin Durand / Lorena Gale / Jesse Hutch / Irene Gorovaia / Jake Kaese / Tara Lynn Wilson
El Efecto Mariposa fue escrita y dirigida por Eric Bress y protagonizada por Ashton Kutcher y Amy Smart. Se estrenó en el año 2004 y contó con dos secuelas: The Butterfly Effect II (2006) y The butterfly effect III: Revelations (2009). El título de la película hace referencia al llamado "efecto mariposa", según el cual se dice que el aleteo de una simple mariposa es capaz de provocar un tifón al otro lado del mundo.
La historia gira en torno a Evan Treborn, estudiante de psicología que descubre que leyendo los diarios que él mismo escribió de adolescente por recomendación de su psiquiatra, puede regresar al pasado y cambiar algunas cosas.
La noción del tiempo ha sido perdida por Evan Treborn. Momentos cruciales de su vida han desaparecido con del olvido; su infancia cuenta con las marcas de una serie de acontecimientos aterradores incapaz de recordar. Lo que le queda es el fantasma de los recuerdos y las vidas rotas que le rodean.
Gran parte de su infancia Evan asistió a sesiones de terapia con un especialista que le animaba a escribir un diario con todos los detalles de su vida cotidiana. Ya en la universidad, decide leer uno de sus diarios y de forma repentina e inexplicablemente se encuentra en el pasado. Se da cuenta que los diarios que guarda debajo de la cama son un vehículo para regresar al pasado y recuperar sus recuerdos. Sin embargo, estos recuerdos hacen sentir a Evan responsable de las vidas estropeadas de sus amigos.
Decidido a llevar a cabo lo que no pudo hacer durante su infancia, intenta reescribir la historia para que sus seres queridos no sufran las experiencias traumáticas que tuvieron, pero al modificar el pasado Evan espera transformar el presente.
Un imprevisto… cada vez que cambia algo del pasado descubre al regresar al presente que sus acciones han tenido consecuencias inesperadas y desastrosas.
---
Fuente:
https://www.youtube.com
---