FICHA TÉCNICA
---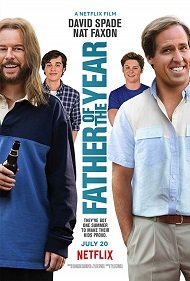 Fuente del Póster: IMDb
Clasificación: NR
Año: 2018
Título original: Father of the Year
País: Estados Unidos
Fecha de Estreno: 20 de Julio de 2018
Duración: 94 minutos
Género: Comedia
Dirección: Tyler Spindel
Guión: Brandon Cournoyer, Tyler Spindel
Música: Elmo Weber
Fotografía: Brad Shield
Productora: Netflix
Reparto: David Spade, Bridgit Mendler, Nat Faxon, Joey Bragg, Jared Sandler, Matt Shively, Ver todo - IMDb
---
  QUE ES FATHER OF THE YEAR?

Father of the Year es una comedia sobre dos recién graduados de la universidad que regresan a su ciudad natal y desafían a sus padres a pelear entre sí.
 
La historia sigue a dos universitarios recién graduados, mientras debaten borrachos sobre qué padre ganaría en una pelea. Pero cuando es tomado en serio por sus padres, se pierden empleos, las relaciones se arruinan, los futuros se destruyen, y los mejores amigos llegan a la mayoría de edad a medida que se enfrentan a quiénes son sus padres realmente.
Father of the Year está llena de blasfemias, al igual que otras películas originales de Netflix por parte de la compañía de Adam Sandler "Happy Madison Productions". La película está llena de acción slapstick: caídas de techos, estantes altos, peleas a puñetazos y golpes en la cabeza; chocando contra todo tipo de muebles, ventanas y equipos. Uno de los personajes principales, es un alcohólico y está bebiendo todo el tiempo.
Tyler Spindel dirige esta comedia escrita por Brandon Cournoyer y Tyler Spindel. Esta protagonizada por David Spade, Nat Faxon, Bridgit Mendler, Joey Bragg, Matt Shively y Jared Sandler.
Father of the Year puede ser atractiva para el público al que le gustan las películas groseras con risas baratas.
---
  IMÁGENES DE LA PELÍCULA

Click en la imagen para verla en pantalla completa!
Fuente de las Imágenes: Rotten Tomatoes
El copyright de las imágenes pertenece a sus respectivos autores y/o productoras/distribuidoras.
---
  TRÁILER

Fuente del Tráiler: Jhorge Settler - Youtube
El copyright de este vídeo pertenece a la productora y distribuidora, su publicación es solo para dar a conocer la película.

PÁGINAS WEB UTILIZADAS PARA COMPLEMENTAR EL POST

OTROS ARTÍCULOS QUE TE PUEDEN INTERESAR

¡Muchas gracias por visitar mi blog!
UPVOTE
FOLLOW
RESTEEM