Hello friends, so I just saw a movie titled Love Alarm a South Korean drama series. It was directed by Lee Na Jung, it starred actors like Kim So-Hyun, Jung Ga-ram, Song Kang amongst others.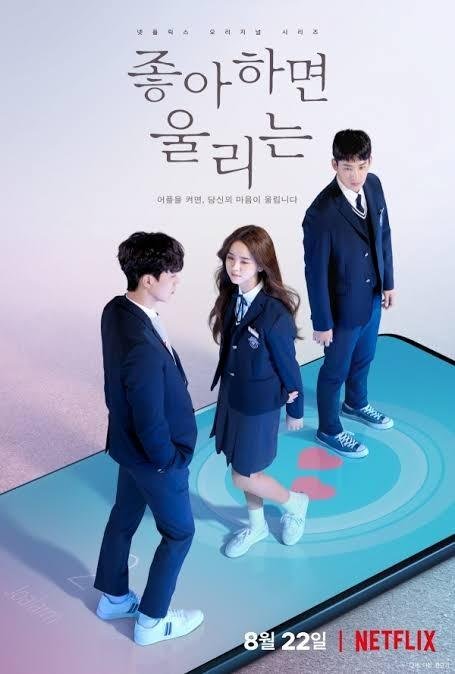 Although this not going to be an actual review, but something about the drama caught my attention which is the love app described in the drama. Before that, let me give a brief information on the plot so we know what I am talking about.
Love alarm is a South Korean teen kdrama series which shows a world in which an app when installed notifies people if someone 10 meters around them likes them.
The app of a thing caught my attention, I mean with just an app on your phone one could get notified of an admirer. Although, in as much as it was so fascinating, I can not even begin to imagine what the world would be like with that kind of app in use, for me it would be disastrous. Reasons being that....
The love triangle or maybe even trapezium would be crazy. Even without the app there are lots of issues with love triangle but even at that the other person in the love triangle could let go of his/her feelings quietly getting over it personally without anyone having to know about it or without getting teased by friends for being rejected or sort. At least that way one's feelings are kept at heart and expressed when he or she wants. But with the app one's feelings are cannot be safe because you never know when the alarm would go off.
It could also lead to low esteem, depression or even sucide. We all have different emotional strength, different people take things in different ways. Now, there are those who might not get a notification of love which would end up causing an adverse effect on them.To some hearing other people's love alarm ring uncontrollably but do not have just one notification would most likely loose all confidence in themselves, losing their self esteem or even take their lives. In the movie you would see an example of what I mean, where a mass suicide was committed because no one wants to ring their love alarm.
Hmmm the app would also expose lots of lies too looking at the bright side. Take for instance, a guy claims to love me all I need to do to confirm if he really loves me is just to tell him to put on his love alarm app while I do the same, if it rings then lucky me if not that would be sad. No more playing of "I love you" tricks because everything would already be an open book.
Well, what can I say besides the fact that it is just a movie and an interesting one at that.
Check out the trailer...

Thanks for reading guys, have a good day.
Bliss