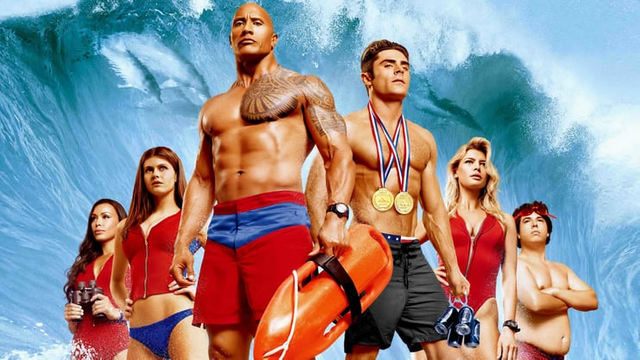 Director: Seth Gordon
Starring: Dwayne Johnson, Zac Efron, Alexandra Daddario, Kelly Rohrbach
IMDB Rating: 6.3/10
RT Tomatometer: 18%
Trailer
Review (Short)
Anyone who remembers the original Baywatch series will know that it wasn't great but millions would tune in anyway for their weekly dose of eye candy.
As much as i want to criticise this movie it's hard. I'm a big fan of Dwayne Johnson as an actor, he seems to always entertain no matter what role he is in and this movie is no different. Johnson plays Mich Buchannon as a devoted life guard trying to uncover a criminal plot all while clashing with new recruit Matt Brody (Zac Effron). Johnson and Effron together deliver a perfect mix of humour and over the top action. Lets not forget the women of Baywatch, Alexandra Daddario, Kelly Rohrbach, Ilfenesh Hadera, and Priyanka Chopra as criminal mastermind Victoria Leeds are just as tough as the guys and bring the eye candy. We also get cameos from Pamela Anderson and David Hassleholf which is a nice call back to the original cast.
The plot is a little weak and it's surprising the film doesn't fall completely apart. The over the top nature of the film seems to keep things going despite a weak plot.
Overall Baywatch delivers exactly what i expected, cheesy over the top action with a little humour thrown in. I was entertained for the duration of the film so it's very hard to be disappointed.