Is Birds of Prey (And the Fantabulous Emancipation of One Harley Quinn) Worth Your Time?
Please stop reading this and go see Birds of Prey (And the Fantabulous Emancipation of One Harley Quinn) right now.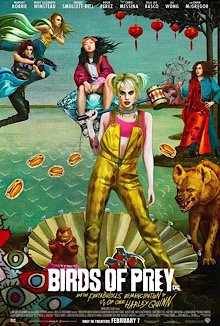 Image labeled free to use and found on Wikipedia
There is simply nothing I can write that will be nearly as entertaining as this movie. It seems I finally got my wish and the team lording over the DC Extended Universe realized that movies about super beings running around in their underwear are supposed to be FUN! While Wonder Woman attempted to include some less serious moments (like the ridiculous Pretty Woman scene) and Shazam! crammed in some heart and humor in between flawed special effects, Birds of Prey has boldly spit in reality's drink and kicked it squarely in the nuts... and I couldn't be happier!
Although I think the first two installments of Christopher Nolan's Dark Knight trilogy are some of the finest films I have ever seen, those were the exception. The writing, directing, and acting allowed those movies to transcend comic books and tell a much more serious and deep story. But they should not be the standard to which DC filmmakers should strive for. Luckily, Birds of Prey write Christina Hodson realized this and went the complete opposite direction: unbridled entertainment.
Nothing in this movie could happen in real life. People with guns do not usually lose to a person wielding a giant cartoon mallet. Police stations cannot be taken over by one lone combatant who refuses to use a real firearms. Crime bosses do not typically send two people to retrieve the most valuable object in the world. And woman with PHD's in psychiatry do not usually transform into unstoppable, ninja-like badasses. But I don't go to the movies to see the "typical". I go to see the EXTRAORDINARY!
And Birds of Prey is fantabulously extraordinary!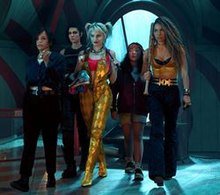 Image labeled free to use
Before I delve too much into the ridiculous (in the most loving way possible) I need to talk about something real for a moment. Margot Robbie is incredible. I do not think there is another actress alive who could pull off Harley Quinn. I believe that Margot Robbie may actually be a super hero. How else can you explain her superhuman ability to make Suicide Squad watchable? Her ability to pull off cute, crazy, loopy, and psychotic all at the same time is amazing! (And yes there is a difference between those three... you'll have to watch the movie to see what I mean). Heck, Robbie even blinks in character. Even if you do not like the rest of the film (which would be perplexing) Robbie's performance is worth the price of the ticket.
Ok. That was way too serious for this movie. Now on to the fun! DC simply sucks when it comes to special effects (see Batman vs Superman, Justice League, The Suicide Squad, Wonder Woman, Shazam!...) How do you solve the problem that your studio can only pull off special effects that resemble the cut scenes from video games? Simple... don't use them. All of the anti-heroes and villains in this movie are human (with one minor exception... but I won't spoil it). As a result, the action needs to rely on excellent choreography and some car chases for good measure.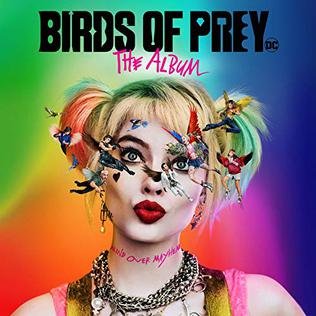 Image labeled free to use
In recent years, the creators of John Wick have set the new standard for close combat choreography. I have not seen any film rival it... until Birds of Prey. Once you get past the fact that people with baseball bats, giant clubs and bows and arrows crossbows are fighting people with machine guns, you will have a great time. Whoever was responsible for Harley's stunts deserves a huge pay raise. There was so much flipping, spinning, sliding, leaping and joint breaking that I thought I might be watching a ballet... well except maybe not the joint breaking. Director Cathy Yan's use of music during the many fight scenes kicked up the excitement to an even higher level.
I spent the first 90 minutes of this movie awed by the action or chuckling at the humor. Harley Quinn is freaking funny! The villains are comically over the top. This is especially true of Ewan McGreggor. If you liked Deadpool, then you have spectacular taste and Birds of Prey (And the Fantabulous Emancipation of One Harley Quinn) is for you.
If you still aren't convinced you need to see this movie ASAP, then allow me to sweeten the deal a little. The final 20 minutes involves a fight and a car chase involving roller skates. One particular sequence made me laugh so hard that I was actually wiping away tears.
If you like to forget reality and have fun while you are in a movie theater... then you shouldn't be reading this because you should be on the way to see Birds of Prey (And the Fantabulous Emancipation of One Harley Quinn).