Finding our bearings on Cairn Gorm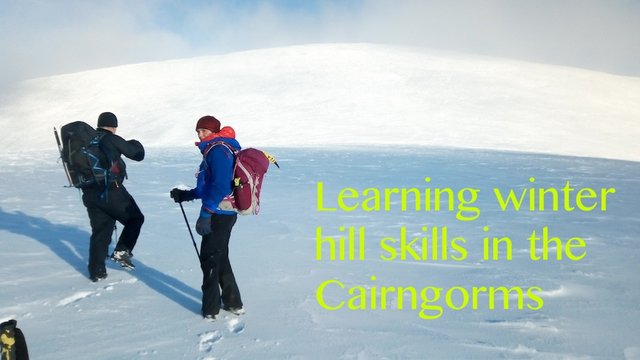 I've been overdoing it recently! But sometimes opportunities come up that are too good to turn down, even when your diary is packed full. And when I spotted a post offering a two-day winter navigation course in the Cairngorms, I jumped at it.
I've been increasingly aware of the risks that winter hillwalking and mountaineering involves, especially the risks of walking onto a cornice, and I've wanted to do a winter navigation course for some time, with the aim of reducing those risks and expanding my capabilities.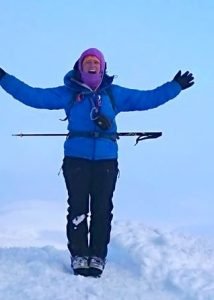 The irrepressible Di Gilbert!
Photo by Nikki Maclean.
At the same time, I thought it would be a good way to brush up on my general navigation skills, as I'm aiming towards achieving my Mountain Leader award.
Our trainer was Di Gilbert, a high-calibre mountaineer whom I'd heard about through the winter safety talks I've attended. At the time I didn't realise that she was the second Scottish woman to summit Mount Everest, and has also climbed K2, though her party were forced to abandon their summit attempt due to an avalanche. Di will be guiding a group climbing Everest this May.
We would be receiving expert tuition!

Breakfast with a view
Our session opened with a breakfast meeting with Di at the Tiso Outdoor Experience café in Aviemore. I love Aviemore, the small town on the doorstep of the Cairngorm mountain range, and I have visited several times over the years, but I was still full of excitement at the dramatic view of the Lairig Ghru from the café window, the mountain pass between Braeriach and the Cairngorm plateau. My camera did not do it justice!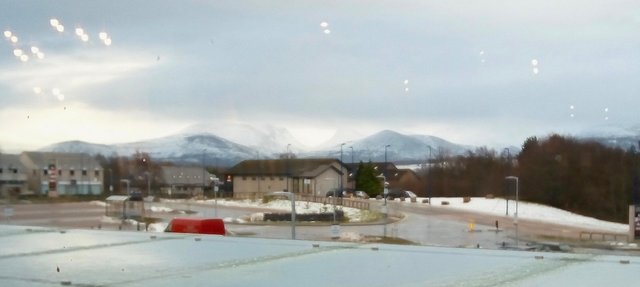 The Lairig Ghru pass, from the window of Tiso's Café in Aviemore, with the Cairngorm plateau to the left and Braeriach to the right.
Di was bemused at my excitement. These mountains are her "office" – she commutes to them most days of the week from her home in a nearby town, to do climbing, ski-ing or mountain guiding. Her effervescent enthusiasm made it feel like this was a really special occasion – which it was for the six of us who had signed up for the course.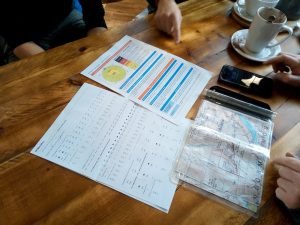 Breakfast planning meeting.
After introductions, we discussed weather and avalanche reports over coffee. Then it was time to head out to the Cairngorm Ski Centre car park.
Although the conditions that day were not ideal for skiers, they were perfect for us, with lots of snow, but not enough to make walking really difficult. The band of thick cloud forecast by the weather report stayed just west of the Cairngorm plateau, giving us clear, dry weather for most of the day.
There are several excellent paths on the popular Cairngorm plateau, but these tend to disappear under the snow in winter – which is one reason why people can lose their bearings and get into trouble. We headed up the path leading to the Coire an t-Sneachda, pausing while Di asked us to check our paces and timings.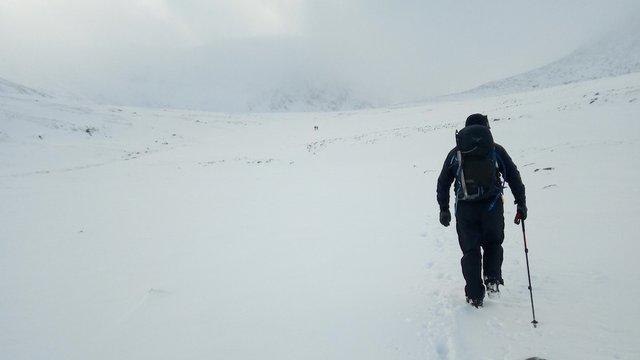 Coire an t-Sneachda.
As we gained altitude and the path became obscured under the snow, we were tasked to find our way to various location points, including submerged streams. This is another important winter consideration, because if you accidentally put your foot into a submerged stream, you can get wet feet, which is not a good thing in sub-zero temperatures. This is never completely unavoidable, as not all streams appear on the maps, so it's best to carry a spare pair of socks.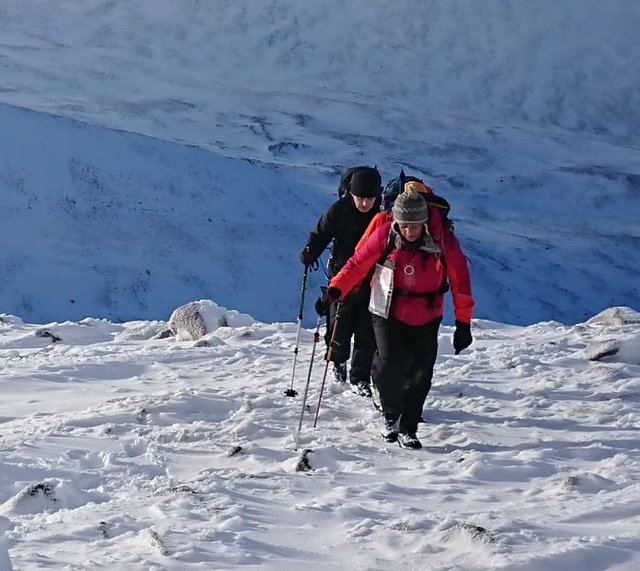 Me staggering up the hill.
Photo by Nikki Maclean.
From the Coire an t-Sneachda we turned east and climbed up the Fiacaill a' Choire Chaise, a narrow shoulder leading up towards a cairn at 1141m altitude. This was a climb of less than 150m altitude, but I found it very tiring, which is unlike me! I think my snowshoeing adventure on the Sow of Atholl the day before had been more tiring than I'd expected, and together with my trip to the Cairnwell four days earlier, which had been my first hillwalk for a month after spraining my ankle, I'd overdone it a bit!
I was just slightly behind the others, needing to pause for breath a few times. Di waited patiently behind me. The views were breathtaking too!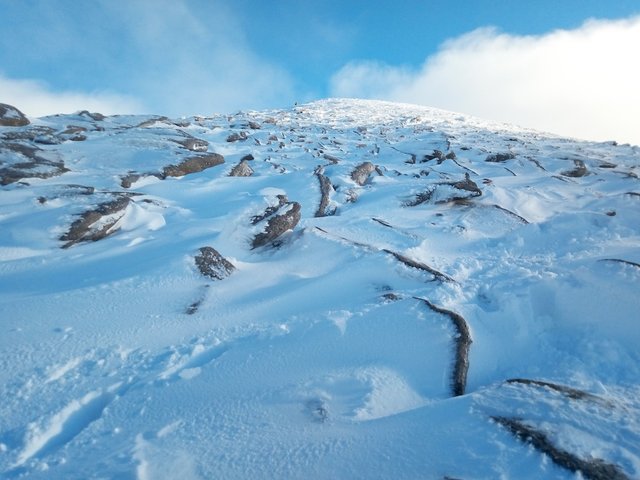 Fiacaill a' Choire Chaise.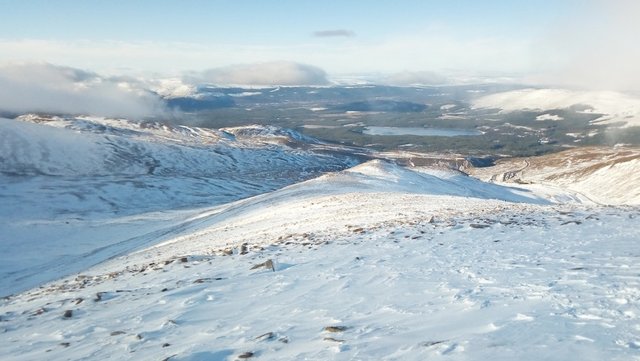 The view in the other direction, down to Loch Morlich.
We took a short break at the 1141m cairn, and Di gave us some more advice about reading the landscape and taking bearings.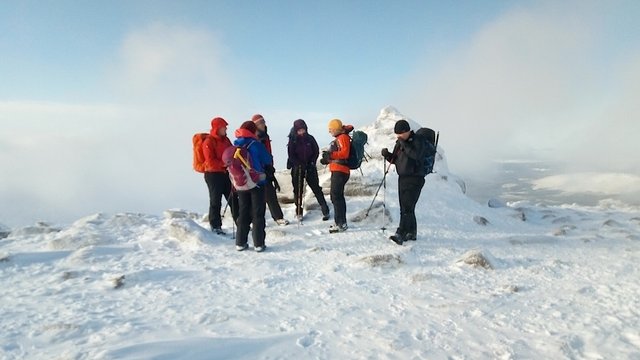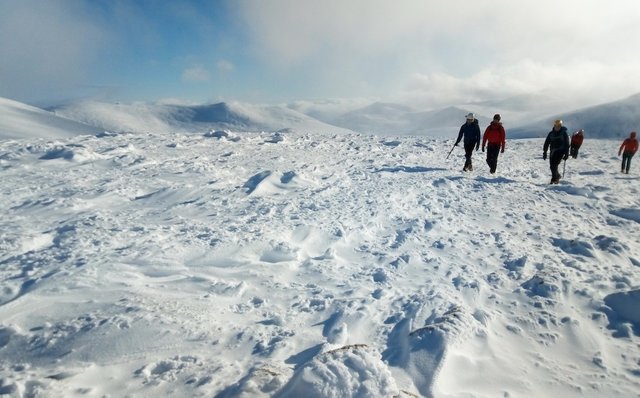 A group of climbers passed us, on their way back from a climb.
From there, we timed and paced our way up to the summit of Cairn Gorm, at 1,245m. It astonishes me that this was my first time at Cairn Gorm summit, although I did travel up as far as the Ptarmigan café with my family as a child, probably on the chairlift.
The first object you see as you approach the summit is the weather station, a bizarre-looking fixture when caked in ice, like a robotic snowman.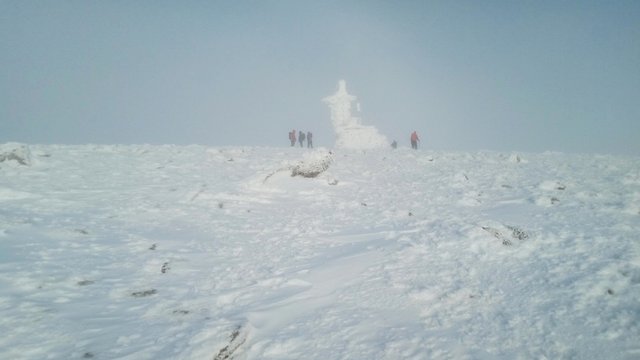 The group gathering round the Cairngorm weather station.
The air was much colder at this altitude, with strong winds, although nothing to what the Cairngorm plateau can throw at you.
The true summit is marked by a cairn a few metres distance away. I ran off to claim my 105th Munro.
Then it was my turn to lead the group to a specific location point, using my compass and pacing, and the limited features of the landscape.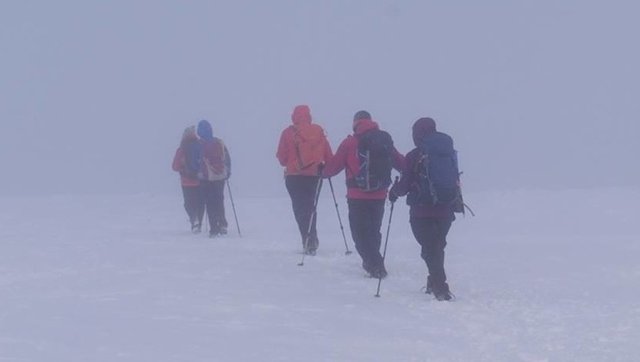 My turn at taking the lead, in near whiteout conditions.
Photo by Paul Goldie.
These skills will provide invaluable protection to hopefully prevent us wandering into dangerous corniced areas and to help us find our way if visibility deteriorates and we find ourselves in a vast snowy expanse.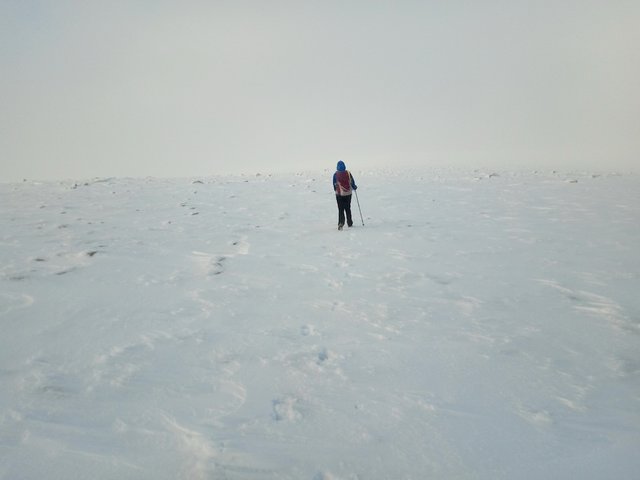 The kind of conditions where navigation skills become invaluable!
We navigated our way to a "Munro top" called Cnap Coire na Spreidhe, at 1,151m altitude. The weather was clearer and less blustery at this level, and the views magnificent.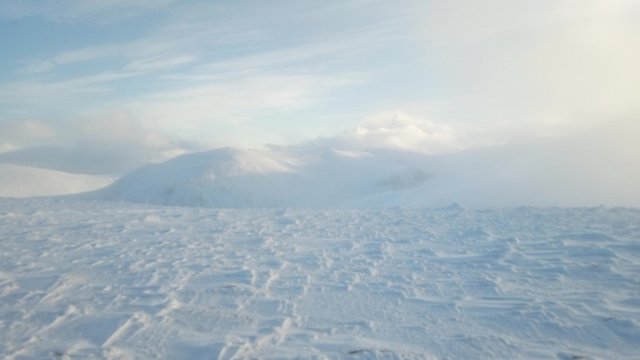 The view back to Cairn Gorm from Cnap Coire na Spreidhe.

Cairn Gorm summit at the right, with Beinn Mheadoin and the eastern Cairngorms.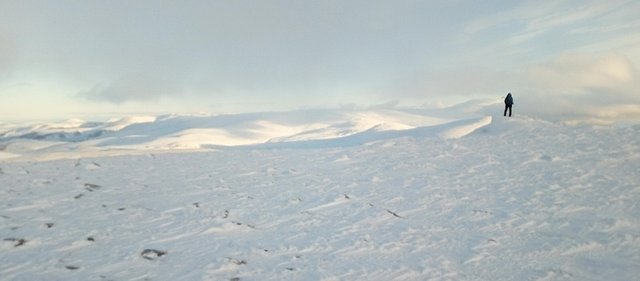 Di taking a few minutes to admire the view. It's lovely to see that these bewitching views can still captivate someone who was born and brought up in this area and comes here on a weekly or daily basis.
We did a few more navigation legs and then made our way back to the base station as dusk was falling.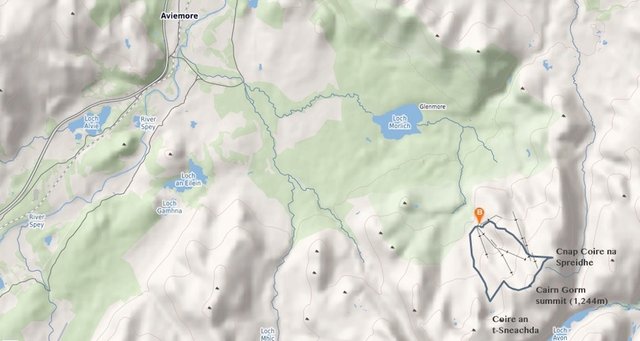 Map showing our perambulations on the Cairngorm plateau.
The original plan was to make a later start the following day and then do some night navigation, but unfortunately storms rolled in that night, and not only were the winds extremely high, but much of the snow melted or was blown away.
After some discussion, we took a group decision to postpone the next navigation day – possibly till next year, as we may have seen the last of the snow for this winter. In any case, we all felt we had learned enough to increase our confidence considerably on winter days on the hills.
I'm looking forward to seeing Di Gilbert present a talk about her Himalayan mountaineering experiences at the Braemar Mountain Festival next month.

---
Posted from my blog with SteemPress : http://ramblingandscrambling.co.uk/mountains/finding-our-bearings-on-cairn-gorm/
---