Mountain Monday - A Sunday Drive
The Big and Small of it
It was a somewhat mostly overcast kind of a day, still Mountain Monday was going to be here real soon, and well last week I had to use a view from last year. The Tuesday trip and the Thursday trip were, well I made a few basic camera mistakes. So even though it was overcast at home there were some hints of blue toward the mountains, and since tourist season is still about a month away we headed to the mountains.
First stop was Tern Lake campground. There is a little one width car bridge over the creek that flows out of Tern Lake. The first photo of the trip was the bridge, way to early for the fish but still I think a nice view from the fish viewing platform.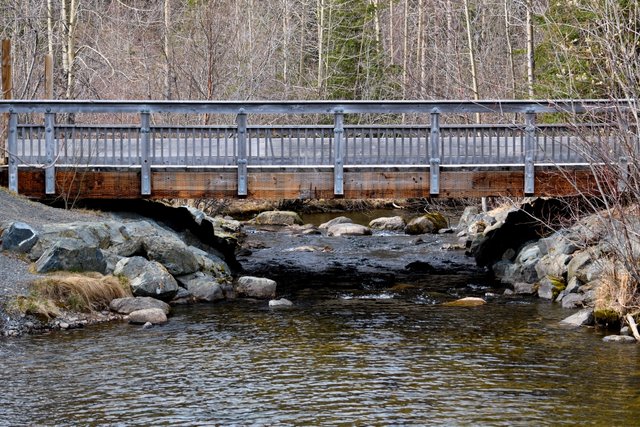 Last year we got lucky on a trip to the little bridge area, and the creek was wall to wall with spawning salmon, I hope to be able to catch that again this year.
While we knew it was to early for the salmon we were hoping for some waterfowl. We did get lucky with a group of three Loons. Like the ducks that visit Alaska, they really do not like people. At least instead of taking to the sky they just swam at a very fast pace. I did manage to get one half way decent shot. Just check that suckers wake out, and he was just getting started.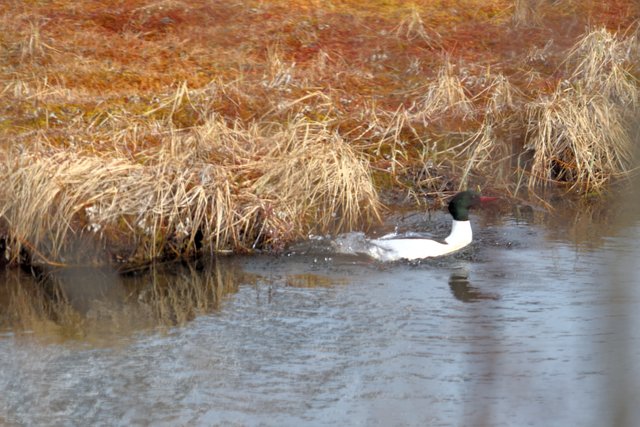 We caught him just as we were getting ready to leave the campground area. Next stop was the big pullout view spot. Still hoping for a swan or two, but still to early in the season for them I think. Here is the view looking south from the view point. Tern Lake sits kind of in a Y shaped valley right in the center. There is the leg that heads south east-ish to Seward Alaska, the leg that head north ward to Anchorage, and the one that heads to Soldotna and Homer. So mountains everywhere.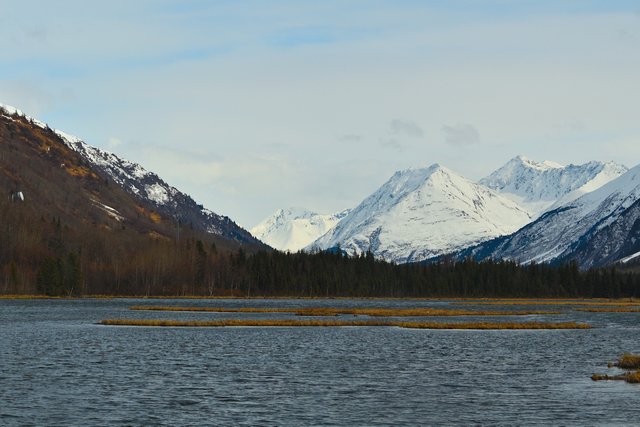 A couple miles to the North heading toward Anchorage, is Jerome Lake, a fairly small lake but it has a pullout and when the sun is out and the winds are calm, you get some really awesome reflections of the surrounding mountains. Unfortunately it is really not fully spring in Alaska, and the lake was still mostly frozen over as you can see here.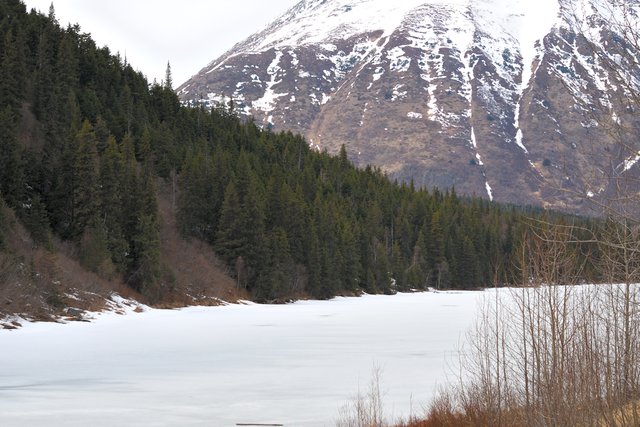 Still it is a nice area and view point. All is not lost though just because it is still pretending to be winter at Jerome Lake, just across the water and swampy area is an interesting outcropping of a rock area. The picture does not really do the rock justice, but it is a neat thing to see, or at least I enjoyed being able to see it better with out a lot of greenery being in the way. In the spring ans summer you just get a tiny hint of what it looks like. (guess I forgot to process the picture and since it is getting late maybe another day). So on with the picture show.
I found it: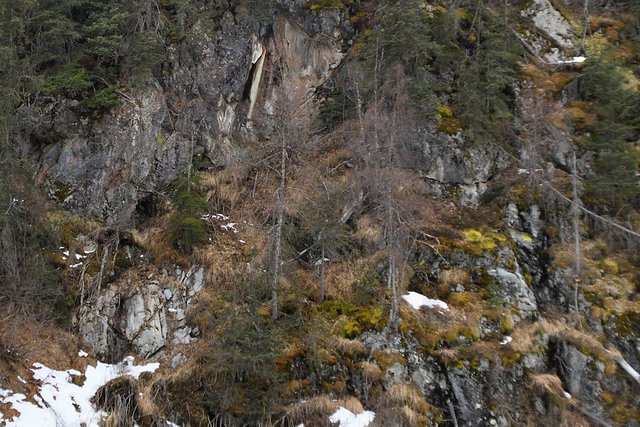 Heading back south again, next stop was the Tern Lake high pull out. A nice pullout, but there is only a small area to get a nice view of the lake and there was someone else at the prime spot, we waited a little to see if they would leave, but they were having a good time and in no hurry, so I got what I could get.
So here we are looking to the mountains to the east.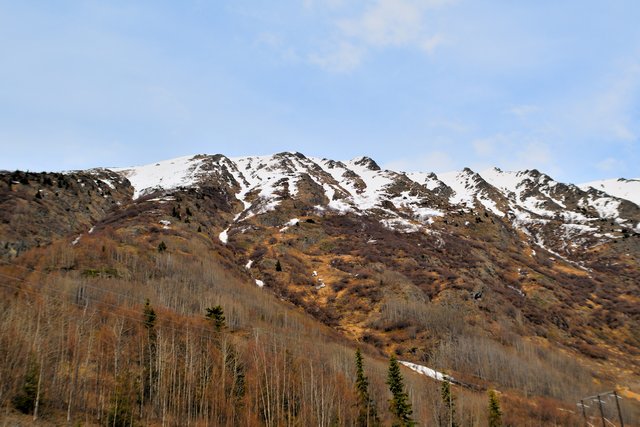 And here is the view of Tern lake from the high pullout. Pretty similar to the low view but from a higher view point.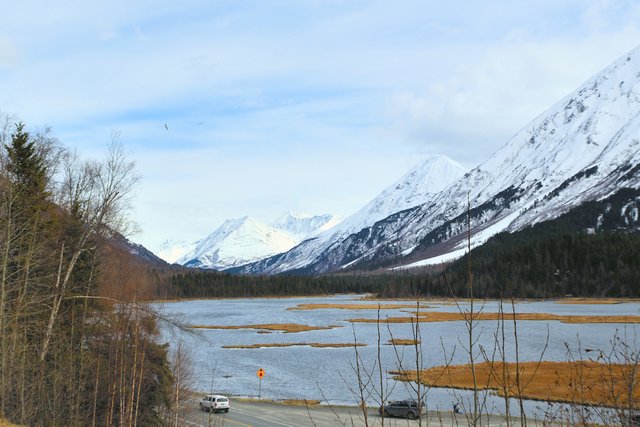 So that was the end of Tern Lake picture taking for me, for now. Off to the south and to Trail Lake to see what we could see. Here is a quick road shot, not recommended to do, no traffic behind or ahead so I slowed down and was able to get this shot.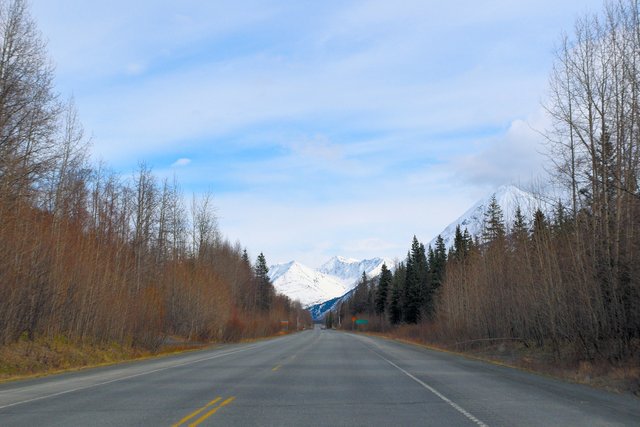 Photo editing programs are great to fix the errors of a quick click. I like how it came out, original was a little darker and more shadowed to where the trees along side the road were barely visible.
Last mountain view, this is from Trail Lake. Trail lake is a fish hatchery area, I have never been in there, but think I may visit and do one of the tour things this summer. This is one of the southern edge mountains on the lake.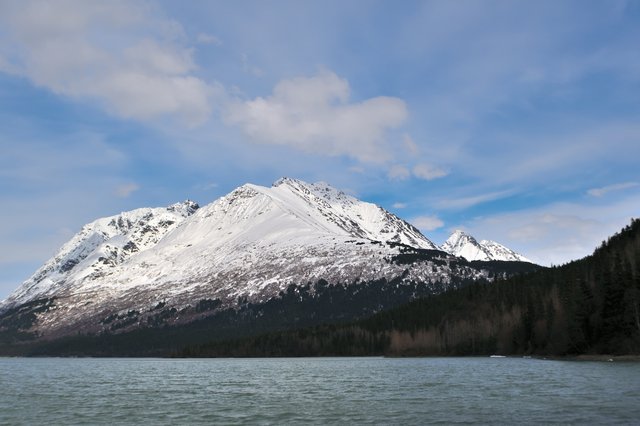 That concludes the Big of it.
---
The Small
This picture I am very happy with, along with it being overcast today, it was also pretty windy, so I was real pleased I think it came out great, just a branch of willow with its little pussy toes opening.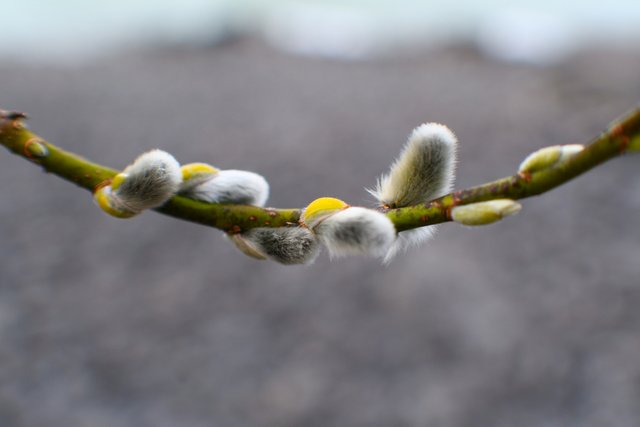 The other small shot is of some moss growing on a tree trunk. Other than the lake this area is...well still in the mountains and does not get a lot of sun other than the little bit it gets in the morning and afternoon in the fall, winter and spring months. So lots of moss and mushrooms in this little area.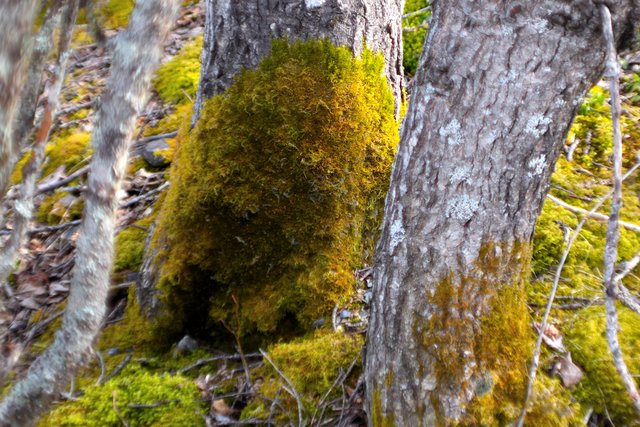 Well that pretty much wrapped up my picture taking day. There were more pictures taken by my wife along the road and along one road we had not traveled in several years. We stopped and had a nice early dinner, and since getting home about three hours ago I did some quick photo processing and edits, and created this post for #mountainmonday.

#mountainmonday is a tag that was brought to us by @keithboone, to see more cool mountains, his blog would be a good place to start. (he is currently on Vacation, so just search the tag)

So that was my Sunday, a pretty nice and fun day. I hope you all had a nice weekend and enjoyed a day or two.