Dedication and perseverance are two words for some of us, for others a way of life. There are goals you can't achieve without dedication and perseverance.
Yesterday I posted about Nirmal Purja, the 36 year old Nepalese climber who has set up a new record, he has managed to climb fourteen 8000-meter high mountain peaks in just 7 months. It's quite an achievement, I'm happy he was able to set a new record and what's more important, he's ok. However, not everyone is so lucky.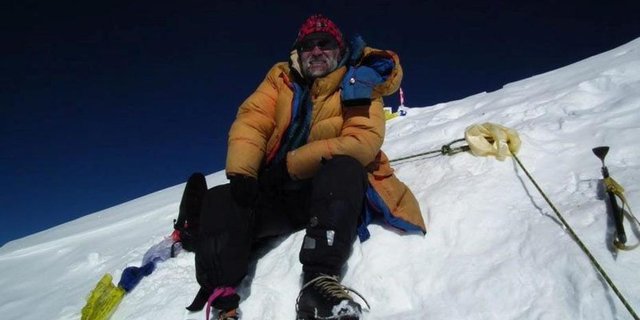 source
Today I'd like to post about a Hungarian climber, his name was Zsolt Erőss(March 7, 1968 – May 21, 2013). He was born in Miercurea Ciuc, Romania and emigrated to Hungary in 1988. He is known as the most successful Hungarian high-altitude mountaineer and the first Hungarian citizen to have climbed Mount Everest. He had managed to climb e 10 out of the 14 eight-thousanders. I haven't had the pleasure to meet him but my brother and his children did and they say he was a special person, full of energy even though he went through a lot.
He became the first Hungarian citizen to succeed in climbing the Mount Everest in 2002 and was awarded the Order of Merit of the Hungarian Republic with the Officers' Cross. This was a huge accomplishment for both him and Hungary as well, and let's say Transylvania as well as he was born in Transylvania.
In 2010 he lost his right leg below the knee in an accident in the Tatra mountains but this accident could not stop him in continuing climbing. He managed to climb ten of the world's eight-thousanders, the last two with prosthetic leg that he got after his accident. Then tragedy happened.
It's hard for me to write about what's happened as I was following their journey, I saw an interview with Zsolt and Péter Kiss, his partner he went climbing with. They were enthusiastic, full of hope. I'm going to quote what's happened to them as I'm not able to write it down myself.
On May 20, 2013, Zsolt Erőss and Péter Kiss successfully summited Kangchenjungabut during the descent tragedy happened. It hurts too much to tell you the whole story, so you can check it out here. They both died on the mountain.
I remember the day the news came. We were all shocked and very sad. There are no words to describe the feeling. It was a tragedy. I was both sad and angry in the same time. I was sad because a great man, actually two died and angry because this could have been avoided.
After his accident, Zsolt Erőss got his prosthetic leg and started climbing again. That was the period when he visited Transylvania and did a tour in elementary schools speaking to kids about his experience and focusing on how you can continue your life, work towards reaching your goals with a prosthetic leg. It was a great life lesson for everyone. Life does not end after an accident, there are other choices you can consider.
What made me angry was that he left behind a family, a wife and two kids that had to grow up without a father. I saw an interview with his wife who was (or still is, I'm not sure) a climber too. She said climbing was in his blood and what's happened was destiny. They both knew the risks but these men are unstoppable. She said climbing was Zsolt's life. She knew exactly what are the risks but she said at least Zsolt did what he loved.
His loss was hard to digest for me, especially because part of my family has met him and we were following his career step by step. While writing this post I watched an interview with him speaking about climbing, experiences, hardship etc. He was asked what it mean and how is it feel to made decisions in life and death questions. He said there are situations when you know you have to let your climbing partner there and move on in you don't want to have two dead bodies instead of one. It' shocking, no one can deny it but if you're up there facing a situation like this, you think differently.
On his last day at the Kangchenjunga (the third highest mountain in the world), Zsolt was feeling unwell, his partner Péter Kiss climbed back to help him, they were descending together when Péter Kiss fell and disappeared. Soon after Zsolt Erőss disappeared too. One year later Zsolt's body was identified at 8100 m.