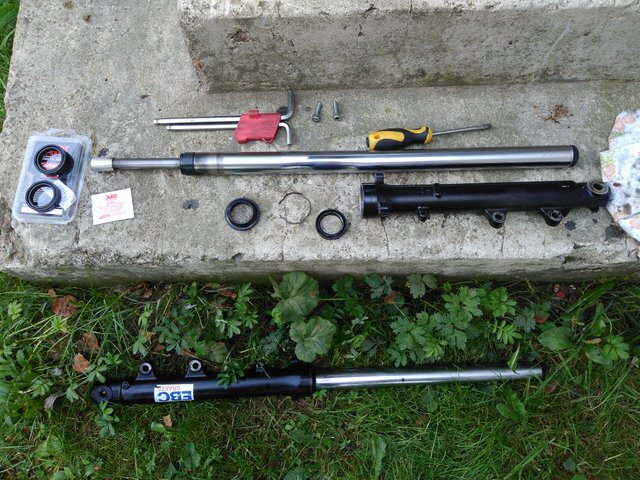 If this saves even 1 person the price mechanics charge, then it was worth writing.
My friend had his fork seals replaced by a shop, he supplied the seals and they charged him £140 or US $180. The job itself takes under 10 minutes per fork leg, below is the tools required.
1 Allen key

1 ordinary flat screwdriver.

A few clean rags to mop up dirty old smelly oil.
First of all remove the Allen bolt from the bottom of the fork, Then use the screwdriver to gently lift up the dust seal, after the dust seal is removed, you need to use the same screwdriver to remove the inner oil seal retaining clip, with this removed you can now pull the inner chrome stanchion up and away from the bottom. Prepare yourself for a lot of oil to come out of the bottom of the fork as soon as the Allen bolt is removed. It may take a few yanks up and down to release the chrome stanchion due to the expansion ring fitted to the base of it.
Once you have the two apart, remove the inner oil seal with the screwdriver taking care not to damage the seat the seal sits on. Once apart clean the inside with what ever you have to hand. Most new seals come with a small pouch of fork grease to refit the new seal, once the seal is almost in place a top tip to get it seated firmly is to use a piece of plastic pipe (like that used in drains) to tap it down onto the seat, make sure you have the chrome stanchion fitted before putting this seal back in, as the expansion ring will destroy it otherwise.
Refit the seal ring retaining clip, no tools required only fingers, tighten up the Allen bolt by compressing the fork slightly and turning the bolt. Refit the dust seal tapping down with a rubber mallet if required, Fill with oil at the top to the desired weight oil that suits you, voila, you have just repaired leaky forks, and in under 10 minutes.
Upside down forks are just as easy, though note 1 fork maybe compression and 1 fork rebound, so one will feel soggy and have no return, whilst the other will have a spring and a hefty return rate, this is normal.

Verdict = 20 minutes and done!