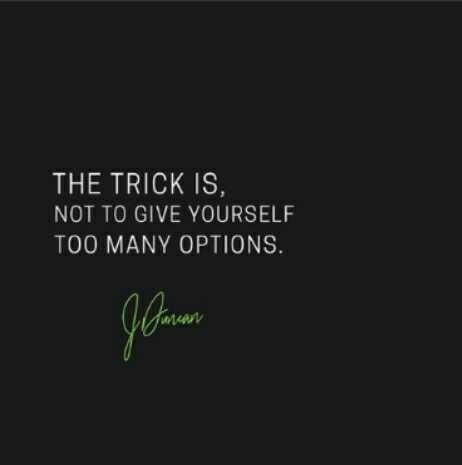 There used to be a time, when I had lots of options and choices. I could do whatever I wanted, I could think whatever I wanted and I had a great sense of freedom or so I thought...
~
The truth is, I had too many options and choices and I thought I could do everything and in the end I didn't do much, have much or move towards what I really wanted.
~
I think most of us live in that cycle where we have freedom of choice, but no real freedom at all, or happiness or success.
~
So I decided to commit my entire being to a single purpose and vision and ultimately, that one move took away every other option and gave me a great sense of clarity and power also leaving me with few options and reasons to progress.
~
I no longer have the option to entertain fear and doubt or feel uncertain. I had to make this work and failure was not an option.
~
I don't have the option of wasting my time or entertaining other ideas or scenarios, I had to create my vision and if it didn't fit into my vision for my life... I simply removed it.
~
I don't have the option of hanging around people who don't see my vision or want to support me on my journey, I could no longer allow my energy to be dispersed.
~
I no longer had the option of wasting my money, every dollar I could find had to go towards building my empire and creating my vision for humanity.
~
The trick is, to not to give yourself too many options, you tend to do more damage than good when you think that you have lots of choices and options.
~
In reality all you have is a limited amount of time and limited resources to fulfil your life purpose and create your vision.
~
Making a commitment to whatever it is you want, will automatically remove many options (mostly the negative ones) from your life and remove much of what goes on in your head... so you can be more focused and more purposeful in all that you do.
~
Once you remove all the negative and harmful choices you can make, you will find out very quickly that you really don't have that many options in the first place and a great example of that is walking into the supermarket... lots of choices, but not many good ones are there for one. Thank you JoeDuncan