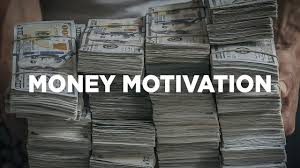 How motivation actually works
Motivation comes in waves. Some days we hop out of bed, ready to take on the world. We start big projects, dream big dreams, and know that FINALLY we're going to accomplish something.
But then, tomorrow comes.
We sit down in the same place we sat yesterday — where we were on fire and ready to go and… nothing. We look at our Netflix queue or go and buy a cup of coffee. We can't seem to get that spark back.
That is how motivation works. So, if we rely on motivation alone, we are setting ourselves up for failure.
We have to be motivated to make money,
Getting rich is possible for anyone. If you want it bad enough.
You can make it happen. People who have achieved success already, say prosperity begins with your mentality.
Be persistent
"Never give up. Today is hard, tomorrow will be worse, but the day after tomorrow will be sunshine." – Jack Ma, Founder and Executive Chairman of Alibaba Group
How you can use this motivation system right now:
Pick your number one goal. Is it earning more money? Getting in shape? Finding your Dream Job?
Grab a pen and paper and write it down. Really do this now. This isn't a silly "thought exercise." We're doing this to commit ourselves to one course of action and follow through.
"We are looking for an apartment; if we do not find anything, then we will buy a hotel." what having money can do
We all know about the story of football ⚽ superstar lionel Messi, when he bought his neighbors house because they were noisy. This is what having money can do, if he was not motivated to have this money, he wouldn't be were he is today.
Train Your Brain To Make More Money – John Assaraf
In this powerful video, world renowned success coach and author, John Assaraf talks you through 4 simple steps you can take right now to train your brain into making more money. For more in-depth training checkout John's free webinar here.
Train Your Brain To Make More Money – John Assaraf on YouTube:

Cristiano Ronaldo 5 Rules for Success
Global superstar Cristiano Ronaldo regarded as one of the greatest football players of all time. Born into poverty on the small Portuguese island of Madeira he is now the highest paid athlete on the planet.

Be motivated always, I'll drop here for now