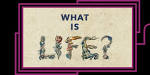 Life is described more or less like a journey... It's all about meeting people, serving one God, st udying attitude, learning how to be a perfect human being......
The reason why most people's lives seem to be not successful or strengthened was as a result of the decisions they made, the mistakes they made the information they couldn't get and people who they found around them....
Many have sunk cause of the people around them have gotten deep into them....
Some life has made it such that they have lived positive lives that they have forgotten about bad things and it's no longer an option to them to do wrong things.
While some have been so involved in negativities that they no longer remember doing what is right....
The scale of life has made it such that every evil and every right comes up at one point in time to come after each of us.....
No matter how we try to run the speed at which it comes In the nearest future is infinite......
Live a life that will affect people.
Program your future to inspire
Let people believe things are possible cause you tried them and got it right
Remember
#It is better to try than fail not trying
Make your life count here in earth and you would have a sweet sleep in rest......
Hope I inspired You....