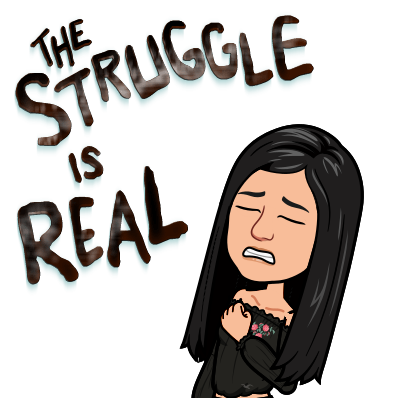 ---
THIS WILL NOT BE A PARTY!!!
---
This countdown started with this post
Baby 1st Bday Countdown HAS BEGUN!!!!
And you can check out all the posts so far here...
---
So, I have said before, I will not throw a bday party ( I have several reasons the main one being I don't have the money to do it) but that doesn't mean I don't get to decorate and have a cake to sing happy bday to my little boy! He deserves that and more, but since that is all I can afford right now… anyways here I was thinking well I suck at doing manual stuff and I don't have money to buy decorations what to do? And of course Pinterest comes to help as always!
But first let me introduce to you the...
Lottie Dottie Chicken
at least is not baby shark
---
The project Lottie Dottie Chicken (originally named Galinha Pintadinha in portuguese) began on YouTube in 2006.
This first video clip took on the IP name Galinha Pintadinha and chose the Lottie Dottie Chicken to be the main character. The Lottie Dottie Chicken is the star of the video clips, and other colorful characters make an appearance as well, such as Lil Butterfly, Little Yellow Chickadee, Purple Rooster and Ms. Connie Cockroach.
My baby doesn't like tv that much, but OMG he loves his Lottie Dottie Chicken!! And yes I am one of does moms that lets his kid have some screen time fite me!!!
And well for his first bday I was wondering what to use as inspiration for the cake and decorations, he really isn't much into tv or any particular toy, but his dad had the brilliant idea Lets make it about the Lottie Dottie Chicken!! and well here we are!
Ideas for the Cake!
To me the cake is the more important thing since is the one I think my baby will enjoy the most (he looooves to eat sweets so, I don't have a doubt he will eat his cake) and I don't want it just to be pretty, I want it to be really yummy too, my sister will be gifting it she will send me the money to pay for it since we are having it made by this awesome people that makes the most yummy cakes in town they are call @exquisiteces_wavs on Instagram.
The cake will be 2 Kg and it would 3 floors one of the Lottie Dottie Chicken, one Yellow Chickadee, and last but not least the Purple Rooster, they are the family and starts of the show.
Like this one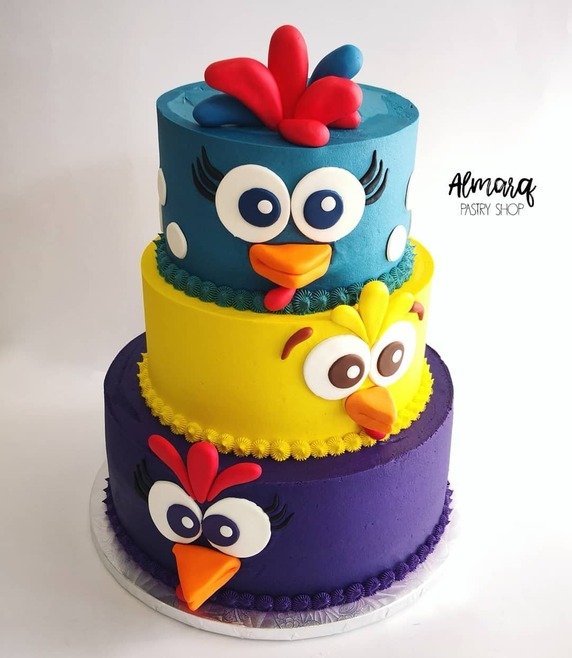 source
But it would be buttercream the frosting. like this one…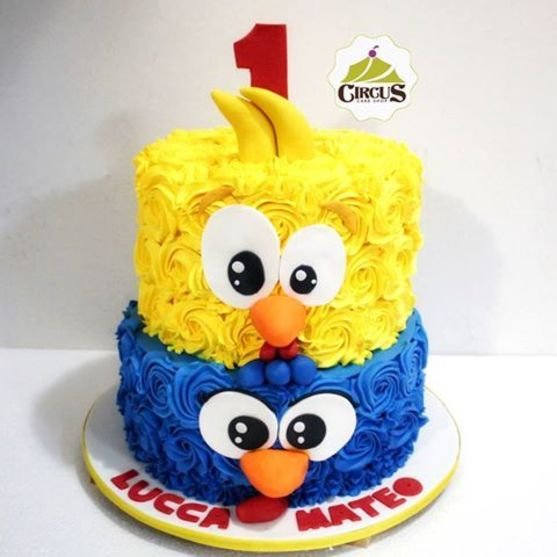 source
The cake will come with 50 cookies and 30 cupcakes all costing 30$ and thank god they are a gift because that allows me to save money to do the decorations!!
---
The Decorations!
Ok so here is my dream…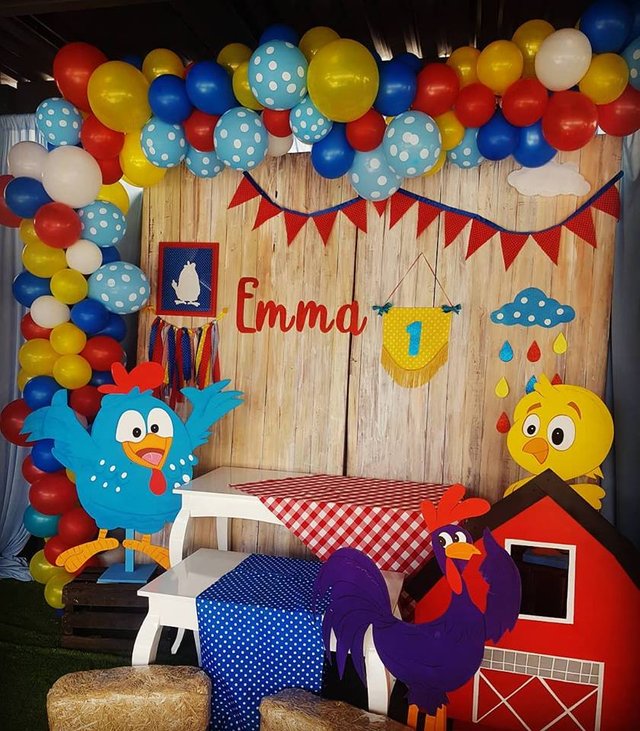 source
I know I probably won't have the money or the skills to pull that one up but hey I am going to try!!
First, I need to get me some balloons! I have already look for them they cost 2$ a package and I would need 3 (one blue, one yellow and one purple) and for the pictures I would have to come up with good all fashion picture prints, I will make the baby's daddy print those at his job and so that would be free!
I seriously think the balloons will help a lot, I'm not sure what else to do, but will try to pull this up or at least make a pretty decent table to put the cake on!
You can watch my board of ideas for the bday on my Pinterest here and you can tell me what you think on the comments!
---
As always, thank you very much for reading me and
I hope to read your comments!
---
Picture Credit: All images are of my property unless said otherwise and the emojis are made with Bitmoji.com!
---
I'm currently an active curator for @minnowsupport #palnet, @helpie #helpiecake and #creativecoin, and even though I focus on post in Spanish (cause duh!) if you know of any good post that deserves to be curated or any good author that I need to be on the lookout for 🔎📌 (doesn't matter the language) let me know in the comments!
Actualmente soy curadora activa para @minnowsupport #palnet, @helpie #helpiecake and #creativecoin, e incluso aunque me centre en publicaciones en español (¡porque obvio!) ¡Si conoces alguna publicación buena que merezca ser curada o cualquier buen autor del que deba estar pendiente 🔎📌 en cualquier idioma, házmelo saber en los comentarios!
---
Proud Member and Supporter of The Minnow Support Project, If You Are Not Yet on The Community What Are You Waiting For?? CLICK below!!!

banner created by @justcallmemyth
---

---

---

😗 Follow me on my Other Social Media...❗️⬇️⬇️⬇️⬇️

---