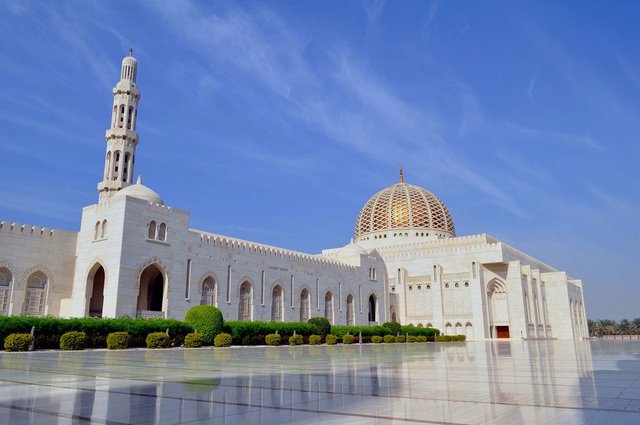 The Sultan Qaboos Grand Mosque is the principal mosque in the Sultanate of Oman. it's far inside the capital city of Muscat.
In 1992 Sultan Qaboos directed that his use of Oman must have a Grand Mosque. An opposition to its design passed off in 1993 and after a website became chosen at Bausher production commenced in December of 1994. building work, which was undertaken by Carillion Alawi LLC[1] took six years and seven months.
The mosque is built from 300,000 tonnes of Indian sandstone. the main musalla (prayer hall) is rectangular (external dimensions 74.four x 74.4 meters) with a critical dome rising to a peak of 50 meters above the floor. The dome and the main minaret (90 metres) and four flanking minarets (45.5 metres) are the mosque's leader visible functions. the principle musalla can keep over 6,500 worshippers, whilst the ladies' musalla can accommodate 750 worshipers. The outer paved floor can preserve 8,000 worshipers and there may be extra area to be had in the interior courtyard and the passageways, making a total capability of up to 20,000 worshipers.
The mosque is constructed on a domain occupying 416,000 rectangular meters [3] and the complicated extends to cover a place of 40,000 square meters. The newly constructed Grand Mosque become inaugurated by Sultan of Oman on May 4, 2001.