Culture of Morocco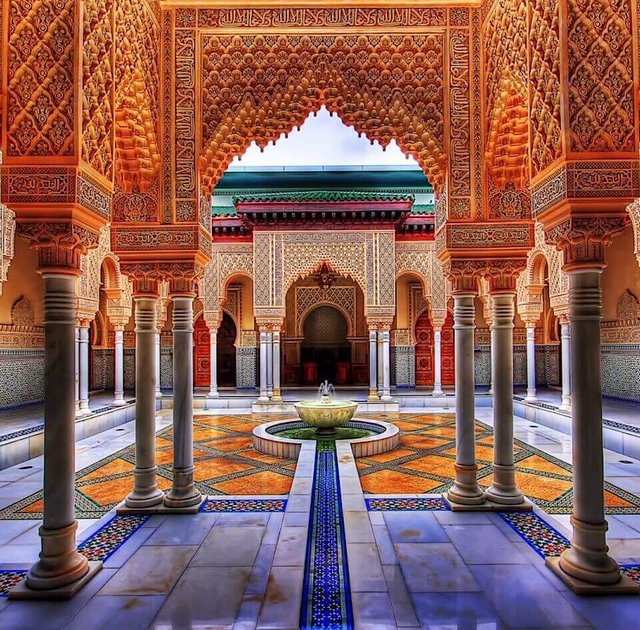 The majority of Morocco's population is Berber and Arab by identity. At least a third of the population speaks an Amazigh language. During the Islamic expansion, Arabs tribes came to Morocco and settled in the skyregions, such as Tadla and Doukkala. For example, there are groups called Charkawa and Arbawa who settled in Morocco from Arabia. The Charkawa claimed to be descended from Umar ibn Al-Khattab, the second caliph of Islam. 
Literature[edit]
Main article: Moroccan literatureThe history of Moroccan literature started in the early Middle Ages. In the era of the Berber dynasties, coinciding with the flowering of Al-Andalus, there were several important Moroccan writers, especially in the fields of religion 
Ethnic groups and language
  Jewish Wedding in Morocco by Eugène Delacroix, Louvre, Paris   Morocco is considered by some as an Arab-Amazigh country. Others insist on the Amazigh-African identity of Morocco. Classical Arabic and Tamazight are official language of Morocco. Classical Arabic  rather than a mother tongue, and is used in a limited and formal  socio-economic and cultural range of activities (like newspapers and  official documents), in competition with French. The most common spoken  languages of Morocco are Tamazight and Moroccan Arabic. Linguistically, Amazigh belongs to the Afro-Asiatic group, and has many variants. The three main varieties used in Morocco are Shilha, Central Atlas Tamazight and Riff (also called Tamazight by its speakers). Collectively, they are known as Shelha in Moroccan Arabic, and as Barbaria in the Classical Arabic used in the Middle East. The terms Barbar and Shelha are considered offensive by most Berber activists, who prefer the term Tamazigh. Shilha (also known locally as Soussia) is spoken in southwest  Morocco, in an area between Sidi Ifni in the south, Agadir in the north,  and Marrakesh and the Draa/Sous valleys in the east. Central Atlas  Tamazight is spoken in the Middle Atlas, between Taza, Khemisset, Azilal, and Errachidia. Riff is spoken in the Rif area of northern Morocco in towns like Nador, Al Hoceima, Ajdir, Tétouan, Taourirt, and Taza. Most Amazigh embraced Islam quickly, though their non-Arab ethnic and  linguistic distinction has resisted the Arab-Islamic influence.  Hundreds of Amazigh (Berber) associations have been created to defend  their culture and identity in the last few decades in Morocco and  Algeria. Newsstands and bookstores in all the major cities are filled  with new Berber publications that provide articles and essays about the  Amazigh culture and art. In 1994, the state-owned TV station RTM (now TVM)  started broadcasting a daily, 10-minute-long news bulletin in the 3  Berber dialects. Berber activists are repeatedly demanding a 50% share  of broadcasting time in standardized Berber (Tamazight) on all  state-owned TV channels. There is also a national Tamazight channel in  Morocco, called Tamazight TV. It opened in 2010, and broadcasts for over 13 hours a day, with an extended broadcast on weekends..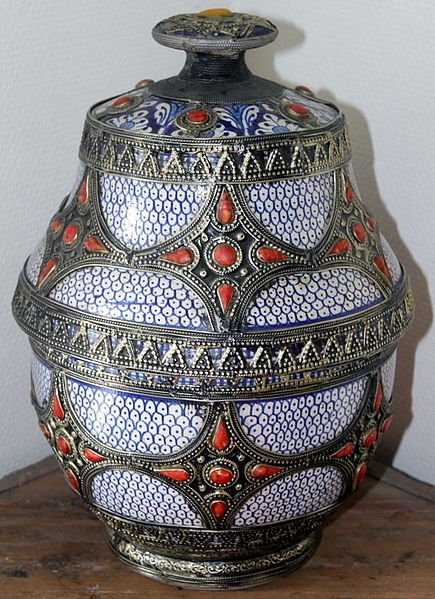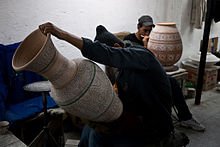 Movies in Morocco
See also: List of foreign movies shot in Morocco Some directors have set films in Morocco. In 1952 Orson Welles chose Essaouira  as the setting for several scenes in his adaptation of Shakespeare's  "Othello", which had won the Grand Prix du Festival International du  Film at that year's Cannes Film Festival. In 1955, Alfred Hitchcock directed The Man Who Knew Too Much and in 1962, David Lean shot the Tafas Massacre scene of Lawrence of Arabia in the city of "Ouarzazate", which houses Atlas Studios. Aït Benhaddou has been the setting of many films. The film Hideous Kinky was filmed in Marrakech. .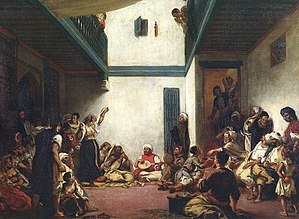 Domestic architecture
 Dar, the name given to one of the most common types of domestic structures in Morocco, is a home found in a medina, or walled urban area of a city. Most Moroccan homes traditionally adhere to the Dar al-Islam, a series of tenets on Islamic domestic life.[2] Dar  exteriors are typically devoid of ornamentation and windows, except  occasional small openings in secondary quarters, such as stairways and  service areas. These piercings provide light and ventilation.[3] Dars  are typically composed of thick, high walls that protect inhabitants  from thievery, animals, and other such hazards; however, they have a  much more symbolic value from an Arabic perspective. In this culture the  exterior represents a place of work, while the interior represents a  place of refuge.[4] Thus, Moroccan interiors are often very lavish in decoration and craft. Consistent with most Islamic architecture, dars are based around small open-air patios, surrounded by very tall thick walls, to block direct light and minimize heat.[3]  Intermediary triple-arched porticos lead to usually two to four  symmetrically located rooms. These rooms have to be long and narrow,  creating very vertical spaces, because the regional resources and  construction technology typically only allow for joists that are usually  less than thirteen feet.[3] Upon entering a dar, guests move through a zigzagging  passageway that hides the central courtyard. The passageway opens to a  staircase leading to an upstairs reception area called a dormiria,  which often is the most lavish room in the home adorned with decorative  tilework, painted furniture, and piles of embroidered pillows and Moroccan rugs. More affluent families also have greenhouses and a second dormiria, accessible from a street-level staircase. Service quarters and stairways were always at the corners of the structures.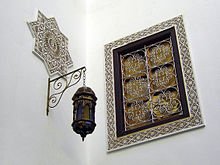 Contemporary Art
Contemporary  Art in Morocco is still in the making yet with a great potential for  growth. Since the 1990-2000s Moroccan cities have welcomed institutions  contributing to the diffusion of contemporary art and visual arts: L'appartement 22 and Radioapartment22 in Rabat, the Cinémathèque de Tanger in Tangier, La Source du Lion in Casablanca, Dar Al-Ma'mûn residency and center, the Marrakech Art Fair, and the Marrakech Biennale all in Marrakech. Local art galleries such as Galerie Villa Delaporte, Atelier 21,  Galerie Matisse and Galerie FJ are also platforms showing, to a certain  extent, contemporary artwork and contributing to its development.[5] Global art market also participates in developing and giving  visibility to contemporary art in Morocco. International exhibitions  such as "Africa Remix" (2004) and "Uneven Geographies" (2010) featured  contemporary artists from North Africa, including Moroccan ones.  Regional events such as the Dakar Biennale (or Dak'Art – Biennale de l'Art Africain Contemporain), which is a major contemporary African art exhibition and gives greater visibility to artists from this continent. 
Moroccan Artists and their Initiatives
Artists born in Morocco or with Moroccan origins include such as Mounir Fatmi.  Other artists include Latifa Echackhch, Mohamed El Baz, Bouchra  Khalili, Majida Khattari, Mehdi-Georges Lahlou, and the young Younes  Baba-Ali.[citation needed] There are several initiatives from Moroccan artists to help  developing a contemporary art market in the country. For example,  artists such as Hassan Darsi created La Source du Lion in 1995, an art  studio who welcomes artists-in-residence, and Yto Barrada  founded the Cinémathèque de Tanger in 2006, which is dedicated to  promote Moroccan cinematographic culture. A group of Moroccan artists  called Collectif 212 features Moroccan artists such as Amina Benbouchta,  Hassan Echair, Jamila Lamrani, Safâa Erruas and Younès Rahmoun. This  group is committed to develop more artistic experiences and collaborates  with other promising artists such Hicham Benohoud. There are also promising local artists such as Batoul Shim and Karim  Rafi, who both participated in the project "Working for Change", a  project trying to act within the fabric of Moroccan society, during the  2011 Venice Biennale. 
Cuisine
 Moroccan cuisine is home to Berber, and Moorish. It is known for dishes like couscous, tajine, pastilla and others. Spices such as cinnamon are used in Moroccan cooking.[citation needed] Sweets like halwa are popular, as well as other sweets. Cuisines from neighbouring countries also influence the country's culinary traditions. 
Music
Moroccan  music is of Amazigh and Arab origins. Rock-influenced chaabi bands are  widespread, as is trance music with historical origins in Muslim music. Morocco is home to Andalusian classical music that is found  throughout North Africa. It probably evolved under the Moors in Cordoba,  and the Persian-born musician Ziryab is usually credited with its  invention. A genre known as Contemporary Andalusian Music and art is the  brainchild of Morisco visual artist/composer/oudist Tarik Banzi,  founder of the Al-Andalus Ensemble. Chaabi ("popular") is a music consisting of numerous varieties which  are descended from the multifarious forms of Moroccan folk music. Chaabi  was originally performed in markets, but is now found at any  celebration or meeting. Popular Western forms of music are becoming increasingly popular in  Morocco, such as fusion, rock, country, metal and, in particular, hip  hop. Morocco participated in the 1980 Eurovision Song Contest, where it finished in the penultimate position.