MoonConnect: Decentralized Ecosystem for all
Moonconnect is a social token with a serious mission to reach at least 5 million holders worldwide. The main objective is to become the most decentralized and fairly distributed token, ever. Our team has developed a distribution approach that enables us to spread tokens in a social way, avoiding bulk sales, and therefore creating an asset that can easily serve as a digital safe deposit box for the ages. With our strong vision and core objective alongside the development of new blockchain technologies, Moonconnect will continue to expand in the crypto space and our most loyal members will be the ones to maximize the return on their investments.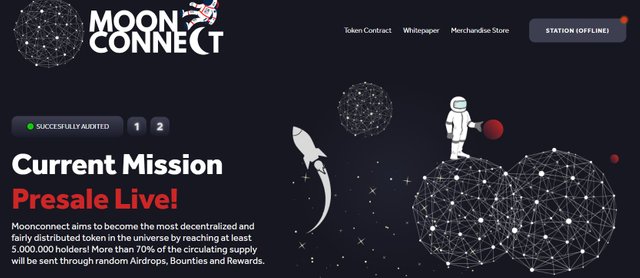 BSC was selected as the sole option for $MCONN to operate on after comparing all prevalent blockchains regarding daily active wallets and transaction metrics.
MOONCONNECT FEATURES:
Moonconnect Wallet
Simple to use practical and reliable mobile wallet to ensure anyone will be able to get started with $MCONN in seconds and without the need of any crypto-related expertise.
Mooncash Incubator
The Mooncash Incubator will allow Moonconnect Holders to collect Mooncash Tokens. These tokens will be the main currency that will be used in Moonconnect Orbital Station.
Moonconnect Colonizer
Get your hands on freshly minted, collectible NFT's. All you need is Mooncash Tokens! MC Colonizer will let you train, level, and compete with your NFT's in order to colonize the moon and collect unique rewards.
Moonconnect Tokenomic
While 500 trillion tokens are going to be sent through this mechanism, all of the reflection rewards collected by the distribution wallet will be sent manually by other types of airdrops, bounties, and reward campaigns. Static Reflection progresses beyond just deflationary mechanics and takes a determined percentage of the total transaction amount to «reflect» it back to every wallet that holds the reflective token to match. This mechanism encourages holding the tokens rather than selling for quick gain due to the reflection received but also due to the tax incurred on each transaction. Moonconnect tokens is a hindrance for arbitrage, which secures the volume of MoonConnect as a reward for those who are holding their tokens.
The increase in the liquidity pool creates a balance and stability by adding the tax and increasing the overall liquidity of the token while supporting the price floor by keeping it intact and stable. Moonconnect's maximum total supply is fixed to 1 quadrillion tokens and there will never be more than 1 quadrillion tokens in circulation. During launch, a Black Hole is created by sending 30% of the total supply to a dead wallet, which will continue expanding because of the token's reflection mechanism. The initial circulating supply started with 700 trillion tokens and will continuously shrink over time because of the Black Hole's growing influence.
100% of Moonconnect's LP will be locked automatically by Unicrypt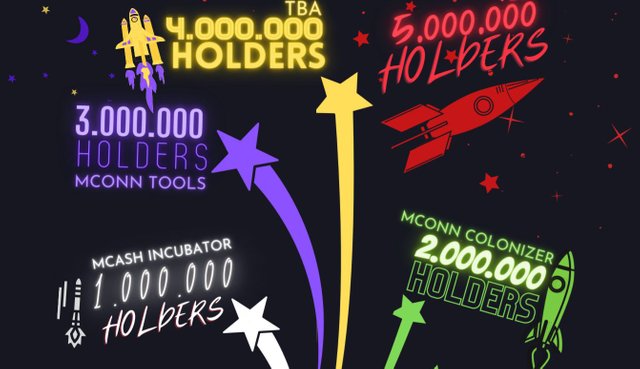 The Moonconnect community will be instrumental to the future of the project. Moonconnect is open-source, fully decentralized, and backed by it's great community.
The rest of the 10% will be distributed to presale participants and will be added to the liquidity pool. 100% of the LP will be locked automatically by Unicrypt Network for one year when the Presale ends.
For more information
WEBSITE: https://moonconnect.net/
MEDIUM: https://medium.com/moonconnectNET
TELEGRAM: https://t.me/moonconnectNET
TWITTER: https://twitter.com/MoonconnectNET
FACEBOOK: https://www.facebook.com/moonconnectNET
GITHUB: https://github.com/Moonconnect
bsc Address; 0x19eD2435Be8E708ab1367BE9A21aD04769377c63