"La fotografía es otra forma de amar la vida, capturando el tiempo y deteniendo los sentimientos para siempre."
Homero Lujan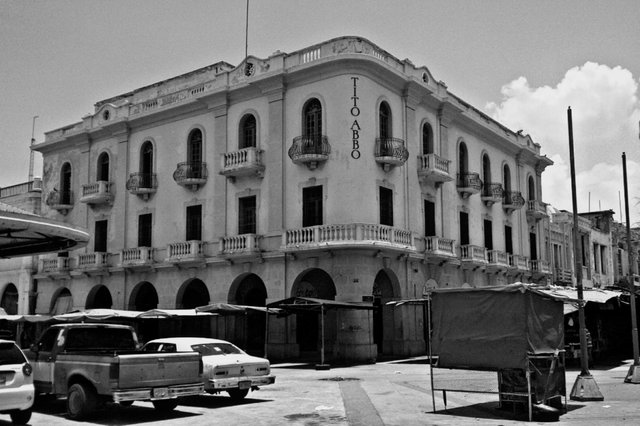 Tito Abbo es el nombre de una edificación ubicada al inicio de la Plaza Baralt de Maracaibo, en el casco histórico de esta ciudad del occidente venezolano. Inaugurado en 1939 por el empresario local de raíces italianas, Tito Abbo Fontana, este edificio albergaría en su interior, entre otros negocios, a la sede de Tito Abbo & CO. Sucesores, empresa mercantil dedicada a la importación y venta de víveres, mercancías secas en general y licores.
Poseedor de una arquitectura neorrenancentista italiana, el Tito Abbo se caracteriza por una secuencia de arcos de medio punto en su planta inferior, ventanas de madera y balcones de hierro forjado en su planta superior. Este edificio, al igual que otros cercanos, entre los que destacan el Mac Gregor, Botica Nueva, Beco y el Centro de Arte de Maracaibo "Lía Bermúdez", forman parte del patrimonio arquitectónico e histórico de la ciudad, aunque lamentablemente, muchos de ellos se encuentran deteriorados a causa del abandono al que han estado sometidos por muchos años. Sin embargo, en distintas oportunidades las autoridades regionales han anunciado su recuperación.
Esta fotografía que forma parte de mi archivo personal, la tomé cinco años atrás, cuando por razones laborales, tuve que residenciarme temporalmente en esta ciudad. La imagen la modifiqué haciendo uso de las herramientas de edición que proporciona el editor PicsArt, para lo cual, la recorté inicialmente con la finalidad de eliminar los elementos laterales sobrantes, y posteriormente empleé una superposición de filtros, en primer lugar, uno del tipo HDR (High Dynamic Range), y luego un filtro sencillo de Blanco & Negro.

Tito Abbo is the name of a building located at the beginning of Plaza Baralt in Maracaibo, in the historic center of this city in western Venezuela. Inaugurated in 1939 by the local businessman with Italian roots, Tito Abbo Fontana, this building would house, among other businesses, the headquarters of Tito Abbo & CO. Sucesores, a mercantile company dedicated to the import and sale of food, dry goods in general and liquors.
Possessing an Italian neo-Renaissance architecture, the Tito Abbo is characterized by a sequence of half-point arches on its lower floor, wooden windows and wrought-iron balconies on its upper floor. This building, like other nearby ones, among which the Mac Gregor, Botica Nueva, Beco and the Art Center of Maracaibo "Lía Bermúdez", are part of the architectural and historical heritage of the city, although unfortunately, many of them are deteriorated because of the abandonment they have been subjected to for many years. However, on different occasions the regional authorities have announced their recovery.
This photograph that is part of my personal file, I took it five years ago, when for work reasons, I had to temporarily reside in this city. I modified the image using the editing tools provided by the PicsArt editor, for which I initially cut it with the purpose of eliminating the remaining lateral elements, and later I used an overlay of filters, firstly, one of the HDR (High Dynamic Range) type, and then a simple Black & White filter.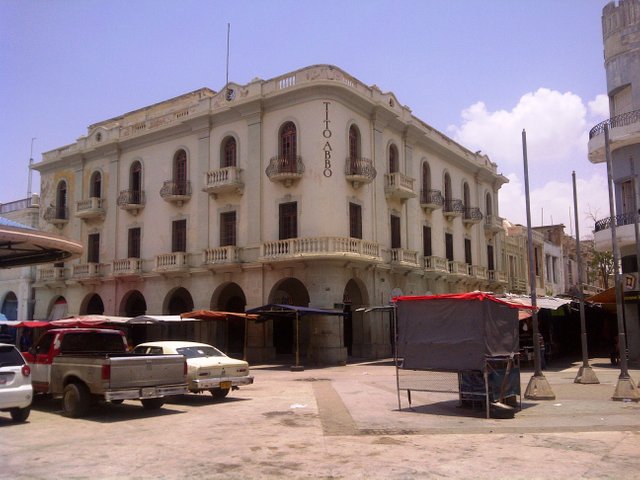 This is my entry for the #monomad challenge. This is an initiative of @monochromes. I hope you enjoy it.
Esta es mi participación para el desafío #monomad. Esta es una iniciativa de @monochromes. Espero que lo disfruten.