Ignorance is not bliss, nor is it a reason to not join the discussion. So, despite being a Steemit novice and admittedly ignorant of the "rules" and procedures, I will attempt my first post. Not only that, it is an entry into the monomad contest.
It seems that too many people, myself included at times, stay on the sidelines due to ignorance or some self perceived deficiency. I don't want my ignorance and fear to keep[ me from learning and growing. So, here ya go.
One of my favorite places in the world is Pilanesberg Game Park in South Africa. I am blessed in that my work allowed me to make 5 or so trips to this great nation. Each time I go I try to get to Pilanesberg. I was rewarded with this "double exposure" if you will of two zebra. They seem a fitting entry into a black & white category.
I must say, there are scores of fantastic images in this challenge. Kudos to my fellow shutterbugs.
![_MG_9401.jpeg]
(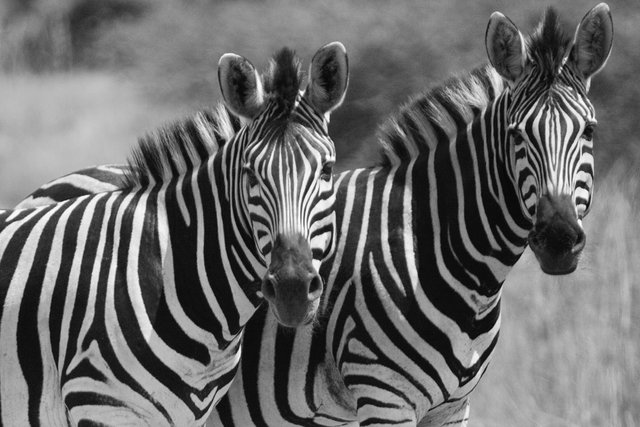 )
From sighting the Big 5 to being chased by an elephant, seeing lions mate, having a jaguar walk right past my car, watching elephants fight, and even seeing ding beetles rolling dung, Pilanesberg is an amazing place. If you are interested in a safari that is affordable and easily accessed I am happy to share the details. Full-disclosure: I receive NOTHING for my enthusiastic support of Pilanesberg. :)