These Five Stocks Were The Best Performers of the Dow Jones Industrial Average in 2017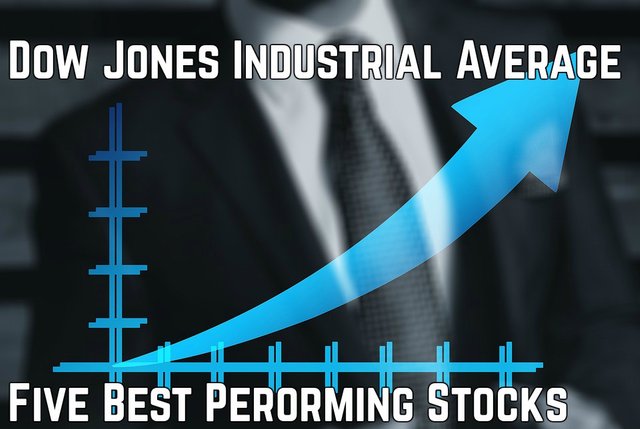 The bull market in the US equities market has been roaring, as the returns for the end of calendar year show impressive gains for all of the major indices, the Dow Jones Industrial Average, the S&P 500, and the NASDAQ.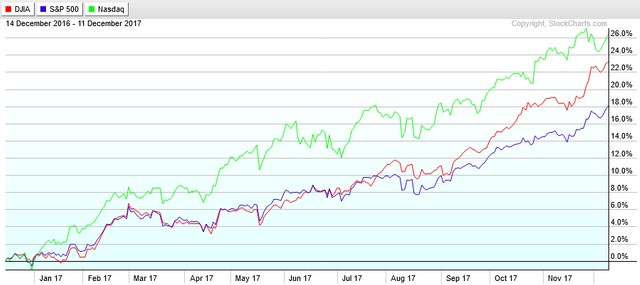 The majority of the optimism that helped fuel the bull market in 2018 was due to the election of Trump. The market seems to still think that president Trump will implement pro business reforms, such as cut in tax rates that is generally expected to happen at some point next year. Regardless of the day to day political news, the economy goes on as it does, and this article will quickly look at the five best performing companies in the Dow Jones Industrial Average.
Below is a chart showing the five best performers: Boeing, Caterpillar, Apple, McDonalds, and Wal-Mart.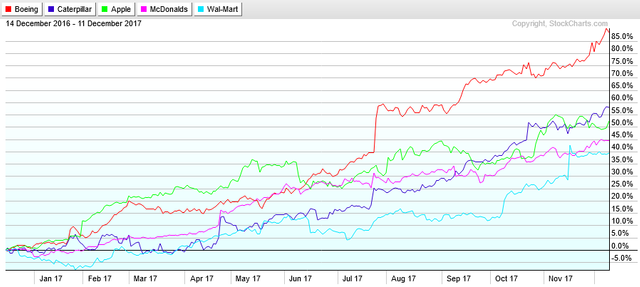 While I do think it's interesting to take a look back at the one-year chart and see which specific companies delivered the best returns, I also don't want to make it sound as if it were at all possible to predict the stock prices in the short-term with complete accuracy. There are literally too many factors at play for any single person or institution to know what the future share price of any stock will exactly be.
Take Boeing, for example. This isn't a company I follow closely, but there is almost no chance that anyone could have logically predicted a company of this size(currently 168.64 billion market cap) could produce 88% returns in one year's time. Because it has had such a rise, I also have to mention that the likelihood of seeing similar returns over the next one-year timeframe is highly improbable. Chasing higher highs on an already hot stock is a sure fire way to add risk to your investing. By the time you hear about the mind blowing returns, the chances that you will repeat it are slim. If you hear the mainstream financial media talking about the stellar returns of a particular stocks, the short-term success has already happened(on the long side, at least).
The contrarian in me would suggest that Boeing could be better suited as a near-term short position, possibly with the use of put options. As I mentioned however, I haven't closely followed Boeing, so my knowledge of the company is limited.
*This post is not intended as financial advice. It is for informational purposes only.
Sources:
https://www.usatoday.com/story/money/markets/2017/12/11/2018-outlook-how-exxon-ge-ibm-merck-and-disney-could-top-dow-stocks/935616001/