My Credit Story: How I Managed to Pay-Off Someone Else's Debt
Pay your debt first. Freedom from debt is worth more than any amount you can earn.

---Mark Cuban---
One of the things I hate is to go into debt. I would rather pay in cash even if it means paying with the last leaf of my wallet when a friend or colleague offers an item to be paid every payday with or without interest. Debt for me always means "Enjoy Now, Suffer Later", so I make sure not to buy anything beyond what I could afford no matter how badly I wanted it. It can wait, just give me enough time to save. But how? How did a debt-hater end up paying somebody else's debt?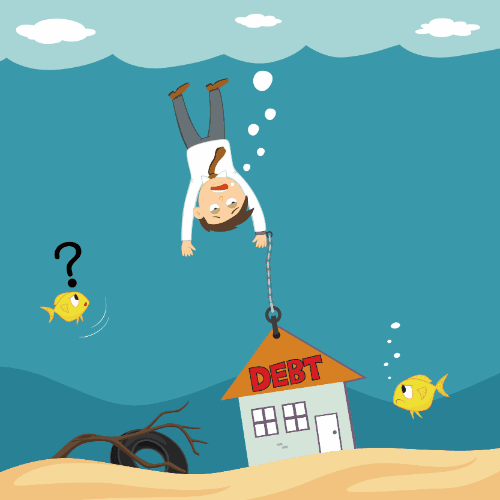 source
Homecredit is a financing company that offers payment installments for mobile phones, electronic gadgets, and home appliances. They are known here in the Philippines to offer 0% interest for selected items to be fully paid within 6 months. It was July 2017 when my sister applied for a Homecredit loan for a new cellphone. I can see how excited she was to have a smartphone since she always settles with less quality phone due to unaffordability of the latest trends. I was pretty much excited for her too! She asked if I could lend her some money for the down payment and I happily obliged. She was doing a part-time online business that time while having a full-time contractual job as an ESL teacher.
One day, she came home disappointed bringing no new phone. That's when I learned that Homecredit had her application denied due to her unstable source of income. It was then that I volunteered to apply for the loan instead. The sales representative offered a nine-month installment after paying a 2,000 pesos down payment.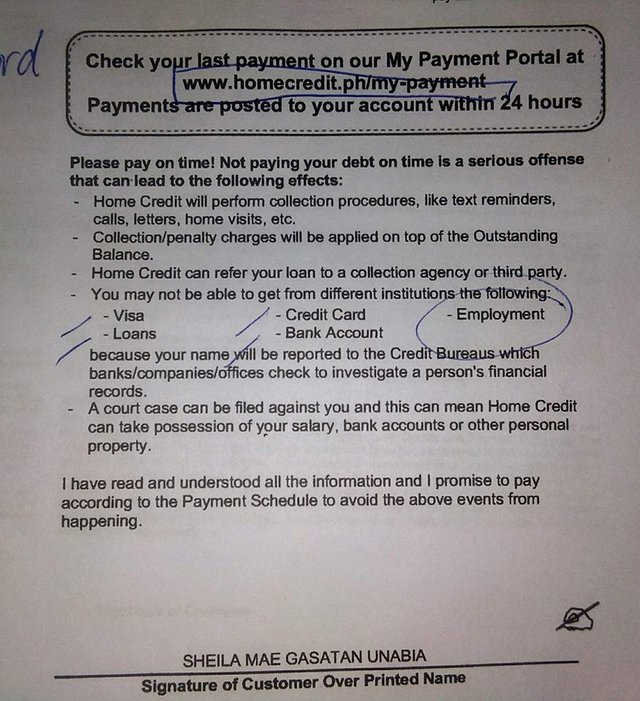 The agent discussed everything on the contract, except one thing – the monthly payment and the rate of interest to be applied. After he asked me to sign the contract, it was then that he showed me the breakdown of the monthly payments.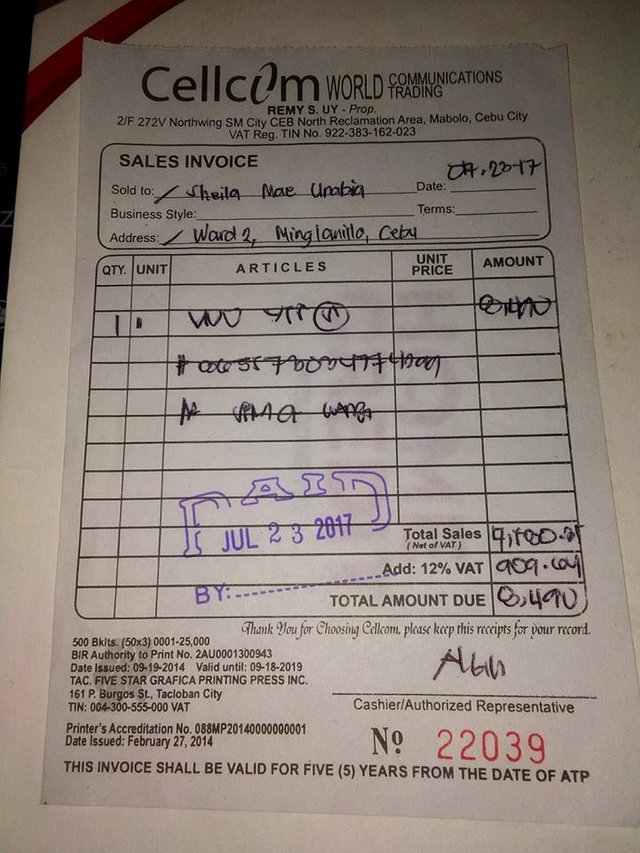 This is the original cost of the smartphone that my sister selected having a cost of 8,490 pesos. Technically, Homecredit pays the item in full and we will only have to pay them on a monthly basis, with a considerable amount of interest of course.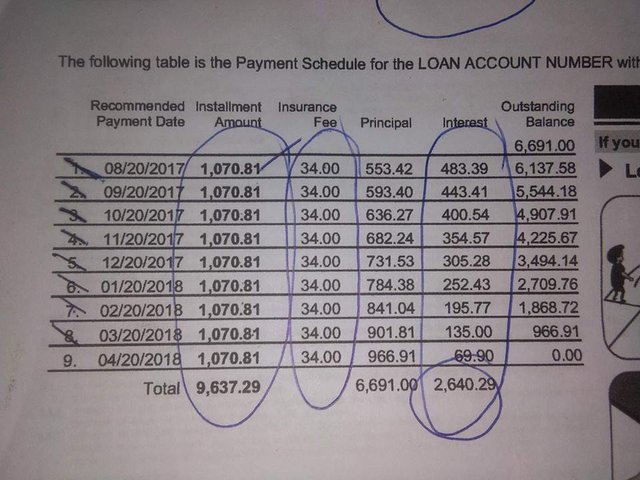 Here is the breakdown of the monthly installment amount. With the downpayment of 2,000 pesos, the total amount that we have to pay for a smartphone that costs 8,490 pesos is 11,637.29! That is 3,147.29 pesos or 37.07% worth of interest on the principal amount! It was too late for us to realize that having a phone loan is a bit costly, but we were left with no choice. There's no backing out since the item is already "purchased".
For the first two months, my sister paid the monthly installment on time. It started in the third month when she's no longer capable of paying for the homecredit loan due to a job loss. Her part-time online business could neither generate enough amount to pay her monthly dues. Remember, my name was used for the loan so I had no choice but to pay for it since there's a greater chance of paying overdue or having a bad record for not paying on time.
I admit it's been so hard for me. That time, I was still saving to buy my own smartphone but there I was, paying for a thing that wasn't even mine. But instead of having a bitter heart, I only considered it as a gift for my sister. I badly wanted to pay the loan fully to end my monthly suffering but I had so many financial obligations to prioritize. Besides, I will still pay for the full interest once I decided to fully pay the said phone loan.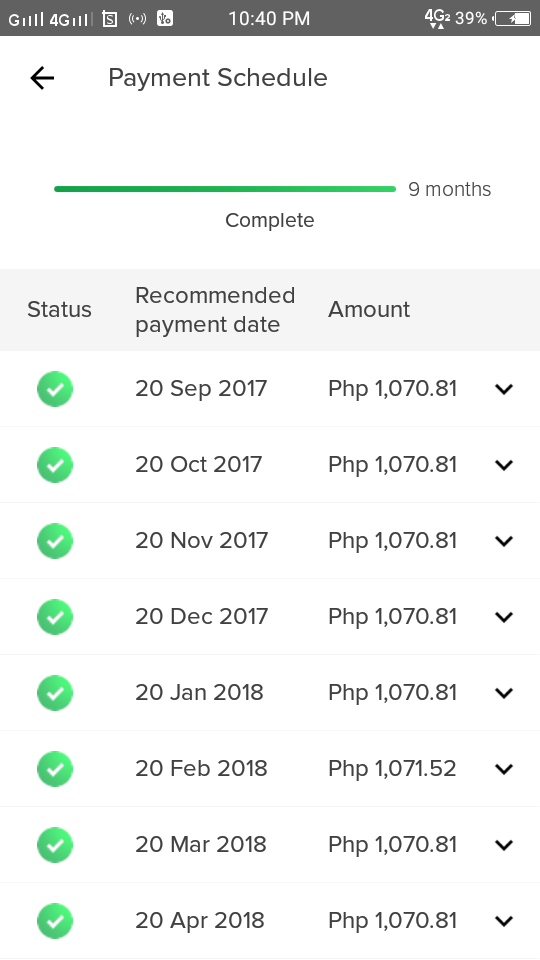 The loan should be due to April 2018 this year but I already paid it fully this month. For the past months, I religiously allocated part of my earnings to pay for this loan before due date. But whenever I have an extra money, I will always pay it ahead of time. I did that consistently and without me knowing, I have already fully paid it! Hooray!
As a good payer, Homecredit offered me a cash loan of 53,000 pesos. It may sound enticing, but no, it doesn't appear inviting to me at all. I would rather save and invest in small amounts regularly than to pay and suffer for a great amount of interest in the future.
Right now, it feels like I have freed myself from a financial weight that pulled me down for months. How about you? what is your Credit story?