In this post I am going to explain a way to earn free bonus amount as much as $250 per month by posting on MT5 forum for forex trading. MT5 forum is providing up to $0.20 per post containing minimum of 2 lines.
For this you will need to open an account in Instaforex broker and mt5 forum and link both accounts together. Many new traders find it hard to register themselves properly and link Instaforex account with MT5 forum account. So I am going to explain step by step how to open an account in Instaforex and MT5 forum and link both accounts.
How it Works?
---
MT5 forum is a forum where people make contribution to the community by sharing their views and knowledge. You contribute to the community and MT5 forum award bonus amount for contribution maximum up to $0.20 per post consisting of minimum two lines. There are many threads mainly focusing on trading.
So Let's get started.
Step 1: Open an account on Instaforex
---
Click here to register an account. Read and accept the Terms of Agreement, fill all the necessary information and in the step 3 (Account type) of account registration, write affiliate code "portalforum" without quotes.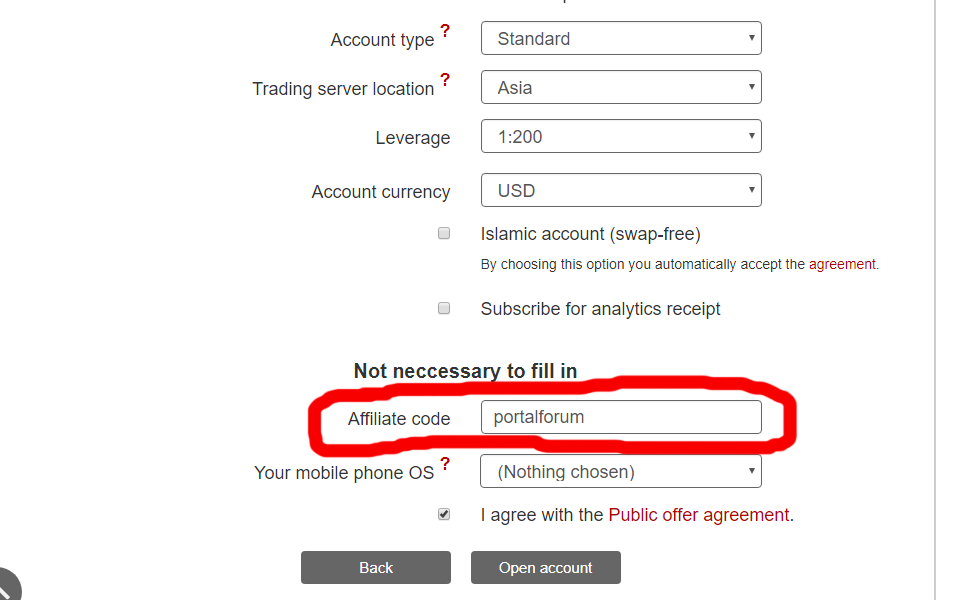 After submission of form, you will receive an Email containing information about your trading account like Trading account number (login), trader password, phone password (keyword), investor password, PIN code and Server. This information will be used to link the account to MT5 forum.
Step 2: Open an Account on MT5 Forum
---
Click here to register an account with the same Email you used to register an account on Instaforex.
During Registration, one of following Random Questions will be asked:
What term is there for a difference between Bid and Ask pricing measured in pips?
Spread
What are traders, relying on a rising currency rate, called?
Bulls
Who opens and closes deals upon the demand of its Client?
Broker
Who is the one that trades on Forex with an aim to gain profit?
Trader
What term is used for international foreign exchange market?
Forex
Step 3: Link Both Accounts Together
---
After successful registration, login to your account and go to "My Profile", under the tab of "Bonus for Post" click the "+" sign character and insert your trading account number and trader password, created in Step 1, to attached your previously created Instaforex account to MT5 forum.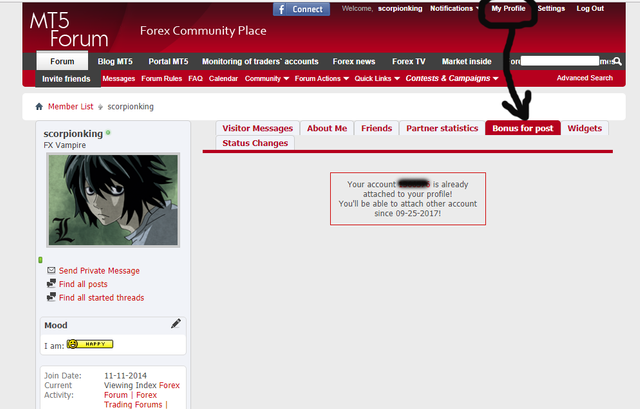 So let's get started earning money by posting.
Important Tips:
---
Read the rules of MT5 forum here carefully before posting.
In the beginning, your account will be under observation so post carefully.
Bonus amount cannot be withdrawn, only the profits obtained from trading can be withdrawn after verification of Identity and Proof of Residence.
You will only be able to change the linked account on MT5 forum after 2 months.
If you have any query, mention it in comments.
Note: This post is different from No deposit bonus. Instaforex is also offering No deposit bonus of $500. To avail both No Deposit Bonus and the one mentioned above, first register for no deposit bonus by clicking here and complete all the formalities. Once you have received no deposit bonus, only after that go for the method mentioned above. Multiple accounts can be created with one Email. If you do not want to receive no deposit bonus, simply follow the instructions mentioned above.