Earning passive income from stocks #1 – Coca Cola (KO) analysis
Why is Coca Cola (KO) a good dividend company and worthy a position in your portfolio?
In this article series I will introduce companies that are regarded as the best dividend paying companies in the world. I will start this series off by writing about Coca Cola because this is a brand that everyone know off and can relate to.
In my first entry here on Steemit I tried to explain what the dividend growth investing strategy is. I highly recommend to read this one first, you can find it here:
https://steemit.com/money/@nordal/start-earning-passive-income-from-stocks-dgi
In a later post I introduced readers to the Dividend Kings list, companies that have paid dividend for over 50 years. You can find this post here: https://steemit.com/money/@nordal/how-to-pick-a-stock-that-will-pay-you-increasing-dividend-for-decades
Over to Coca Cola
Time to address this Dividend King and what the company is all about. While Coca Cola was originally a soda company it has expanded into many variants over the years. With the latest trends on sugar-free products and reduced sugar, Coca Cola has innovated and created products for this segment as well. One of Coca Cola' biggest advantages are their distribution network that they have all over the world and have a global workforce of 61,800 people. Coca Cola exists in almost all countries in the world and provides a very good diversification aspect as well. The company has existed since 1886 and has been a major player (the leading player) in the world beverage market for the last century. Last year Coca Cola launched over 500 new products and this emphasizes their willingness to innovate and to create new beverages.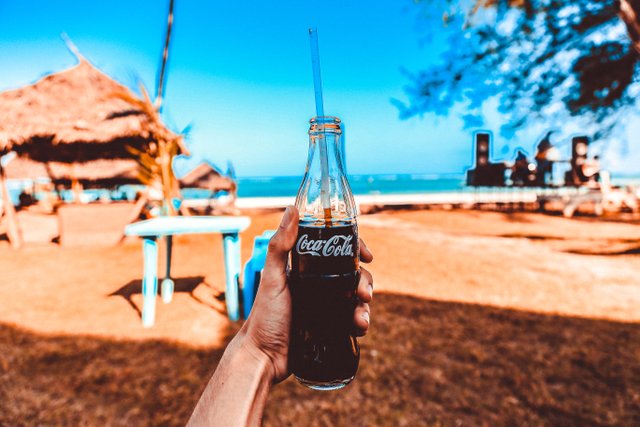 Since 2013, Coca-Cola's revenues, FCF, net income and EPS have each fallen consistently. They have also increase their long-term debt. This is concerning for value investors that have put their trust in this company for many years. Coca-Cola's normalized growth rate has slowed over the last 14 years, from around 10% down to approximately 6% per year. Another worry for many dividend investors is that the payout ratio is getting too high (I will address payout ratio in a separate article later). The payout ratio is how much of the companys earnings that are paid out as dividend. If the pay out a lot of their earnings it can typically symbolize that the company has no place to investment the money to create future value. Coca Cola now has a payout ratio of 75%. This is high, but not deterrent. If they can maintain a relatively consistent earnings increase they will be able to keep the payout ratio consistent over time.



From: http://www.dividend.com/dividend-stocks/consumer-goods/beverages-soft-drinks/ko-coca-cola-co/#payout-history-summary
The legendary investor Warren Buffet has Coca Cola as one of his core investments in his Berkshire Hathaway investment company. Buffet is extremely concerned with value and this is exactly what Coca Cola delivers on. Creating shareholder value over the long run. Even though the share price has not increased drastically over the last decade, Coca Cola continues to deliver shareholder value by putting out a 3.53% dividend yield and EPS growth of 5-6% a year when adjusted for foreign exchange movements and bottling divestures. As Coca Cola continues to innovate and create shareholder value, I think they will continue to be relevant for many decades to come. This makes the company a solid stock for investment for the future.



From: http://www.dividend.com/dividend-stocks/consumer-goods/beverages-soft-drinks/ko-coca-cola-co/#payout-history-table
From a dividend investor perpective the most important thing for Coca Cola is that they can maintain and increase their dividend over time. As such an important brand and the ability to innovate I think Coca Cola will be able to do this. There are obviously some concerns as well. When Coca Cola is moving more away from their most iconic beverage (Coca Cola) their position in the market will be different. But with the extensive distribution network and marketing budgets I think they will be able to transition.
Disclaimer: This companies was picked out of the Dividend Kings list on Sure Dividend. It should not be considered as financial or investment advice of any kind. The provided information is only for informational purposes.