How to Make Money in a Crisis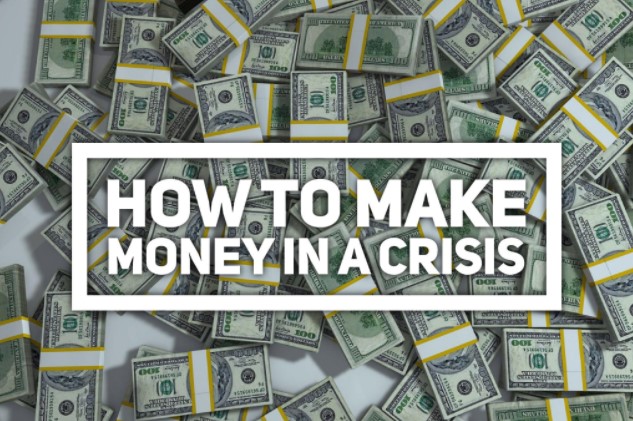 The crisis is the ruined plans, unfulfilled hopes and large-scale losses. But also this is the time of new opportunities. Smart business people love and know how to solve business problems, so I decided to publish a few anti-crisis instructions for you.
Business on bankruptcy
Investors who need to invest their money somewhere will now be able to buy stakes in strong and promising businesses that previously did not intend to attract investments, because they had enough funds of their own, and now face difficulties in repaying loans and inability to refinance.
A lot of apartments will go to banks because of the impossibility of their owners to pay a mortgage, and on this, too, someone will be able to do business.
Outsourcing everything that is not a key business function
One of the opportunities for business in a crisis is outsourcing. Companies will strive to cut costs and dismiss those employees whose work is cheaper to outsource: accounting, computer and office equipment maintenance, reception of calls, operational marketing, social media management, support and promotion of the site and so on.
Take this job, shift the emphasis of your advertising campaigns to reduce costs and increase efficiency.
Transfer of employees from the office to a remote job
Another trend of the crisis is "remote". Business, especially a small one, will strive to minimize the cost of renting an office, up to the total abandonment of the office as such. To do this, employees will be sent to work at home.
But very few people are actually able to work productively on "remote" and not be distracted by the family, household chores and temptations like online games and fresh episodes of favorite TV series. Therefore, there will be a need for effective tools to monitor the work of employees: how many calls a day the sales manager did, how many business offers the client manager prepared, how many tasks in the tracker the developer closed, how quickly responded to e-mails and requests from the site, and so on.
It's good that there are a lot of softwares, services and other automation tools for all this. It's bad that they need to be implemented, trained employees and be able to customize to get a clear account manager.
From this point of view, it is most advantageous to use cloud services, which have a documented API for integration with each other. In this case, you can use the IP Phone with the site and the CRM-system, and all of them - with the system of accounting for working time, setting and monitoring the fulfillment of tasks, in order to introduce a full-fledged motivation system for employees, tied to the achievement of certain KPIs.
"If you want to accomplish twice as much, you have to work twice as hard." - Wayne Huizenga
And it's not only and not so much about starting to work for 16 hours a day, instead of 8 (although many will have to start working that much if they want to stay in business). But rather that the effectiveness of your work will have to be increased at least twice to earn as much as you earned before the crisis.
But there is one good news
The good news is that most companies can increase their efficiency not by twice, but even more.
Because almost no one at all considers its efficiency and effectiveness of employees. Neither CRM-systems, nor task-setting systems are used. Do not automate the compilation of daily operating reports. There is no analysis of efficiency and the search for bottlenecks, where the company loses most of its revenue.
I'm keeping quiet about things like ABC / XYZ analysis, increasing the average check, keeping customers and increasing the depth of penetration. Even in a digital environment, where everything is initially easier to understand, almost no one thinks anything and therefore does not even have the opportunity to improve something (how can you improve what you do not know about the current state?).
Sites still do supposedly "to attract customers", but in fact do not do internet marketing at all and do nothing to ensure that these same customers were attracted. And if they do, they do not know how to evaluate the effectiveness of those instruments that they use.
The effectiveness of search engine optimization is still considered by the positions achieved in Google, and not by the profit received from clients that come from Google.
The effectiveness of contextual advertising is considered by average indicators and does not even suspect that half of their campaign on Google AdWords works in general in a minus and the profit could be increased several times by simply disabling inefficient ads.
Until now, everyone is only dreaming of sales in social networks, but at the same time are unable to keep in touch with current customers, at least in the form of regular mailings.
Conclusions
Guys, if we want to survive the crisis and competitors, then it's time to stop doing nonsense and count on it. If you still do not have a sales funnel, if you do not have automated data collection and reporting, if you do not know how many of your employees are really doing the work and with what effectiveness, if you do not consider ROI investments in marketing, if you do not work constantly to optimize everything that is possible - at best, you will retain some of what you had before the crisis.