YOU ARE BEING ROBBED BLIND! Get Out Of The Dollar. By Gregory Mannarino
The fact of the matter is most people are disconnected from reality, and they have no idea what is going on right under their noses.
Below is a chart of the US dollar ticker UUP dollar bullish ETF, and unless you are truly blind you can see the current trajectory of the dollar which is not going to stop.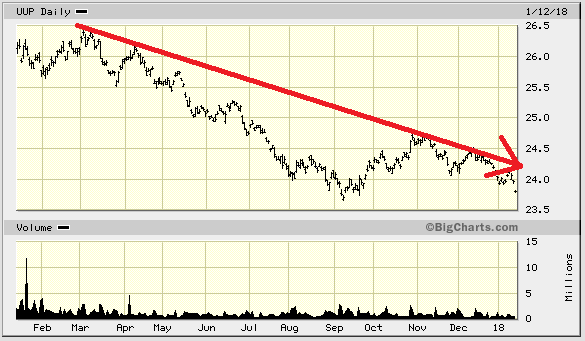 It is very simple, President Trump wants the stock market higher and how will he achieve this? By making sure the dollar continues to bleed off purchasing power. Moreover, we have a runaway central bank which has printed, or added to a digital screen trillions of dollars which at one time is going to start chasing the same amount of goods. And what does this mean? Massive inflation.
The rise of cryptocurrency should be of no surprise to anyone who has even the slightest clue. The rise in cryptocurrency is reflective of a dollar which is in a lot of trouble.
Understand, every single day that the dollar loses purchasing power you in reality are getting poorer, and the only way to help yourself in this environment to diversify away from the dollar.
If you continue to leave yourself stuck in the dollar, understand you are holding an "asset" which has nowhere to go but lower moving forward as world central banks continue to kill their respective currencies by printing it out of thin air...
Global debt is going to get much worse, deficits are going to get much worse, and how will world central banks and their respective governments attempt to fix this?
By flooding the world with even more central bank notes...
Gregory Mannarino. "The Robin Hood Of Wall Street."
Visit my website where you will find EVERYTHING you need to beat these markets.
Click here: https://www.traderschoice.net/