How to Trade Commodities, Forex, Stocks, Indices with STEEM or Steem Dollars!
| | Time to Trade! |
| --- | --- |
Ever wanted to trade commodities, foreign currency, international stocks and indexes?
Become a Master Market Trader and potentially make thousands of dollars each day trading on the markets!

This article has been written with the goal in mind to help STEEM network inhabitants start maximizing their lifestyle.. Trillions of dollars worth of money moves on the markets daily and there is a TON of profit to be made if you know what you're doing..

By the time you're done reading this you should be 100% to get out onto the markets and start making money for yourself. I have faith in your ability as an investor to do so.

The way you'll start trading does not take a huge amount of capital and you'll have access to nearly all of the tools the "pro traders" use more or less!

Prepare to unleash your future potential happiness through trading and profits!
---
Step 1: Converting your SBD/STEEM into Bitcoin
There are many different ways to get your STEEM or SBD into Bitcoin so I will touch on a few of them here to help folks know where to trade their SBD/STEEM. It's recommended you never store coins on exchanges. Get yourself a BTC wallet such as electrum from
https://electrum.org/
so you can safely store your coins when they aren't in SBD/ STEEM.
poloniex.com - Slower but Best Rates
(Click the images above to be taken to the respective SBD/BTC & STEEM/BTC markets)
shapeshift.io - Fast but Costly Coin Swapping

(Click the image above to be taken to shapeshift.io)
---
Step 2: Signing up for 1Broker.com and Deposit
It's incredibly easy to sign up for 1Broker and I highly suggest you sign up for an account just to familiarize yourself with their platform. For a person new to commodities trading at first you may feel a bit overwhelemed by all the numbers going off. Do not fret. In a week you'll be able to read a market and capitalize on it.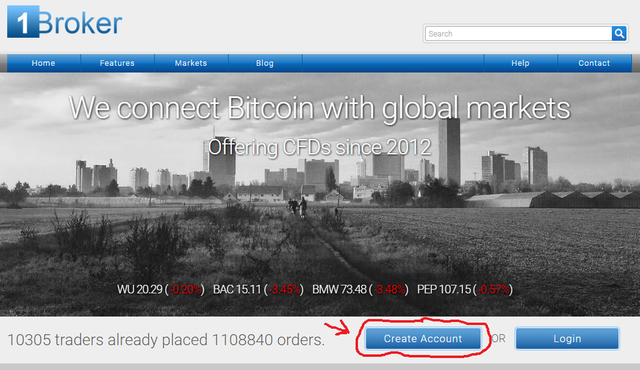 (Click image above to visit 1Broker.com)
To deposit to 1Broker please click the "Deposit" circled below.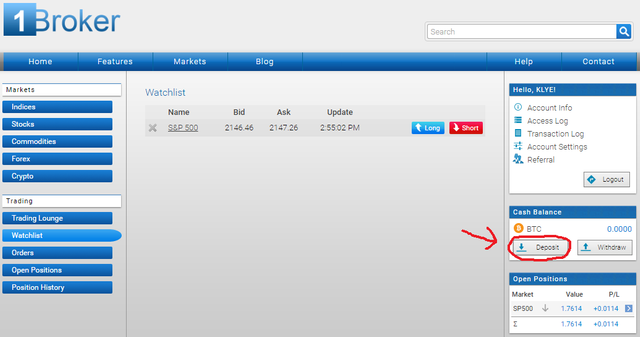 Send your Bitcoin to your deposit address.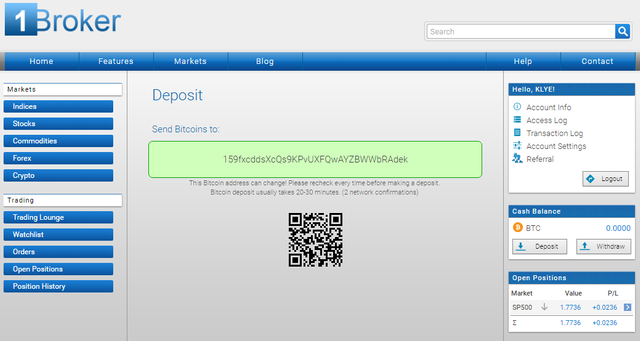 Generally it takes around 20 minutes (2 Bitcoin blocks) for your deposit to be credited to your account. While you're waiting you can skip to the next step which primarily deals with setting your chart up and picking what you will be trading.
---
Step 3: Tradingview.com Charts & Choosing your Trades
Tradingview.com offers EXCELLENT free graphs and tools. I highly recommend them to anyone looking into getting in on trading. They are free to use but monthly packages for better info display is available but not necessary. The standard free charts are more than enough to trade off of once you find a setup that works.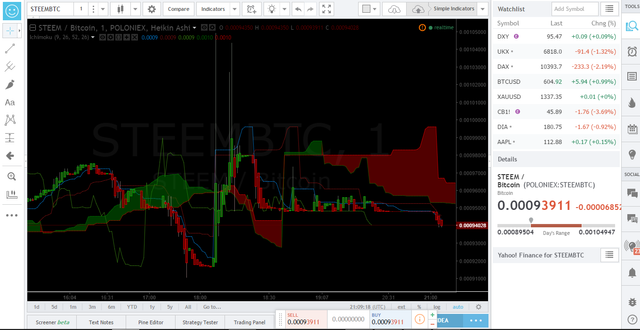 (Click the image above to visit tradingview.com)
Now the trick to picking good trades is knowing the particular market you are playing in.. It's hard for me to exactly say in a few sentances what the best way to trade is. Personally I like shorting the SPX500 when it gets obviously propped up on leverage..
Eventually it will fall like a house of cards... I hope you have shorts in at that time. Good luck trading!
Always remember to set your stop loss in profit and to research current news before trying to trade.
---
Step 4: Convert your Profit Back to SBD or STEEM & Earn MORE
After your trading day is done and you've made massive amounts of profit by accurately picking your market positioning you should take some (or all) of your earnings and re-invest them into the STEEM network. If you choose to invest into the stable Steem Dollar and earn 10% APR interest on your holdings or decide to purchase STEEM to power up your or someone else account.. By re-investing some of your well earned Bitcoin profits back into our community helps it grow as a whole. See Step 2 for places to exchange your BTC back to STEEM / Steem Dollars.
(Protip: avoid shapeshift.io unless you want to be charged heavily for exchange services!)
Vote @klye for Witness
Appreciate what I'm doing for the community? Vote for me on the witness page!
Voting for me to be witness is fast, easy and completed on the page linked below:
As of now I'm currently only ranked around #65 on the list and do not show up on the top 50.
However you can still vote for me by scrolling to the bottom of the page and typing klye:
Thank you for your votes and support!