TLDR:
Monfex is a decentralized exchange giving away $100 in trade credits. Any profits earned from trading (up to $5000) can be exchanged for Fiat or Crypto. Sign up today claim your FREE credits and start trading
Today we will be discussing, Monfex, a Decentralized Exchange, that is giving away $100 in free trade credits to the first 1000 people who sign up for their platform.
---
---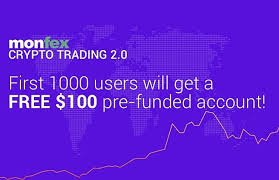 A relatively new platform,
Monfex is offering leveraged trading contracts (up to 10x), razor tight spreads, low commissions, the ability to deposit and withdraw funds in USD, and a simple, yet powerful platform that is accessible one web and mobile.
In order to stand out,
Monfex is focused on expanding quickly. They hope to have 20+ coins listed by the end of 2018, offer their own in house debit card and create a fee sharing system using their own Monfex token. They aim to start 2019 strong by creating Crypto trading options, bonds, social trading and algorithmic trading options.
The crypto space
has been flooded by the release of countless decentralized exchanges. With the majority of them offering the same functionality, things like branding, UX and marketing will ultimately decide which exchanges come out on top. While they are not offering any innovative advantage, Monfex is definitely gathering interest with their rather gracious airdrop (Get $100 In Free Trading Credits)
Only time will tell
to see where Monfex will fall amongst the ranks of decentralized exchanges, but their current offer of $100 Free Trading credits is just too good to pass up. Be sure to sign up now as they offer is only available for the first 1000 participants.