The Supremacy of Gold Investments: U.S. Recession Probability "Greater Than 40%" Likely Next Year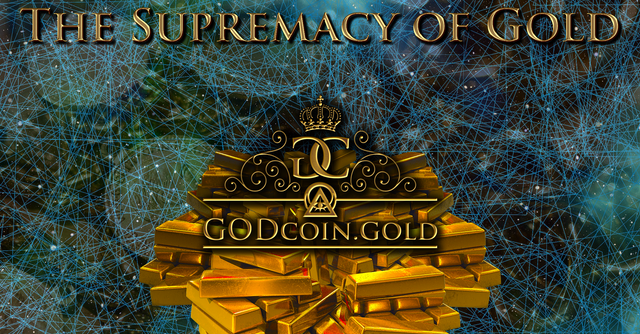 Just last week, GODcoin explained that "a global economic crisis is at hand" and the importance of investing in a cryptocurrency, such as GODcoin, that is backed by gold, actual assets, that aren't just faith-backed. And no, we're not just talking about religious kinds of faith here. An example would be how the U.S. Dollar is essentially not backed by gold anymore and only backed by the people's faith and belief that that piece of paper is going to make society go round without ever faltering.
The article published last week opened with an opinion piece comparing this year to 1929 right before the Great Depression. It is clear the alarm has been sounded but in case you didn't get the first few memos, Coindesk reported on October 3rd, 2019, that "fears of a U.S. recession have resurfaced over the last two days and the resulting risk aversion is bringing a boost to gold." The article shared the following tweet: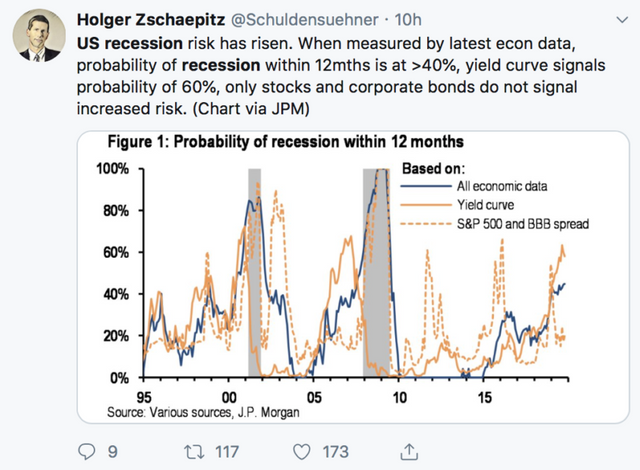 Source
The probability of the U.S. economy falling into a recession next year is now greater than 40 percent.
The Treasury yield curve (U.S. bonds) is pricing in a 60 percent chance of recession, according to the JPMorgan data.
Ironically, gold is being bolstered by this scare and Bitcoin is not. This isn't the first time GODcoin has expressed the importance and value of gold. Gold is the "classic safe haven asset". The article went on to state:
The threat of a recession has sent global equities lower. Notably, the Dow Jones Industrial Average plummeted more than 450 points in day two of a sell-off.

Meanwhile, gold has risen from $1,460 to $1,500 per ounce in the last 48 hours and is now looking to extend gains. The yellow metal, a classic safe haven asset, is clearly benefiting from the recession concerns and the resulting risk aversion.

Bitcoin, however, has been largely trapped in a $8,200–$8,500 range since Tuesday. In fact, the top cryptocurrency's bounce from recent lows near $7,700 has run out of steam near the 200-day moving average (MA) resistance at $8,483 over the last 48 hours.

The lack of demand for bitcoin as a safe haven asset amid the economic worries appears to contradict the argument often put forward by many observers that the cryptocurrency is digital gold.
Clearly, any fiat or digital currency that has no tangible assets, or is pegged to another assetless monetary holder is essentially worthless, especially in times of economic hardships. This is so because your investment or money could be gone in a matter of seconds. Even China knows the importance of having that classic safe haven of value. Yesterday, the Financial Times reported:
The People's Bank of China announced over the weekend that its holdings of the yellow metal rose to 62.64m ounces in September, an increase of 190,000 ounces from August.

The increase of nearly 5.4 tonnes of gold to China's holdings — bringing the total additions since December to about 96 tonnes — comes at a time when central banks across the world have been trying to diversify their reserve assets away from the US dollar as trade tensions continue to simmer. Gold is considered a haven asset and a store of value in times of uncertainty.
Of course, it isn't just China, but other countries are losing faith in the U.S. Dollar and finding ways to escape everything from sanctions to high tariffs. This is why as we move towards the future, it is best to put investments in asset-backed cryptocurrency, and an even safer investment would be one in GODcoin. The reason being is that GODcoin is putting utility to the "classic safe haven asset", gold. Allowing you not to be weighed down by the heavy commodity, but to be liberated to embark into the digital world not having to worry so much in a time of financial troubles. We all can see the trends, analyze the data, and see that the world is in for something much larger economically than what they are warning about. It's time to invest wisely in the supremacy of gold with GODcoin: Gold on Demand.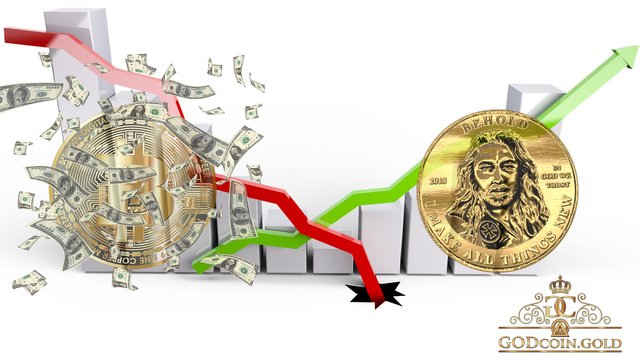 ---
This article was authored by Judith Monte, @belovebelight
---
There are many advantages to GODcoin especially since it is one of the few coins that will be backed by gold and silver. Not only does GODcoin offer the illuminated path towards a prosperous future, but very soon, it will be the global currency. To learn more, visit the following links:

Meet the King

View the white paper
---
All information provided is available on the official website at https://godcoin.gold
PREPARE TO INVEST WHILE YOU CAN
Social
https://www.facebook.com/GOD.coin.gold/
https://www.linkedin.com/company/GodCoin/