Countries Buying in Bulk: More Proof of Gold's Stability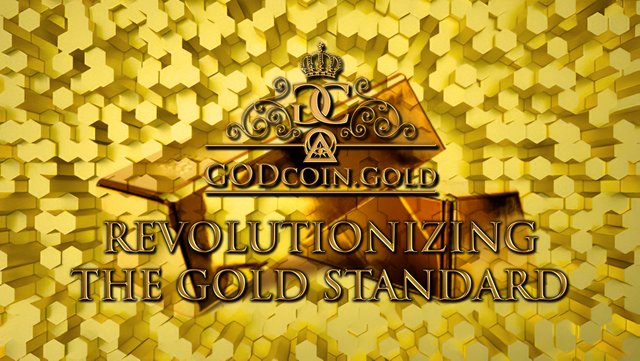 Last week, GODcoin covered the news about the Basel III rule which is making gold a 0% risk. Due to this new rule, the banks are trying to pull a fast one. In one breath they are "vilifying" gold, and in the next, they are buying large amounts of gold due to the lower prices. Are we seeing a "do as I say, not as I do" type of logic here? Kitco reported today that China has bought a hefty amount of gold.
The race to accumulate gold continues as the central bank of the world's second-largest economy added more ounces to its official reserves for the fourth consecutive month.

According to the latest statistics from the People's Bank of China, the central bank added 360,000 ounces of gold to its foreign reserves last month. Gold reserves totaled 60.62 million ounces as of the end of March.

Commodity analysts at ING said that since November, China has added 1.38 million ounces to its reserves. 'This increased buying comes at a time when trade tensions between the U.S. and China continue to drag on,' the analysts said.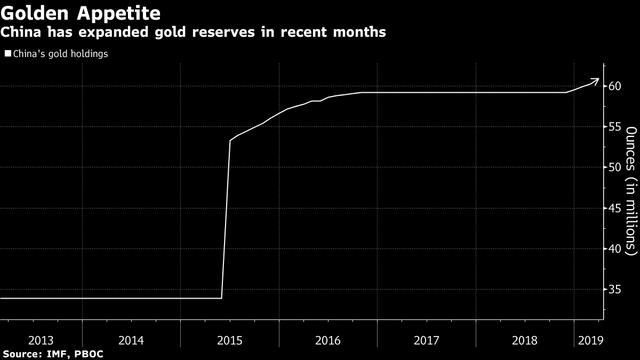 Source
Gold will always be the safest bet when it comes to monetary commodities. This should come as no surprise, and we can see because "some analysts have also said that they don't expect central banks to stop buying gold anytime soon as countries reduce their dependence on the U.S. dollar." Many countries are trying to loosen the hold that the U.S. dollar has over them, and now we see that by buying in bulk this precious metal that holds more value than the U.S. fiat, it is their ticket to freedom and security.
However, China isn't the only country attempting to bulk up their gold supplies. The Moscow Times reported today that:
Russia is buying gold. A lot of gold. Within the span of a decade, the country quadrupled its reserves. Gold buying last year exceeded mine supply for the first time, so Russia is about to become a net importer of the metal.

'Russia and China have openly complained that the dollar is no longer able to fulfill its role of global currency.'
Bloomberg reported corroborating details:
Governments worldwide added 651.5 tons of bullion in 2018, the second-highest total on record, according to the World Gold Council. Russia has quadrupled its reserves within the span of a decade amid President Vladimir Putin's quest to break the country's reliance on the dollar, and data from the central bank show holdings rose 1 million ounces in February, the most since November.
Even though the U.S. still holds the most gold according to sources, other countries are cashing in on their opportunity to buy while the price is right.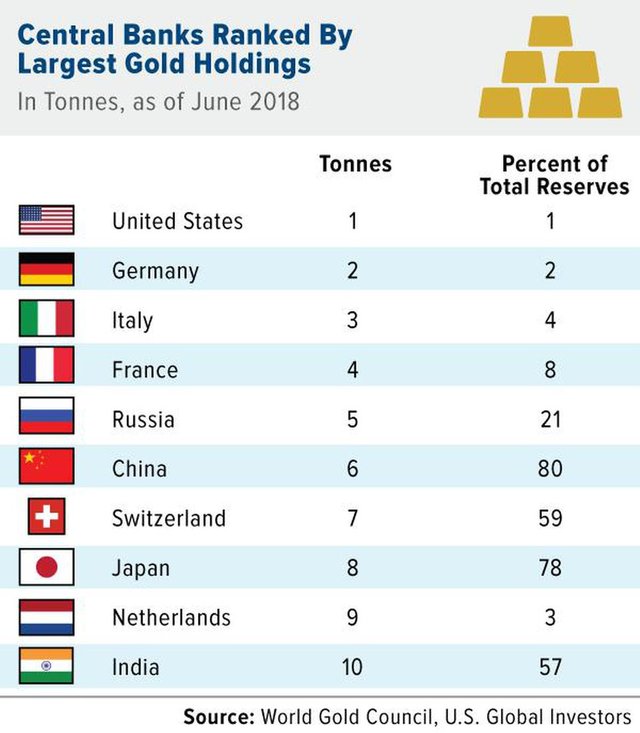 Source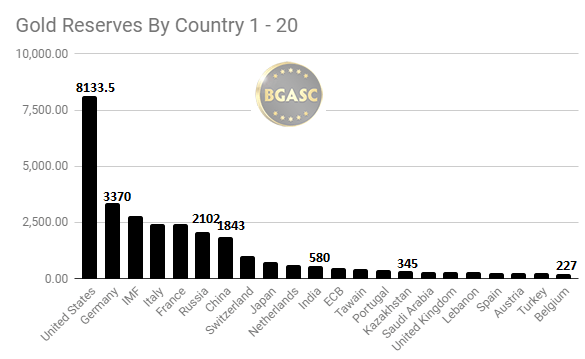 As of January 2019
Source

Eventually, as many have warned, the U.S. dollar will collapse. Take this news of countries buying gold in bulk as another warning. Many have also stated that cryptocurrency is the future. GODcoin will be backed by gold and silver, which will keep you supported and secure by its stability when all other unbacked cryptocurrencies crash and burn when fiat does. What are you waiting for? Here is a great opportunity to buy before it is too late! Invest in your future today with GODcoin!
#ChristIsBack #HeIsHere #MondayMotivation #Crypto #Cryptocurrency #Cryptocurrencies #blockchain #crypto-news #GODcoin #RayEl #gold #money #finance
---
This article was authored by Judith Monte, @belovebelight
There are many advantages to GODcoin especially since it is one of the few coins that will be backed by gold and silver. Not only does GODcoin offer the illuminated path towards a prosperous future, but very soon, it will be the global currency. To learn more, visit the following links:

View the history leading up to the white paper

View the white paper
---
All information provided is available on the official website at https://godcoin.gold
PREPARE TO INVEST WHILE YOU CAN
Social
https://www.facebook.com/GOD.coin.gold/
https://twitter.com/GodCoinGold
https://plus.google.com/110351809386138038654
https://www.linkedin.com/company/GodCoin/
https://www.youtube.com/channel/UCRmsiytZnbMg-O_b2zBNuTg
https://vk.com/god.coin