The Zephyr Token, A Remittance Reward Program.
Disclaimer: This is not financial advice. Always do your own due diligence before investing!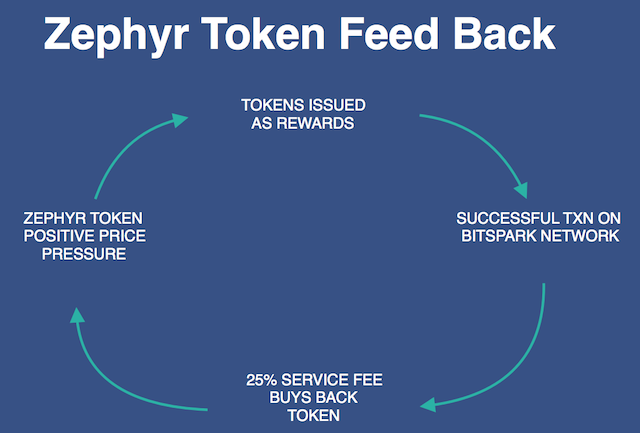 Image source
As of now the Zephyr token is still in an early stage, with the token sale just being ended about a month ago. However, it does have a lot to show for it!
Use of Bitshares
When I heard this project was making use of the Bitshares ledger, it caught my eye right away. As a huge fan of Bitshares I got curious and began to read about it at once. For those who don't know what Bitshares is, in a few words; It's a decentralized token/exchange market, backed up by technology... that makes Bitcoin look like child's play. And by my knowledge currently has the best available technology when it comes to the cryptoworld.
Bitspark
The so called company Bitspark is the one behind the Zephyr project. Bitspark itself is a remittance platform, making money transfers with the use of blockchain technology. People can hand in their cash at one place, which then gets converted into crypto, and then back to another fiat currency to the choice of destination (being one of their cash out locations). And they are pioniers in this area when it comes to the use of blockain technology, having over 3 years of experience to show for! Being backed up by the Hong Kong government and some other big institutions. This here is one of the main reasons this investment is (for me) an easy choice. Secondly, I like what they are doing, as I only invest in projects I stand behind and see a future in.
Btw, they only started using Bitshares since the last couple of months. Currently they still use Bitcoin as well as Bitshares, in time migrating full operations to the Bitshares blockchain. The reason they decided to switch to Bitshares is due to multiple reasons, but simply put its being far more effective. Coming down to the fact that it enables them to fit their needs better.
Zephyr, The Whole Idea
So what exactly is Zephyr?
Zephyr is a token created with the use of Bitshares technology, rewarding people for being involved with the Bitspark remittance program. Whether it be by making transfers through the platform, liquidating/upping of balances, or referring other people, they all get rewarded with this token. To make sure for a healthy growth of the token itself, 25% of succesful transaction fees (from using the Bitspark platform) is used to buy back the Zephyr token through the Bitshares DEX (decentralized exchange). Right now the test fase is still in place for the implementation of the Zephyr token, but with what they've accomplished with Bitspark itself so far, being an already (top) established service, they have a lot to show for it!
For more information on Zephyr, including the roadmap and whitepaper, visit their website: Zephyr.bitspark.io
---
Currently Zephyr is only for sell at the Bitshares DEX: https://wallet.bitshares.org/#/market/ZEPH_BTS
Future plans are however to implement the coin on multiple of the greater exchange markets out there.
---
For more information on Bitspark and Bitshares, visit Bitspark.io and/or Bitshares.org.
Bitspark can also be found on Steemit, @bitspark.